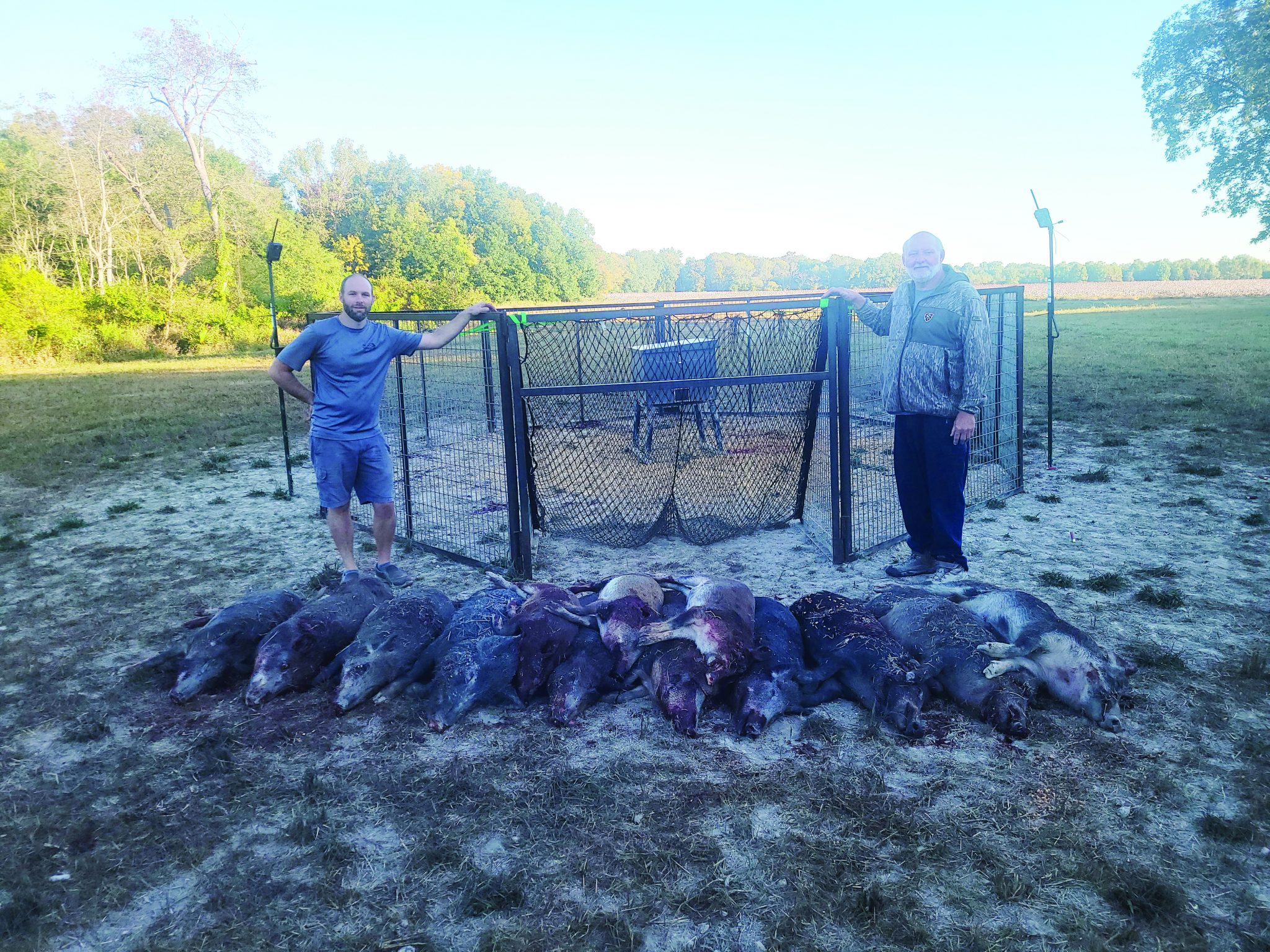 BY GLYNN HARRIS
Bobby Creel, who lives near Jonesville, was standing one day and looking at his field that had paid the price of an abundance of feral pigs and decided he had to try and do something about it. The wheels started turning and he began imagining a system that would get hogs into a trap and prevent them from getting back out.
"I had this idea, went home that night and didn't go to bed until I had sketched out a gate that in my mind would work," Creel said. Apparently the U.S. Patent Office thought he had something special because they issued him a provisional patent after he contacted them with details of what he had in mind.
Since starting to produce his gate in March, Creel knows of some 200 feral pigs that have been caught in traps using his special door. The concept that formed in Creel's mind had to do with a hogs tendency to use his snout to root.
"We set out the gate in a conventional trap and leave the gate open for awhile until hogs start getting accustomed to it. Then we drop it a little at a time until we have hogs entering the trap to enjoy what we call an 'all you can eat buffet'. Then we drop the heavy-duty metal mesh all the way down and the hogs continue to root under the mesh to get in. Once they try to get out, they can't because of the way the mesh lays out. They can root to get in but they can't root their way out," Creel said.
Creel operates an auto repair business near Jonesville where has been in business for 37 years.
"I'm 59 years old and am giving thought to getting the hog gate business up to the point that I can turn the auto repair work over to my sons and spend my time developing these special gates to help folks with their hog problems," he said.
Creel says it takes maybe two hours to put one of his special gates together. He is working on getting his product out to more sporting goods stores but as of now, there is one business in Jena that carries his product and otherwise, he's selling them from his shop.
"The word is getting out about our hog gates and I even had a contact from the country of India where they had heard of our product. Also," he added, "some of the products on the market today that operate by a remote system whereby a gate can be dropped by use of a cell phone. I was talking to someone using these types of gates and he mentioned having to sit up and wait for his phone to 'ping' to trip the gate. I told him that when I have my door laid out right, I go home and go to sleep because all I have to do is go back the next morning and take care of the hogs that have gotten in the trap by themselves and can't get out."
When he finds that his trap has worked and he dispatches those that are there and can't get out, he has folks lined up to take the hogs for home consumption.
"Last week, I went to the trap one morning to find 13 hogs the trap had captured. I contacted folks and had them lined up to come get the hogs I had caught," Creel said.
The C&C Catchall Hog Gates can be purchased at Creel's business in Jonesville or by contacting him at 318-452-6742 or his son Tyler at 318/452-6589. 
He is selling the fully constructed door, freshly painted with the heavy wire mesh door for somewhere in the neighborhood of $,000.
In my opinion that is a small price to pay because first, you are putting a dent in the feral hog population on your property and second, you can go to sleep at night while the Catchall Hog Gate is doing the work for you.
— Contact Glynn Harris at glynnharris37@gmail.com.