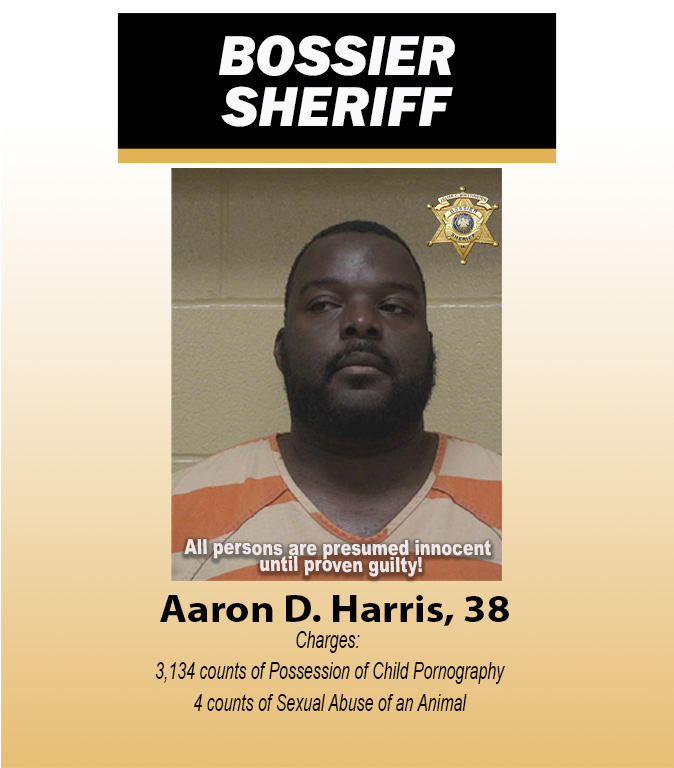 Aaron D. Harris, 38, of Bossier City, was being investigated by detectives for possessing pornography involving juveniles and sexual abuse of an animal after receiving a cyber-tip. Detectives found Harris in possession of 3,134 images of pornography involving juveniles and in possession of 4 videos that depicted the sexual abuse of an animal after forensic downloads of his electronic devices.
Harris was arrested and charged with 3,134 counts of Pornography Involving Juveniles and 4 counts of Sexual Abuse of an Animal. He was transported to the Bossier Max.
Detectives with the Bossier Sheriff's Office continue to aggressively investigate child sexual abuse cases with the ICAC team, the Attorney General's Office, and with the aid of the latest technology. They encourage anyone with information regarding this crime or any other crimes against children to contact the Bossier Sheriff's Office at (318) 965-2203.
Bond has been set in this case at $800,000.00.