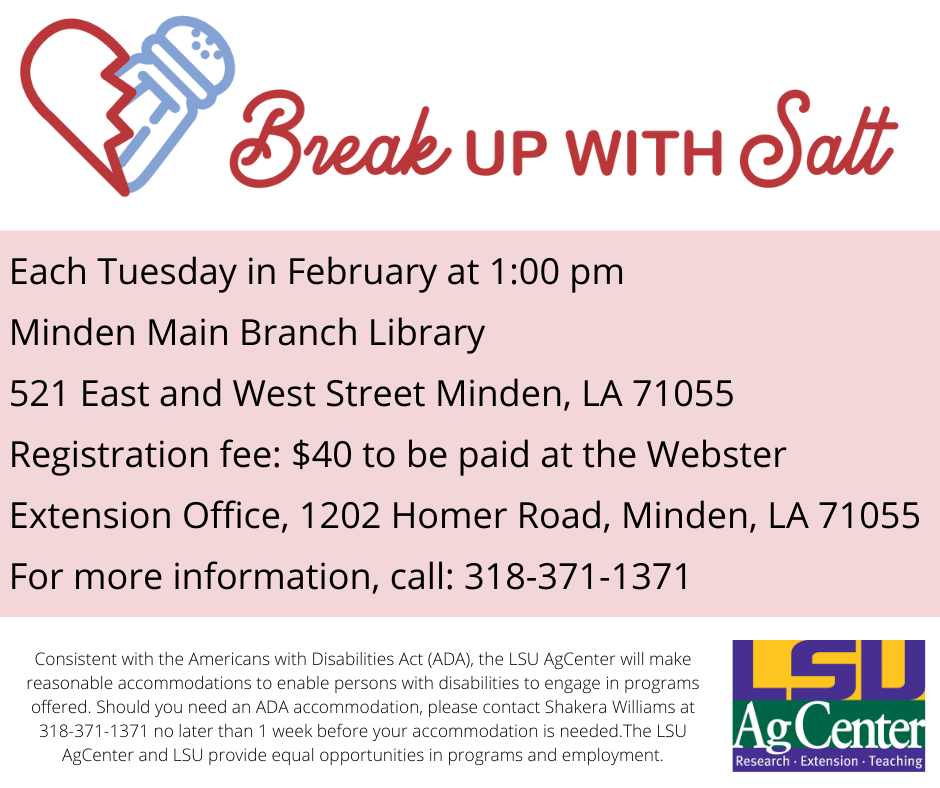 Do you have Hypertension or have been told you have High Blood Pressure? Are you not sure exactly what you should eat or what in your diet affects your blood pressure? Break up With Salt, a program to help adults at risk or with Hypertension/High Blood Pressure learn about managing their condition through goal setting, diet, label reading, portion control and cooking. The four-part educational series will be held on February 1st ,8th ,15th, and 22nd beginning at 1:00 P.M.- 2:30 P.M. at the Minden Main Branch Library located at 521 East and West Street in Minden, LA. The program should last 1-1/2 hours each session.
The program will be conducted by Shakera Williams, MPH, Assistant Extension Nutrition Agent, with the LSU AgCenter. Participants will receive all information discussed at each class and the opportunity to sample healthy recipes. This program is not intended to provide individual prescriptions for Hypertension/Cardiovascular disease, and it is not intended to replace Medical Nutrition Therapy by a Registered Dietitian.
This program is open to the public and there is a $40 dollar cost to attend the series. There are only ten spots available. You should attend all four classes to get all the information presented as each class is a different topic. Please call 318-371-1371 for more information or to sign up please use the link here https://forms.office.com/r/JhKtn30dL1 to register by Tuesday, January 25,2022.
February 1,2022– Session 1 – Detect, Correct and Protect
February 8,2022– Session 2 – DASH Diet and Label Reading
February 15,2022 – Session 3 – Grocery Store Tour, Location, TBA
February 22,2022 – Session 4 – Mastering Meals with Flavor and Less Sodium
Consistent with the Americans with Disabilities Act (ADA), the LSU AgCenter will make reasonable accommodations to enable persons with disabilities to engage in programs offered. Should you need an ADA accommodation, please contact Shakera Williams at 318 – 371- 1371 no later than 1 week before your accommodation is needed.
The LSU AgCenter and LSU provide equal opportunities programs and employment.