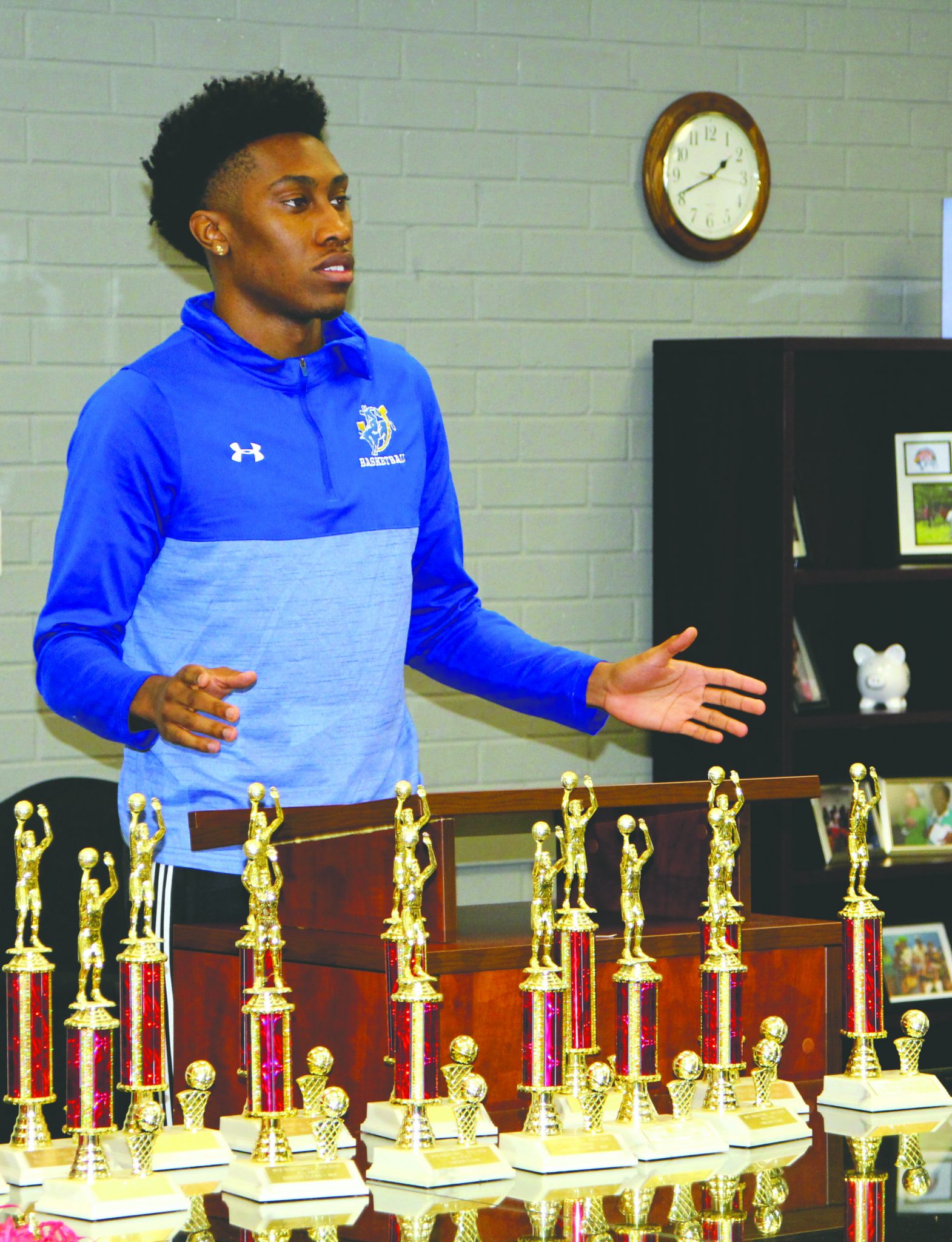 Former MHS standout returns to mentor students at Project Reclaim
Many children attending Project Reclaim's Youth Leadership Institute this summer have grown up in environments with no role models for success, no example to follow but those of complacency, stagnancy, and even violence.
CJ Elkins, a senior and basketball player at Southern Arkansas University, grew up in Minden in those same situations, but he was able to rise above expectations, earning a basketball scholarship to further his educational and athletic opportunities.
Thursday, Elkins shared his story with kids in the Youth Leadership Institute program, focusing on the summer-long theme "Bring your 'A' Game."
Project Reclaim is a leadership academy that invites elementary through high school students from tough situations to learn key skills and reclaim their futures. Ron Anderson, founder of Project Reclaim and Elkins's uncle, said he asked Elkins to serve as a mentor throughout the summer program so the kids could see a positive role model.
"They need to see another young man from Minden who's doing some good things in his life, and if they see that, we want them to believe they can do the same thing," Anderson said. "He's a really good role model for all of us, he even makes me want to bring my A game in some things."
Elkins was an athletic standout at Minden High School, accruing numerous basketball accolades and finishing his senior year averaging 27.5 points per game. Things did not always go smoothly for him, however.
"In ninth grade, things didn't go as planned because I was hanging around the wrong people," he said. "I wasn't focused mentally, and I got kicked off the team."
Elkins told the students he had to rethink his priorities and part ways with some bad influences.
"A year later, I started putting in the work and got back on the team," he said.
By working hard and staying committed to a goal, Elkins was able to attract enough attention to earn a full-ride scholarship to Southern Arkansas University in Magnolia, Arkansas.
"Freshman year I had to adjust, and it wasn't easy," he told the students Thursday. "It's a big jump. When I first got there, I wasn't used to it. I was throwing up, passing out. Others quit, but I never gave up. I had to bring my 'A' game every day."
After four games Elkins began starting as a freshman, and by his sophomore year the coach put the team in his hands.
He was even featured in an edition of ESPN's Top 10 plays. By the end of his junior year, Elkins said he had gained much experience in leading those under him, experience he is putting to use for the summer at Project Reclaim.
"A lot of people never make it out of Minden and don't do anything with themselves," he said. "I feel like these kids don't get to be around someone who made it past that. Hopefully instead of them being involved with all the violence in the streets, I can be a role model for them to start doing what I'm doing. Maybe not in basketball, but in whatever they want to do."
Anderson recalled times when he saw Elkins's commitment to his dreams from a young age.
"When we would have family gatherings over the holidays, we would all gather at our aunt's house," he said. "I'd see young guys his age, they'd be just hanging around and smoking. [Elkins] would be down at the basketball court by himself, working on his game. One time I remember he was out there working in the rain."
Anderson hopes Elkins's story, from focusing on a goal to overcoming adversity to dropping bad influences, can inspire the students to give it their all.
"I hope to see them go off to school feeling that they've got to bring their 'A' game educationally, that they can do better in school," he said. "I want them to evaluate their relationships with people. I want them to focus on their goals and what they can do to improve themselves. Bring your 'A' game as a student, a peer, a sibling, a child. In every area of their lives, I want them to evaluate how they can be better."
Elkins said he wants to show the students that there are life options behind what lies in their environments.
"I hope they learn that if I can do it, they can do it," he said. "I want to show them a way, that there's better things out there in the world that you can do instead of being involved in all the negative activity."