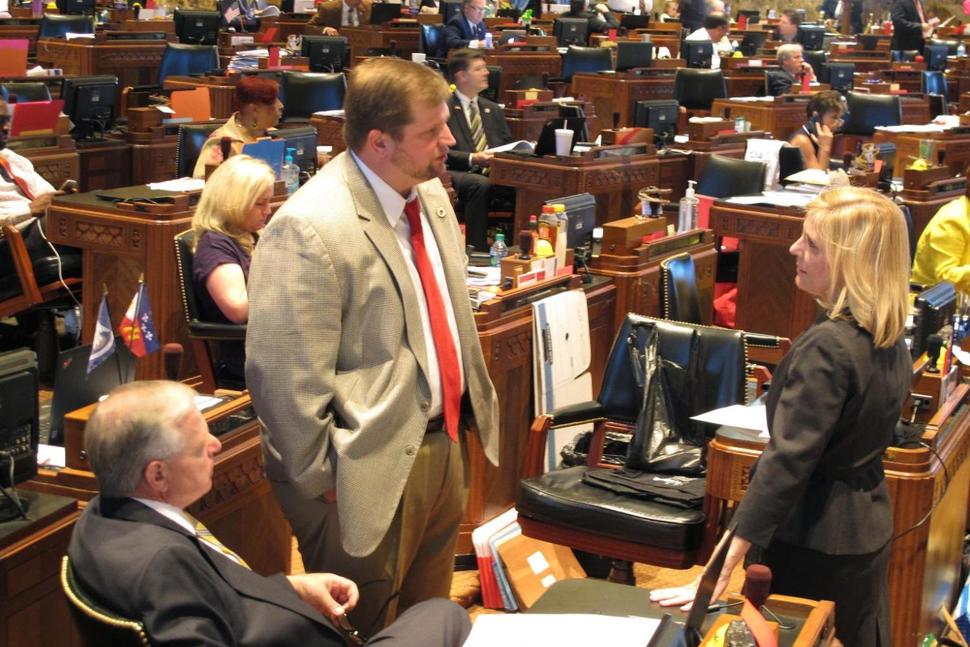 BATON ROUGE— Louisiana lawmakers' budget negotiations cratered Thursday in the final hours of a regular legislative session, forcing the House and Senate into a special session to try to cobble together a deal on a more than $28 billion spending plan.
The special session began Thursday night, to haggle over a package of must-pass budget bills to finance state government operations, public services, colleges and construction projects. But the House then immediately adjourned until Monday, forcing the Senate to exit as well because all budget bills must start in the House.
It's the first time the Legislature has failed to pass a budget during a regular session since 2000.
House Republican leadership and the Senate couldn't come to terms on how much money to spend in the financial year beginning July 1. House Democrats sought to take up a Senate spending proposal, but they were blocked procedurally by Republican House Speaker Taylor Barras. As the time wound down, angry Democrats shouted on the House floor: "Let's vote!"
One of the procedural motions suggested the House had enough votes among both Democrats and Republicans to reach the 53 votes needed to pass the Senate plan.
Barras disagreed, saying he believes there was confusion in the chamber over what was being considered. He said Senate leaders and Democratic Gov. John Bel Edwards "wouldn't budge" in negotiations, making it nearly impossible to find common ground. He said the House offered to spend $100 million more than its original plan only to find a wall of opposition from the Senate and the governor.
"The governor hasn't moved one inch on anything," said House Appropriations Chairman Cameron Henry, the Republican who with Barras was the chief negotiator on a budget deal.
Edwards blamed House Republican leadership for causing another session at an average cost of $50,000 to $60,000 per day.
"Nobody can pretend this was a good day for the state of Louisiana," the governor said. "We now know that the majority of legislators came here determined to fix these problems and to work in a bipartisan way. We now know that it was a minority in the House that prevented that from happening."
At least some rank-and-file Republicans in the House appeared to agree with the governor.
Republican Rep. Kenny Havard and Democratic Rep. Major Thibaut, both of whom voted to consider the Senate budget proposal, in unison described the special session as "embarrassing" to the Legislature. Republican Rep. Julie Stokes said she was "disgusted."
"Petty partisan politics have failed the people of the state today, and it's time that we grow up and work on solving the people's problems," said Stokes, who voted to bring up the Senate budget proposal.
House Republican leaders want to spend less than the full state income forecast, as a cushion to avoid midyear cuts in case the predictions were wrong. The Senate, backed by Edwards and House Democrats, want to spend all available dollars, saying otherwise they'd have to make unnecessary, harmful cuts.
The state's income forecast has been too optimistic every year for nearly a decade.
Senate President John Alario, a Republican, said he was disappointed at the meltdown.
"My hope is that we complete our work in this special session. It's too darn important for the people of this state. Education, health care, public safety: there are too many things that would get hurt if we didn't come to a consensus and make it work," Alario said.
The sluggish, two-month regular session will be remembered mainly for its sharp disagreements between the House and Senate and the Republican House leadership and Edwards over spending and taxes.
Before the session began, legislators had spent months talking about how this regular session would focus on a tax overhaul to stabilize Louisiana's finances and end boom-and-bust budget cycles. A study group offered a roadmap that its members said would achieve stability and plug holes.
But lawmakers reached no long-term deals on taxes and no agreement on how to solve a more than $1 billion financial gap that hits in mid-2018 when temporary taxes expire, setting up the inevitability of another special session sometime in the coming months.