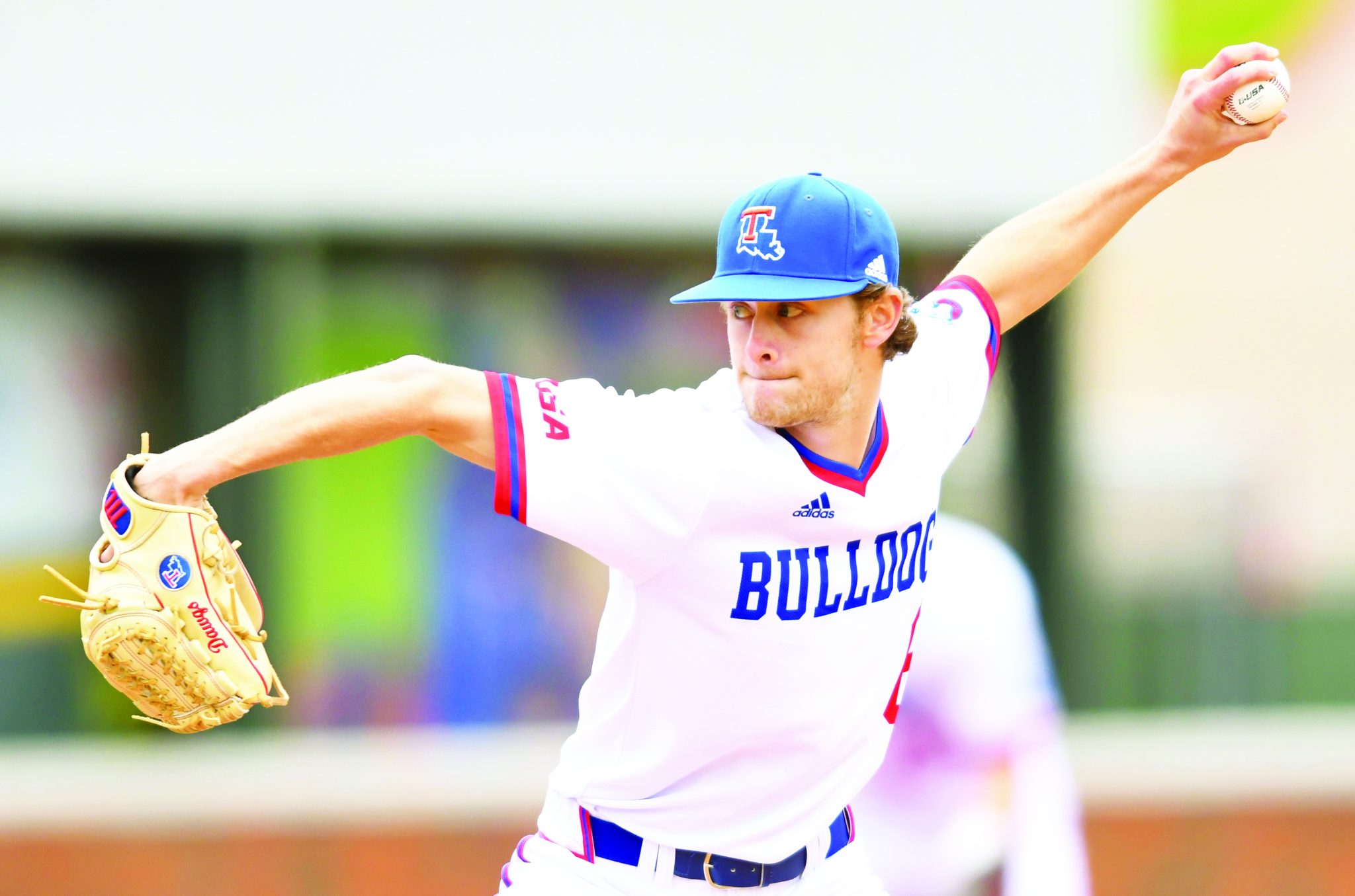 MONROE, La. – The No. 21 Louisiana Tech baseball team saw five pitchers combine for the team's second shutout of the season, as the Bulldogs defeated the ULM Warhawks 5-0 on Tuesday evening from Warhawk Field.
LA Tech (25-11) got back to its winning ways, splitting the two-game season series with the Warhawks (15-21), while improving to 11-4 on the road this season. The win marked head coach Lane Burroughs' 100th while in charge of the Bulldog program. At 100-51, Burroughs becomes the quickest Tech head baseball coach to reach the 100-win plateau.
"I thought we were playing really tight and a little lethargic early on tonight," Burroughs remarked. "I thought we were pressing a little bit and we couldn't get on top of a ball to get it pull side, but I'm proud of our guys for hanging in there. It wasn't always sharp, but we were resilient throughout tonight. We were very good on the mound tonight, and Seth White made a great play out there in left early to keep them off the board."
While the Bulldog pitching staff combined to thwart the ULM offense all evening, Tech got just enough from the bats, and some key insurance late to seal the deal.
Tech got the scoring started in the third inning after a two-out RBI single to right field from Hunter Wells plated Chris Clayton, who led off the inning with a single to center.
With a 1-0 lead, Tech reliever Kyle Griffen entered in relief of starter David Leal, who was forced to work through some traffic in his only two innings of the evening. Leal, went two innings, while allowing just two hits and did not walk a batter, but hit two and struck out one over 32 pitches.
Griffen entered in relief of his left-handed counterpart, and was brilliant, tossing 4.0 scoreless innings of relief. The Tech ironman, making his league-leading 23rd appearance of the season, allowed just two hits, while striking out one, and kept ULM at bay, protecting a 1-0 lead.
ULM starter Cole Martin was equally impressive, allowing just the one run through his first six innings, before the Bulldogs added another via a sac fly RBI to right from Taylor Young.
Leading now, 2-0, the Tech offense stuck a crooked number on the ULM bullpen in the top of the eighth, adding some insurance behind a three-run top half. Mason Robinson got the scoring started with an RBI single into left, plating Mason Mallard, followed immediately thereafter by a Steele Netterville two-run opposite-field home run to right, extending the Tech lead out to five. The home run was Netterville's 7th of the year to lead the Bulldogs.
Over the course of the final three innings, Tech relievers Tyler Follis, Jonathan Fincher and Braxton Smith capped off the shutout, each tossing scoreless innings of relief.
Griffen improved to 7-2, while Martin fell to 0-4.
Netterville led the Bulldogs with a pair of extra-base hits and two RBI, while Wells (2-for-5), Mallard (2-for-5), Parker Bates (2-for-4), and Clayton all notched multiple-hit outings.
Tech outhit its I-20 neighbors, 12-6, while securing win number 105 in the 182nd meeting between the two programs.
Tech will return to action in a condensed timeframe, hosting C-USA-foe Marshall in a three-game set this Thursday (6 p.m.), Friday (4 p.m.) and Saturday (10 a.m.) from J.C. Love Field at Pat Patterson Park.