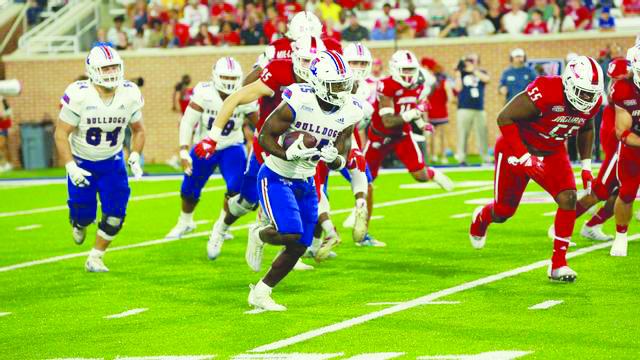 WEEKEND'S AREA COLLEGE SCHEDULE
• Texas-El Paso (3-3, 1-1) at LA Tech (1-3, 0-0)  
(6 p.m. Saturday)
• Grambling (1-4) at Alabama A&M (1-4)
(1 p.m. Saturday)
• Tennessee (4-0) at LSU (4-1)
(11 a.m. Saturday)
• Northwestern State (2-3) at Eastern Illinois (1-3)
(2 p.m. Saturday)
A Top 25 showdown highlights this week's slate of area collete football games.
That game will feature undefeated No. 8 Tennessee at 4-1 No. 25 LSU.
It will be a rare 11 a.m. start at Tigers Stadium.
LSU starting quarterback Jayden Daniels is expected to be back this week against No. 8 Tennessee as he recovers from a knee injury that forced him out of last Saturday's victory at Auburn, Tigers coach Brian Kelly said Monday.
Kelly added that transfer defensive back Sevyn Banks, who'd been immobilized and taken from Saturday's game in an ambulance after a head-first tackle during the opening kickoff, was diagnosed with a bruised spine and could return to action in around five to six weeks.
LSU offensive line could also see the return of guard and backup center Garrett Dellinger, who appears ready to return this week from a broken left hand.
On Sunday, LSU (4-1, 2-0 SEC) entered The AP Poll for the first time this season at No. 25 only five games into Kelly's first season on the bayou since leaving Notre Dame.
Louisiana Tech will be hoping a home game against Texas-El Paso can help stop a two-game losing streak after falling on the road at Clemson and at South Alabama.
Louisiana Tech has won eight of its previous nine encounters with UTEP. However, the Miners stunned the Bulldogs in 2021, grabbing a 19-3 victory as 6.5-point home underdogs.
Grambling State will conclude the season-opening six-game road swing on Saturday with a trip to Alabama A&M. Kickoff in Huntsville, Ala. for the Southwestern Athletic Conference (SWAC) game is scheduled for 1 p.m. from Louis Crews Stadium.
Grambling State head coach Hue Jackson said the Tigers are heading in the right direction despite the setback in the State Fair Classic and are looking to put the first five weeks behind them as they gear up for their last road game until Nov. 12.
"We've got to move forward and have to be able to put these first five weeks behind us and more forward as fast as we can," Jackson said. "We know we are playing a really good football team regardless of what records are. Coach (Connell) Maynor does a great job with his team, offensively, defensively and special teams wise. They've gota lot of different looks they'll give you and we've got a tall task ahead of ourselves getting ready for this football game."
As the Northwestern State Demons (2-3) prepare for Saturday's 2 p.m. non-conference road matchup with Eastern Illinois (1-3), they do so with a different feeling permeating the locker room.
Northwestern State folded in 30 new players this offseason, and the past two weeks have served to show the bonds are strengthening throughout the roster.
"People are just tired of losing," said sophomore linebacker Jared Pedraza, who recorded a season-high 11 tackles in this past Saturday's 36-33 win against Nicholls. "People are tired of what's happened the past few years. We have 30-plus new guys. They came from winning cultures. We're trying to start something new here."