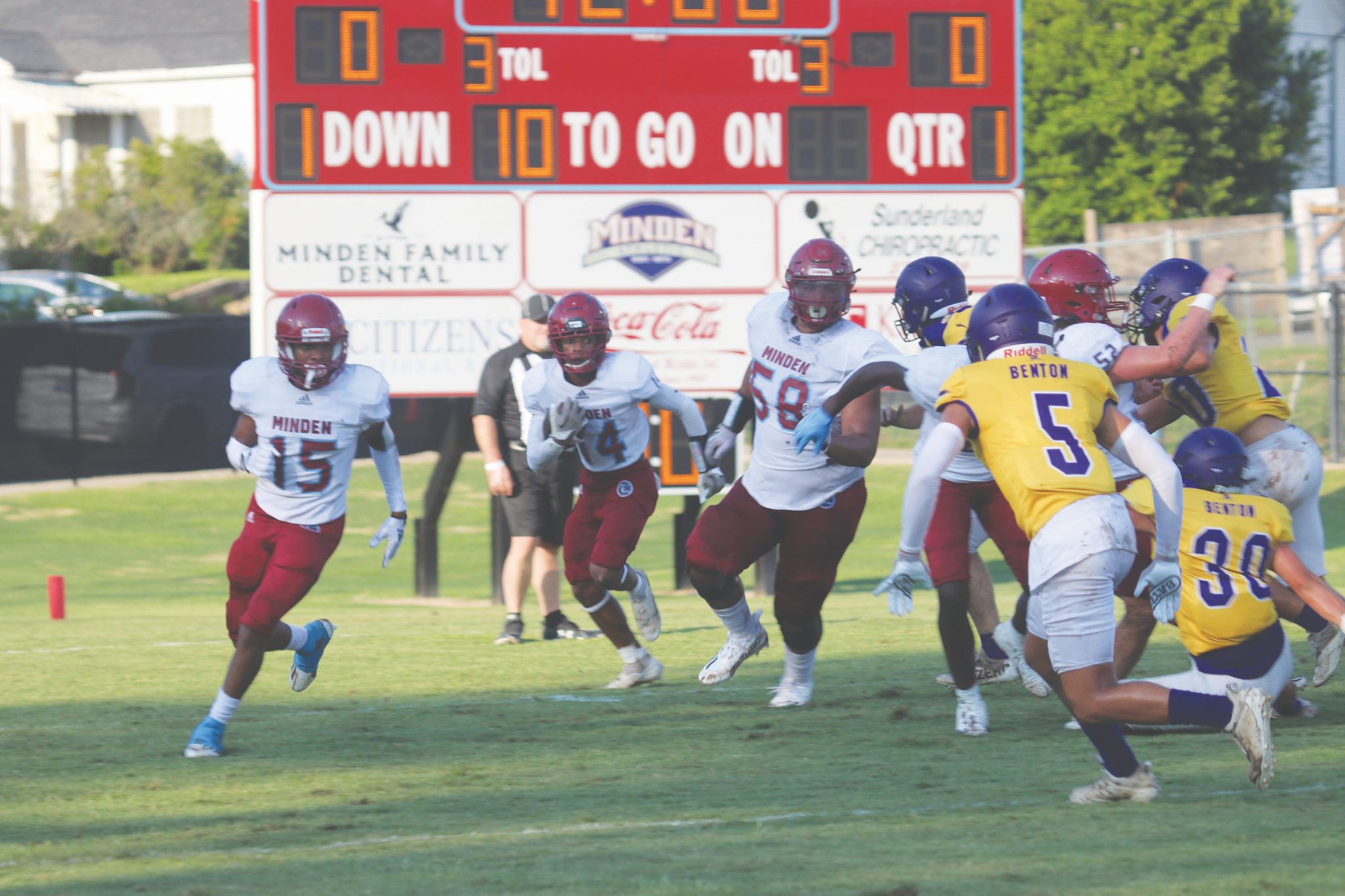 WEEK 6 PREP FOOTBALL SCHEDULE
Bossier (1-4) at Minden (1-4)
Glenbrook (5-0) at Magnolia SOE (0-5)
Lakeside (4-1) D'Arbonne Woods (4-1)
Union Parish (4-1) at North Webster (0-5)
Glenbrook and Lakeside will be looking to continue strong starts while Minden and North Webster hope to being second-half of the season turnarounds as Prep Football Week 6 is played tonight.
Minden (1-4) will be fighting to put the skids on a two-game losing streak as the Tide takes on 1-4 Bossier at W.W. Williams Stadium.
The last time the Bearcats and Crimson Tide was in October of 2018 with Minden coming out on top 56-6.
The was one of three wins the Crimson Tide earned that season.
Minden's lone win of the season came in Week 3 with a 39-27 victory over North Webster.
Glenbrook has taken Class 1A by storm in its first full year as a fully-established member of the Louisiana High School Athletics Association.
And in the first half of the season, the Apaches have been in "Dome or bust" mode, marching out to a 5-0 start while outscoring opponents 219-65 for an average winning score of 43.8 – 13.
The Apaches will be playing at Magnolia School of Excellence, which has stumbled out to an 0-5 start.
Glenbrook won last year's meeting between the schools by the score of 51-6.
Lakeside is another Webster Parish football team off to a strong start.
The Warriors (4-1) will be looking to extend their win streak to five straight when they head to Union Parish to take on District 1-2A opponent D'Arbonne Woods, which also stands at 4-1 on the season.
Lakeside hasn't gotten off to a 4-1 start since 2018, when the Warriors also went 4-1 to open a 6-5 season in which they lost to General Trass (Lake Providence) in the opening round of the playoffs by the score of 35-6.
Lakeside won last year's game against D'Arbonne Woods in a 15-12 defensive slugfest.
D'Arbonne Woods, which opened in 2007, will be looking for their first win over the Warriors.
It's been a tough start for North Webster (0-5), and the Knights will face one of their tougher challenges of the season as they play host to 4-1 Union Parish, the 2021 Class 3A state runner-up. 
WEEK 6 GEAUXPREP.COM'S PLAYOFF POWER RATINGS
Minden Division II Nonselect 28th (1-4)
North Webster Division III Nonselect  39th (0-5) 
Lakeside Division III Nonselect 23rd (4-1)
Glenbrook Division IV Select Second (5-0)