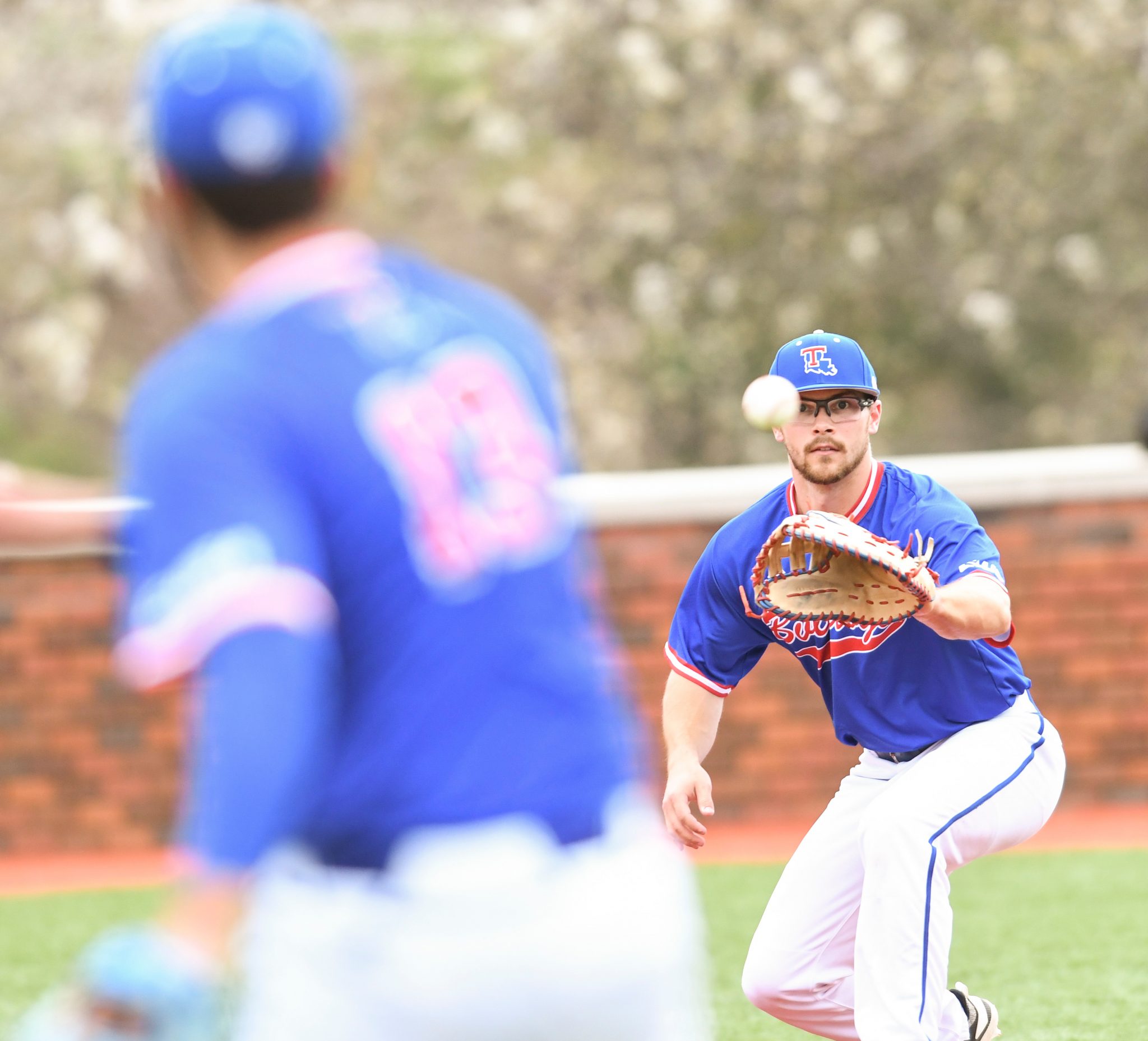 RUSTON, La. – The Louisiana Tech baseball team will take its seven-game winning streak on the road this week, visiting the UL-Lafayette Ragin' Cajuns in a Tuesday matchup scheduled for 6:30 p.m. from M.L. "Tigue" Moore Field at Russo Park.
The game will be streamed live on ESPN+ and broadcast on KNBB 97.7 FM with Dave Nitz on the call.
The Bulldogs (21-10, 8-4 Conference USA) are coming off an eight-game homestand that concluded with seven straight triumphs, including weekend sweeps over C-USA foes UAB and UTSA. After beginning the league slate 1-4, Tech has won seven straight C-USA games, and finds itself in third place in the league standings after the first four weeks of conference action.
Tech has seen success on the road so far in 2019, posting a 7-3 record through its first 10 contests away from home this season.
The Bulldogs and Ragin' Cajuns (17-17, 6-6 Sun Belt) met once already this season, with Tech winning its home-opener back on February 19th via a Mason Robinson walk-off single in the 10th, clinching the 3-2 Tech victory.
Tech senior closer Braxton Smith was honored for his performances over the weekend, picking up C-USA Pitcher of the Week honors after recording saves in all three of Tech's wins over the Roadrunners last weekend.
Smith, the first pitcher in C-USA with three saves in a weekend series this season, needed only a combined 40 pitches over the three contests. The right-hander allowed just one hit, while striking out five in the three high-pressure situations. Smith leads all Conference USA with seven saves this year, while opponents are hitting just .200 off him.
Meanwhile, Tech continued to see improved starts from its weekend rotation, beginning on Friday with senior captain Matt Miller. The right-hander improved to 4-0 after yet another solid start on Friday, tossing eight complete innings, while striking out seven and allowed just four hits and a pair of unearned runs.
In conference play, Miller is 3-0 with a 2.52 ERA in four starts. The right-hander leads the club with 25.0 innings pitched, while league foes have mustered just a .174 average off the senior.
From an offensive standpoint, Mason Mallard continues to lead the Bulldogs with a .381 batting average. The Whitehouse, Texas, native leads the team with 15 multiple-hit games, and has reached base safely in all 31 of Tech's contests in 2019.
UL-Lafayette got off to a slow start on the season, but has won five of its last six games, most recently beating Arkansas State in two of three Sun Belt matchups in Lafayette this past weekend.
The Cajuns are led offensively by Hayden Cantrelle (.336), who has recorded 42 hits, while slugging .600 through his first 34 games of the season.
Neither the Bulldogs or Cajuns have announced a starting pitcher for the midweek tilt.
Be sure to stay plugged into LATechSports.com and follow @LATechBSB on Twitter for all breaking news, in-game updates and other items of interest pertaining to the 2019 Diamond 'Dogs.