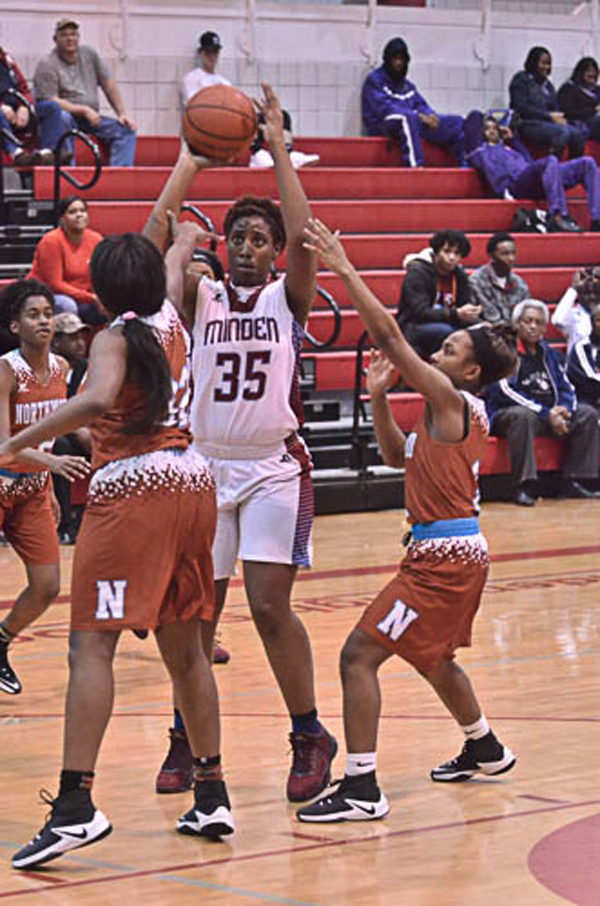 After three failed opportunities and three valiant efforts, Minden has to be wondering what it is that won't let them beat Gibsland-Coleman.
The Crimson Tide (9-10) left everything they had on the court Tuesday night in The Palace, and even held a 4-point lead with less than one minute to play, but the Bulldogs capitalized off a Minden mistake to take the game into overtime and eventually down the Tide for the third and final time, 85-80.
Minden got big efforts from Aaron Moses and Darrell Kemp who scored 18 and 17 points respectively, but it was an ill-advised drive to the basket that eventually doomed the Tide.
"We had an opportunity to win the game," Minden head coach Rennie Bailey said. "We're up four with a minute to go, and we have two crucial turnovers which resulted in two baskets for them to send the game into overtime."
Minden led 36-35 at halftime, only to see Gibsland-Coleman surge ahead in the third quarter. The Tide responded with a run of their own to tie the game at 50-50 at the end of three quarters of play.
In the fourth quarter, Gibsland-Coleman extended their largest lead of the night to seven points, but Minden responded with a 7-0 run of their own, capped by a Jalone Branch 3-pointer, to tie the game.
A Moses layup in transition made the score 69-65 with one minute remaining in the game, but off a Bulldog miss, Minden pushed the ball to the rim and missed a layup instead of running a few more seconds off the clock and forcing Gibsland-Coleman to foul.
The Bulldogs would score twice in the final 30 seconds to push the game into OT, where they dominated the extra period for their third win over the Tide this season.
"I thought our guys played hard," Bailey said. "They fought and battled, but at the end of the day, the team that makes the most plays is going to win; Gibsland made more plays than us."
Minden vs. Northwood (girls)
The Lady Tiders improved their record to 18-2 and got off to a 1-0 start in district 1-4A with a 64-43 victory over the Northwood Lady Falcons.
"I thought we got off to a slow start," Lady Tiders head coach Jacob Brown said. "We had moments of playing decent, but at the same time, I thought we could be better converting our layup opportunities."
Minden began to extend their lead in the second quarter when they began to rebound and finish near the rim. Their run continued into the second half as the Lady Tiders took over the contest.
"We began to force some turnovers and we were converting those turnovers into points," Brown said. "We outscored them in the fourth quarter 23-9. We're doing some good things, but I'm looking forward to the game where we put it together for four quarters."
Strawberry Batton continues to lead the Lady Tiders, finishing the game with 17 points. Whitney Aubrey had 12 points; Bre Rodgers finished with 11 points; Destini Powell scored 9 points, including a clutch 3-pointer.
Glenbrook vs. Tallulah (boys)
The Glenbrook Apaches moved their district mark to 2-0 with a convincing 85-51 win over the Tallulah Academy Trojans.
"Our defense was really good again tonight," Glenbrook head coach Jeff Dalton said. "We turned them over and capitalized on the offensive end all night."
Senior forward Joseph Windham filled up the stat sheet, finishing with 9 points, 15 rebounds and 8 blocks. He got plenty of help from Cade Conterez who led the team with 20 points; Da'maza Robinson had a nice night, adding 13 points while running Glenbrook's offense; Cade Clemons came off the bench to score 12 points.
"Cade Clemons comes in and goes 4-of-4 on 3-pointers," Dalton said. "Coaches constantly tell guys to be ready when their number is called and the guys truly were tonight."
Glenbrook vs. Tallulah (girls)
The Lady Apaches trailed by almost 30 points at one time, but came charging back in the game's late stages before falling to the Lady Trojans, 58-49.
"We came out flat tonight," Lady Apaches head coach Rendi Dillard said. "We haven't played since Dec. 16 and it was evident. I was very proud of the effort in the second half."
Amelia Christy scored 14 points to lead Glenbrook, followed by Kate Marvin with 9 points and Olivia Dalton, Megan Sims and Kannon Butler each added 7 points.
The next game for both the Apaches and Lady Apaches is Friday night in Homer against Claiborne Academy.
Lakeside vs. Calvary (boys)
The Lakeside Warriors (12-7, 1-0) defeated the Calvary Cavaliers 71-57 in Sibley.
Damian Coleman sparked Lakeside during a first quarter that was tightly contested. The Warriors ran
away in the second quarter, outscoring Calvary 28-11.
"It's good to have this win and be 1-0 in district," Lakeside head coach Jason Gould said.
Coleman finished with 24 points to lead the way, while Chase Coleman added 16 points and Tyler Sterling added 10 points.
Lakeside vs. Calvary (girls)
The Lady Warriors (8-13, 1-0) defeated Calvary 50-35 to move to 1-0 in district 1-2A play.
Chelsea Mays stepped up to lead Lakeside in the biggest game of their season, scoring 12 points.
LaCandria Key and Allison Loftin each scored 10 points to support the cause.