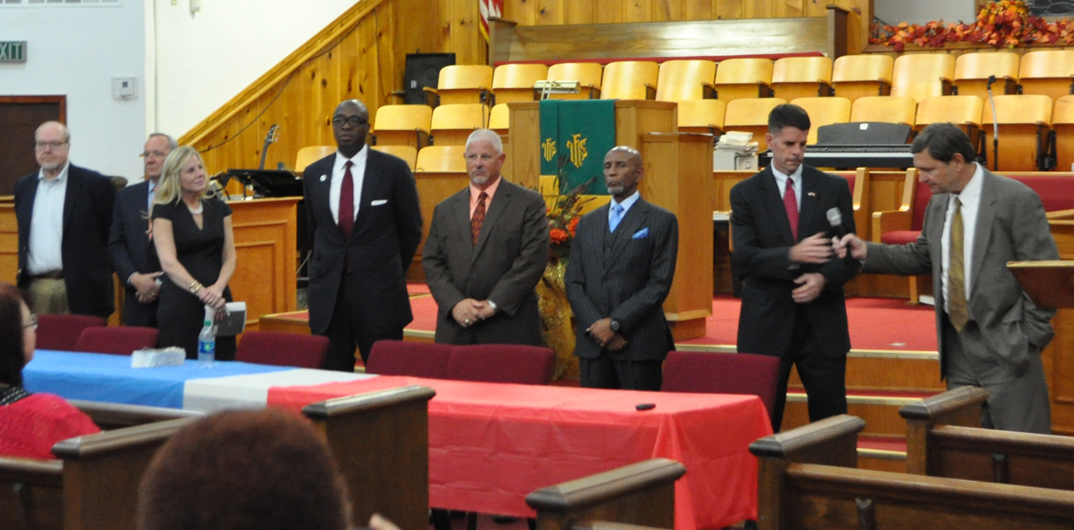 An array of candidates came to St. Rest Baptist Church Thursday night during a political forum so the public could meet the candidates on the Nov. 8 ballot and discuss the issues important to them.
Linda Baker, president of the Minden Chapter of the Delta Sigma Theta Sorority, Inc., says people asked important questions on several different issues.
"It was wonderful to have two representatives for U.S. Senate," she said. "That was really important because we want to know what they're going to do to bring jobs and help the situation in our small, little area," she said. "Minden's population is dwindling, so we're not going to get a lot of tax revenue coming into this area. So that's very important."
She says another issue she felt was important is that two Second Circuit Court of Appeal candidates talked about the importance of the rule of law, but at the same time criminal justice reform.
"The major concern for our community is justice reform," she said. "I think when we hear the candidates, the candidates understand that the people in this community, and all people, have the same concerns for our country."
Candidates from the Second Circuit Court of Appeal were incumbent Judge Jay Carraway and opponent 26th Judicial District Judge Jeff Cox. Candidates from the U.S. Senate were Col. Rob Maness and retired city Judge John C. Campbell representing candidate Foster Campbell.
Candidates for the fourth congressional district in attendance were Shreveport City Councilman Oliver Jenkins, Elbert Guillory, Kelly Johnson representing her husband Mike Johnson and Curtis Joseph, representing candidate Marshall Jones.
Marie Johnson, of Homer, says she came to the forum to hear what they plan to do if elected.
"I think all of the candidates really brought a great platform as far as answering questions," she said. "They answered truthfully and directly. We just hope when they get elected they will do what they promised to do, and we will hold them accountable."
Cox says he was grateful for the opportunity to meet with the public in a way that would allow them to get to know all the candidates for office.
"It's always great to be able to come out and talk to voters so they can make a decision," he said. "It was a great opportunity to let the people ask questions and get to know the candidate, and then they get to make an educated decision of who they're going to vote for."
This year's forum was sponsored by the sorority and the Webster United Minority Voters League.
Candidates were asked a number of questions regarding accessibility as an elected official to accountability. They were asked questions regarding their opinions on raising the minimum wage, the privatization of prisons, criminal justice reform, the rising costs of college tuition, and whether the candidates would work together or along party lines.
Candidates also answered questions regarding the condition of Louisiana roads. Guillory says the issue is when Louisiana had a surplus, the state did not invest in its infrastructure.
Kelly Johnson says the issue now is that the state does not have enough money to put into infrastructure, agreeing that Louisiana roads are not in good shape.
Baker says she was impressed by the atmosphere during the forum.
"It was wonderful," she said. "I thought that each of the candidates spoke from their heart, and I really wish we had an opportunity to videotape this and share it with the whole community."