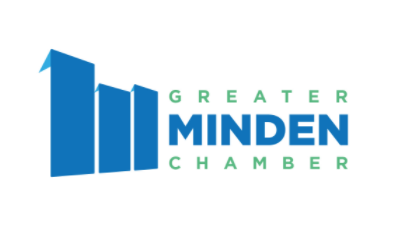 Rebrand brings new logo, mission statement, website
For the third time in 75 years, the area's premier business organization has a new name.
On Friday, the Minden-South Webster Chamber of Commerce changed its name to the Greater Minden Chamber as part of a renaming and re-branding effort.
The change gives the chamber a more familiar identity and expanded region, said chamber president Stephanie Barnette. "The new name breaks the geographic boundaries of Minden and South Webster Parish," she said.
"Many of our members are outside of Webster Parish and this shows that we serving the region." Along with a new name, the Chamber is debuting a new logo, mission statement and website. Patrick and Rachel Miller of Milo Interactive designed the new logo, which was based on Minden's German roots.
"Patrick and Rachel took our ideas, goals, and vision and created the perfect logo," said Jennifer Spurlock, the board of directors chair. "The core mark of the logo is based on German blackletter typography and the leaning core structure of the M is rooted in a perspective view of the region's historic architecture."
Spurlock said the Greater Minden Chamber identity was developed to embrace the community's historic significance and illustrate the forward-thinking vision of area residents, businesses and community leaders.
"Our goal is to create the best business climate in Louisiana for our members," states the chamber's new mission statement. The revamped website, www.greatermindenchamber.com, will serve as an enhanced portal for current and potential members.
It will also feature a community calendar with area events and allow the public to post to the calendar, Barnette said. The Greater Minden Chamber, which has more than 260 members, was founded in October 1942 as the Minden Chamber of Commerce. In 1990, the named was changed to Minden-South Webster Chamber of Commerce under the leadership of former president Sue Gruber.