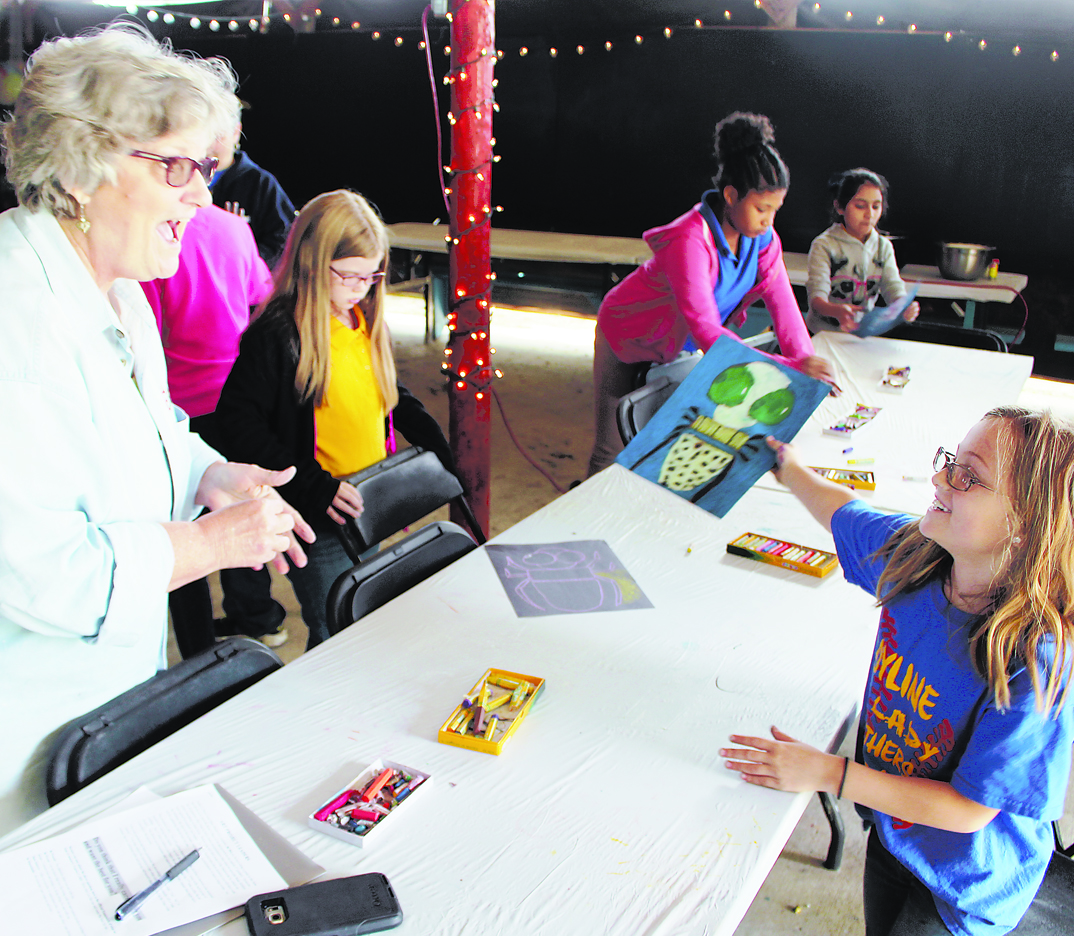 Saturday is the big day for Cultural Crossroads' 22nd annual Chickenstock.
Everything from arts and crafts, artwork on display to bird watching, the festival is sure to offer something for everyone. Executive Director Chris Broussard says the event will begin Friday evening, April 15, with a special showing of a musical video/documentary in honor of Minden native Percy Mayfield. The film will be shown on the outdoor movie screen. Admission is free, and ice chests are $5 each.
"Bring a lawn chair and sit under the stars and watch one of our own homegrown stars," she said.
Mayfield Movie
Mayfield's best-known composition, "Stranger in my own Hometown," was recorded by Elvis Presley. Mayfield made his first impression with a two-sided hit "Please Send Me Someone to Love," for Specialty Records in 1950.
"It set the tone for Mayfield's singles to come, which generally found him lost, lonely, and ground under the heel of unforgiving fate," Broussard said. "Blessed with brilliant writing gifts, Mayfield charted several R&B hits for Specialty through 1952. That summer, he was involved in a car accident that left him disfigured with a misshapen skull and a long scar that dissected his face."
Mayfield's chief beneficiary was Ray Charles. The singer-pianist scored with Mayfield's penned numbers "Hit the Road Jack," and "Danger Zone."
In 2006, Cultural Crossroads learned of Mayfield's contribution to music and dedicated the festival in his honor. Later that summer, the arts organization had him inducted into the Louisiana Music Hall of Fame.
Gates open at 7 p.m., and barbecue riblet plates will be for sale for anyone wanting to dine on the grounds. The movie will begin around 8:30 p.m.
Bird Calling
While the festival opens to the public at 9 a.m. Saturday morning, those attending the early calling of the birds by John Dillion can get in free. Dillion, a noted "birder," will conduct two bird callings, one at 8 a.m. and another at 9 a.m. Enthusiasts are urged to arrive about 15 minutes early for the trip through the back acreage of The Farm.
"April is our region's peak time for spring songbird migration," Dillion said. "Many of our local nesting birds will be singing all morning. Be sure to bring a pair of binoculars."
Dillion is a member of the Louisiana Bird Records Committee. He leads field trips for the Louisiana Ornithological Society and will be leading a special trip through The Farm's newly established nature trail. Dillion conducts bird surveys for LSU and the federal government, gives lectures on birds and birding and is a local manager of eBird, the world's largest online bird record database.
He is a teacher at Minden High School and is an accomplished field ornithologist.
Basket Weaving
Cindy Kilgore, a noted pine needle basket weaver from New Iberia, will be featured at this year's Chickenstock. As a master artist in the Louisiana Crafts Guild since 2008, Kilgore creates intricately designed baskets out of longleaf pine needles.
She taught in the Louisiana public schools for 25 years before retiring. She learned the art of pine needle basket making from Andrea Thompson, a Mississippi artist who taught a class at a local library.
She will conduct two workshops at Chickenstock, one at 10 a.m. and one at 2 p.m. The cost of the workshop is $25 and covers all supplies and one-on-one instruction by Kilgore. Pre-registration is encouraged, and payment may be made at the time of the class.
The workshops are limited to the first 15 registered for each class. To register, call Broussard at 318-393-5991 and potential participants are encouraged to leave their name and number as well as which session they wish to attend.
All proceeds from the workshop will go towards future workshops to be held at The Farm.
Arts, Crafts, Vendors
Artists and arts and crafts vendors will be scattered around the landscaped grounds that include a variety of public art sculptures and square foot garden beds. The children's art exhibition will open with the largest exhibit of children's work in the area.
More than 1,000 pieces of art from students K-12 will have been judged earlier in the week with the top 10 and winners on display. The little blue house that has served as a focal point for the property will be open for tours. The little blue house was once the home of Zenobia West, who donated the grounds to the organization about 16 years ago.
Chickens are on tap as well, live and painted. A petting zoo area will include The Farm's chickens, Dr. Alan Cameron's Highland cattle joined by some goats and The Farm's resident rooster and chickens.
Art stations will be set up to entice a variety of age groups to sit down and create anything from painting on canvas, making a chicken hat, painting a funky chicken to watching a style show of altered couture designs by area children.
Vincent Van Gogh will make an appearance and share his love of art.
Grandma's attic is back and dress up again will surely be the hit of the day.
A special performance of the Minden High School band will be followed by special performances by Glenbrook School Lip Sync contest winners.
Admission to Saturday's event is $3 with all proceeds to go to MHS's band instrument project. Gates open at 9 a.m. and close at 5 p.m.
Chickenstock was funded in part this year by a grant from the Blue Cross Blue Shield Foundation of Louisiana and returning corporate sponsors.