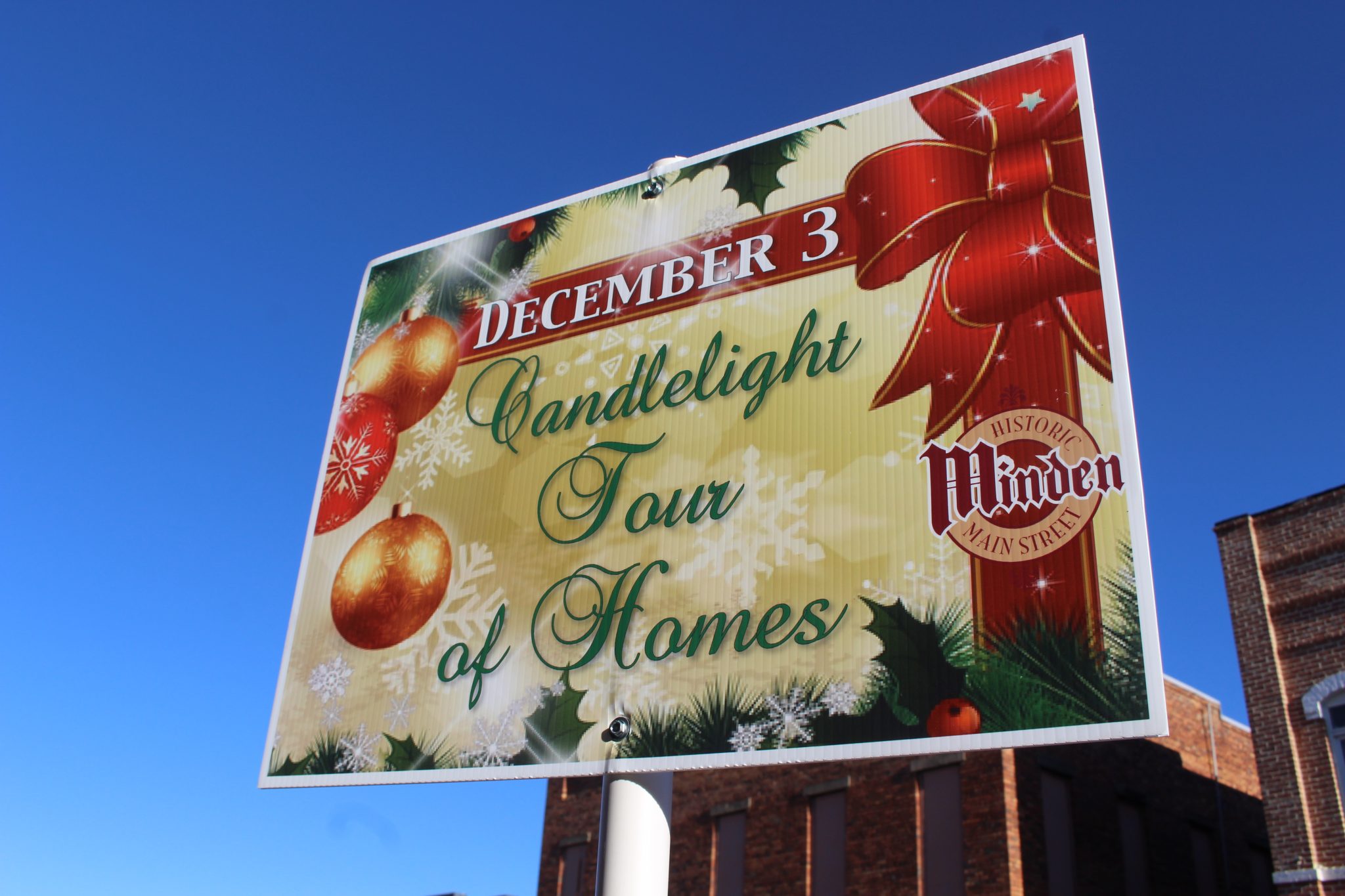 Scheduled Christmas festivities abound in Webster Parish Saturday. In Sarepta, the eighth annual Christmas Festival will be held in the town park.
Music, food, crafts, children's activities and more will be available starting at 10 a.m. and will conclude at dark with fireworks.
Several local charities will receive portions of the event's proceeds.
Vendors are encouraged to participate and a silent auction, car show, chili cook-off, bands, and pictures with Santa Claus will entertain festivalgoers.
"Some of it is up in the air because of the weather, including bounce houses for kids, car show and fire works," Amanda Anglin, committee member said. "No matter the weather, we will still have entertainment numerous lives bands, and vendors and silent auction. Last year's proceeds went to a local wounded warrior and a food pantry."
Minden Evening Lions Club has said the high chance of rain has caused the Minden Christmas parade to be cancelled. At press time, no plans to reschedule the parade had been made.
Weather may also affect components of the Santa and Friends Fun Ride for Bikes and Trikes, to be held on Pearl Street.
Registration is from 9 until 10 a.m. and riders are encouraged to bring canned food and toys for donations. It is open to all motorcycles and street legal all terrain vehicles.
Other activities for Minden's Christmas on Main will offer fun activities for everyone, Downtown Development Director Becky White said.
The Candlelight Tour of Homes, which is sponsored by Minden Main Street, Movies on Main, which is sponsored by the Young Women's Service Club, children's art contest, many shops and stores offering sales and a chance to meet and greet Santa Claus are some of the activities being offered.
The Candlelight Tour of Homes will be held from 6 p.m. to 9. Tickets are $10 and include the three homes on the tour. Tickets can be purchased in advance at Minden City Hall or at the individual homes.
"Proceeds from this event will assist in the repair of gazebos at Academy Park and Jacqueline Park," Terry Gardner, Main Street Board president said.
Three homes on the tour this year are Madalyn Culpepper's home at 1100 Broadway St., which was completed on May 17, 1914, in the Craftsman style; the Huffman House Bed and Breakfast at 1108 Broadway Street, which was built in 1918 in the Queen Anne Revival style and Bennie and Linda Wood's home, located at 120 Broadway, which was built in 1900 in the Queen Anne Victorian style and underwent renovation in 1949.
Children's artwork is on display at shops in Downtown Minden. The Minden Main Street board is holding the art contest, and four winners will each be given a $25 gift certificate to Bobby's Hobbies. Categories are divided into four age groups, preschool and kindergarten, first and second, third and fourth and fifth and sixth. Winners will be chosen by most votes received from now until Saturday at 5 p.m. at City Art Works. To vote, visit Her's Bridal, Vintage Affair, La French Gypsy and City Art Works.
"This is a great way to support our young people," Gardner, board president said. "Our downtown is very active and we want to ensure it is vibrant for future generations."
In addition to the art contest, the board is also selling raffle tickets for a $500 Visa gift card for $5 a piece or five tickets for $20. Tickets can be purchased at Minden City Hall, TG Garden and Gifts, or from any Main Street Board member.
Proceeds from the raffle will also aid in repairing Minden's gazebos.
Photos can be taken with Santa Claus at The Vault from noon until 5 p.m.
Movie on Main will be held at Orleans on Main from 6 until 9 p.m. An animated Christmas feature for children will be shown, giving parents the opportunity to shop, tour homes or have date night downtown.
Admission is free, however a concession stand will be available offering hot dog plates, which include a hot dog, chips, cookie and drink, for $5 as well as additional items such as popcorn, candy and cookies.
First United Methodist Church is hosting a parents' night out from 5 until 9 p.m. for infants through children in the sixth grade. Drop off is located in the children's building, which has entrances on Second Street and McDonald Street and donations are requested for the service provided.
"There is so much to do and so much shopping and sales," White said. "This is a great opportunity to combine holiday shopping, with date night and family fun. It's great to have so many organizations participating to provide a wide assortment of activities for our community."
For more information about the Sarepta Christmas Festival, call 847-4333.