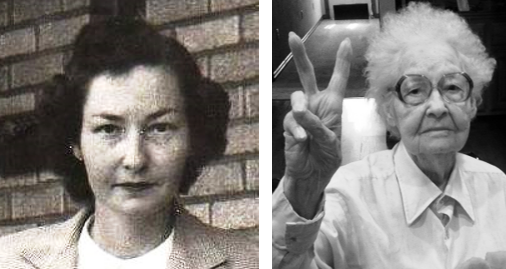 Graveside memorial will be held December 10, 2022, 1:30 PM at the Fellowship Cemetery in Dubberly.
Honor Guard ceremony will be performed by Northwest Louisiana Nurse Honor Guard.
Cloie was born in Mena, Arkansas in February, 1920. She and her siblings grew up in Arkansas as sharecroppers and tenant farmers. Cloie was the youngest of the family.
After Cloie graduated from high school, she enrolled in a nurse's training program at Tri-State Hospital in Shreveport, Louisiana; and also trained in pediatrics and obstetrics at Charity Hospital in New Orleans.
Cloie graduated nurse's training as a Registered Nurse from Tri-State School of Nursing and began working at Tri-State Hospital in Shreveport. While employed at Tri-State, she became friends with another nurse, who introduced Cloie to her brother, Jim Worsham (of Dubberly, LA). Cloie and Jim eventually married. Cloie and Jim were married from 1946 to 2002, when Jim passed away.
In 1942, Cloie received her certification of training in First Aid from the USA Department of the Interior, Bureau of Mines. In 1943, she was appointed as an American Red Cross nurse. From 1943 on, Cloie performed her duties as a Registered Nurse in surgery, private duty, a doctor's office, hospital charge nurse, Director of Nursing in a nursing home and for a period she worked as a nurse in a State mental health facility. During her nursing career, Cloie was cross-licensed in three states; Louisiana, Texas, and Oklahoma.
Cloie was always very proud of her career and had many stories that she loved to tell to family and friends. Cloie's nursing career memorabilia is being donated for display to the Tri-State School of Nursing Collection at the Willis-Knighton Talbot Medical Museum in Shreveport.
Cloie Edmunds Worsham passed away at her home in Moore, Oklahoma in January, 2022 at the age of (almost) 102. Cloie leaves behind two children, Judy, and Jim; grandchildren Mike, Allison, James III, Clayton, and Cooper; as well as great-grandchildren, Shellby, Keelie, and Ethan.
IN LIEU OF FLOWERS, CHARITABLE DONATIONS MAY BE MADE TO:
Northwest Louisiana Nurse Honor Guard
ATTN: Kimberly Ward
5316 Linton Cutoff Road; Benton LA 71006-8774
(please designate the donation is in honor of Cloie Edmunds Worsham)