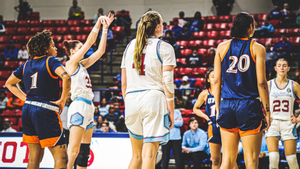 Louisiana Tech Athletic Communications
RUSTON — Louisiana Tech fell to UTSA 66-63 at home Saturday afternoon despite leading a game-high 22 points from Keiunna Walker, who moved from No. 14 to No. 11 on the all-time scoring list. 
It was a hot start for both teams in the TAC, with both squads combining 18-32 from the floor in the first, including seven threes (7-13). UTSA built a 15-10 lead over the first four minutes, but a 14-5 finish gave the Techsters a four-point lead after one, 24-20.
LA Tech (12-8, 5-5 C-USA) was able to build a little breathing room (29-22) in the first minute of the second, but an 8-2 burst from UTSA (4-15, 2-8 C-USA) cut the lead to one. Tech was able to add one to the lead at the half over the final five minutes of the half to take a two-point edge into the break (36-34).
Both teams cooled off in a back-and-forth third quarter where no team could make much of a run, but Tech could slightly extend the lead to three heading into the final stanza (53-48).
Amaya Brannon extended Tech's lead to seven, but UTSA quickly erased the lead with a 7-0 run over the next 90 seconds to even things with seven minutes to play.
UTSA grabbed their first lead since the first quarter off a Jordyn Jenkins jumper which began a 9-0 run over the next five minutes to build a six-point lead with just 1:17 to play.
Walker's and-one with 42 seconds remaining cut the game to one possession, followed by a stop and two more Walker free throws to bring the game to one, but a UTSA layup pushed the lead back to three. Tech would get one final opportunity with a look from three to tie, but Walker's attempt was wide left.
UTSA shot 51 percent from the field (29-57) and hit six threes, while LA Tech hit 23-53 (.434) and hit 8-20 from deep (.400). The Roadrunners also outrebounded the Techsters 34-25.

QUOTABLES
Head Coach Brooke Stoehr…
"I didn't think we started the game well defensively and traded baskets for the longest time. They are a team that was hungry for a win, and we let them gain a lot of confidence in that first half. We still only give up 66, but the scoring drought in the fourth quarter is what did us in. It is tough to swallow, but you have to give UTSA credit.
We have to have our whole group all out, all the time. We are a good team when we show up with our whole heart and compete. Our season wasn't going to be won or lost with a result today. We got punched, and now it's about how we respond."