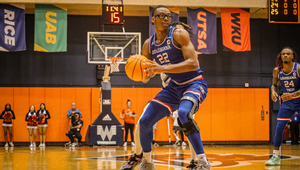 Louisiana Tech Athletic Communications
SAN ANTONIO — The duo of Isaiah Crawford and Cobe Williams accounted for over half of Louisiana Tech's scoring on Saturday, combining for 37 points to help lead the Bulldogs to a 66-55 victory over UTSA inside the Convocation Center.
Not only did the tandem do the bulk of the scoring, they also combined for 13 rebounds, seven assists, and three steals as LA Tech (12-10, 5-6 C-USA) snapped its two-game losing streak and picked up its first road win since Jan. 5.
Neither team could put the ball through the hoop in the early going, combining for 18 straight misses and the score being stuck on 5-4 for almost six minutes.
The offense slowly started to kick in for both teams. First it was UTSA (7-16, 1-11 C-USA) who built a 14-10 advantage with 5:54 to go in the first half. It was the 'Dogs turn after that, making their largest scoring run of the contest with 10 straight points, including back-to-back three-pointers by Crawford and Williams.
The advantage ended up being 25-18 at halftime and was pushed to a 32-20 lead at the 17:32 mark of the second half, but Crawford picked up his fourth foul. Then came the Roadrunners.
UTSA had its best scoring run, 7-0, to get back to within two possessions. But, keeping the home team at bay was Kaleb Stewart who scored seven of his nine points during a 6-minute stretch to push the lead back to double digits at 46-36.
The Roadrunners would not go away, heating up from beyond the arc with back-to-back triples Isaiah Abdo-Ankrah and Christian Tucker to get to cut their deficit to four at 48-44 with 7:46 left.
After a timeout by head coach Talvin Hester, Crawford checked back in and took control. He scored nine of the team's 11 points and assisted on the other score with an alley-oop pass to Williams to put the contest away.
After a sluggish first half offensively, LA Tech exploded for 59.3 percent shooting in the second 20 minutes to finish at 47.3 percent (26-55). Crawford had 19 while Williams had 18.
UTSA was held to 32.3 percent shooting from the field, it's second lowest of the season. Four Roadrunners reach double-digit points with Abdo-Ankrah leading the way with 14.
QUOTABLES
Head coach Talvin Hester
"Shots were not falling early, and that is why you want to carry your defense everywhere you go. We weathered the storm until we got better offensively. I thought we got a big jolt off the bench from Kaleb Stewart. He pushed the tempo for us, which got us playing a little faster. I thought our small-ball lineup gave us the separation we needed. We played well as a team."
"When Isaiah has been good, we have been great. That is the story of our season in some ways. When he is locked in and stays out of foul trouble, he becomes great, especially late in games. He is as good as they come."