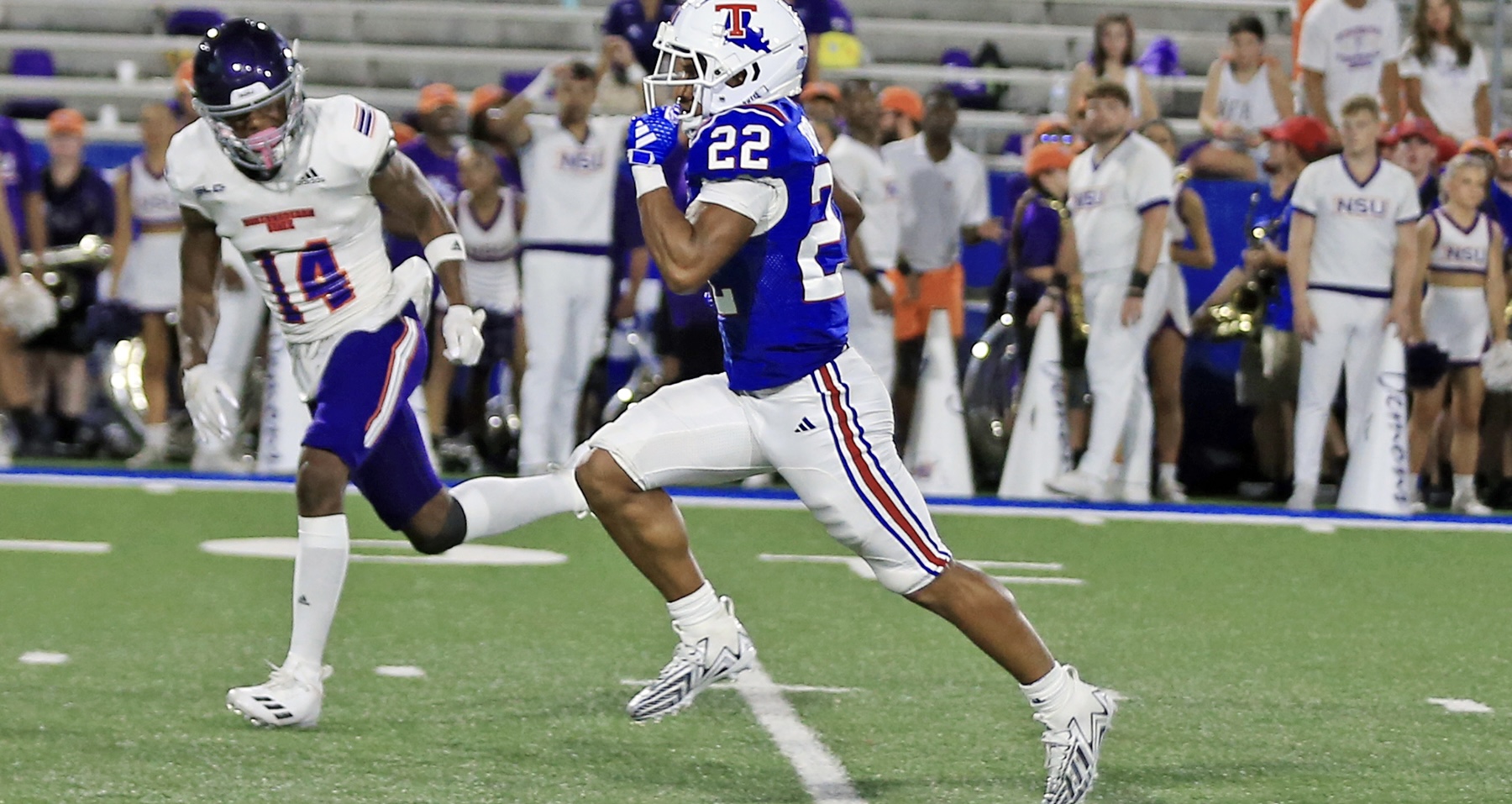 Louisiana Tech Athletic Communications
True freshman Keith Willis Jr.ran over and ran away from Northwestern State, leading a Louisiana Tech rushing attack with 188 yards and two touchdowns as the Bulldogs defeated the Demons, 51-21, on Saturday night inside Joe Aillet Stadium.
LA Tech (2-1) totaled 357 yards on the ground, getting long touchdown runs from Willis as well as Tyre Shelton and Charvis Thornton who added a combined 100 yards rushing themselves.
Shelton, making his Bulldog debut, got the scoring started when he broke a tackle at the line of scrimmage and then broke outside for a 41-yard rushing TD to make it 7-0 with 10:28 left in the first quarter.
Jacob Barnes tacked on one of his three made field goals on the following drive, but NSU (0-2) marched 61 yards on three plays to get on the scoreboard late in the first quarter.
Willis got the first of his 13 carries in the second quarter and proceeded to take it to the house for 65 yards and the touchdown. However, the Demons countered again as quarterback Tyler Vander Waal scrambled to his right for a 9-yard rush to get back to within three.
That was as close as NSU would get as LA Tech outscored the Demons, 34-7, the rest of the way. The Bulldogs tacked on a pair of scores right before halftime with Hank Bachmeier tossing a dime to the back pylon for Koby Duru for a leaping 11-yard touchdown grab and Charvis Thorntonracing up the middle for a 30-yard score after a fumble by the NSU punter.
The start to the second half was not ideal for LA Tech as the 'Dogs fumbled the ball on the very first play. The Demons capitalized, ultimately scoring on a 3rd-and-goal. But, this was the last time the visitors found the end zone.
The Bulldogs scored 20 unanswered points in the third quarter though including another long rushing TD by Willis who broke multiple tackles, then outraced everyone for a 68-yard run. And on the very next play of the game, Cedric Woods picked off Vander Waal and took the interception 49 yards for the pick six. Barnes' left foot was responsible for the other points of the stanza.
The INT by Woods was one of three by the Bulldog defense to go along with 12 tackles-for-loss and three pass breakups.
QUOTABLES
Head coach Sonny Cumbie
Opening Statement…
"Excited for our team to be 2-0 in Joe Aillet Stadium. That's what we talked about this week, get to 2-0 in front of this great crowd. Our student section was awesome, it was great to see them stay throughout the whole game. I was really proud of our team from all four sides. The sidelins energy was great with the guys helping us from that standpoint. The defense made big plays, they did a nice job creating takeaways. The big touchdown Keith had, that was the big turning point in the game. Offensively, we were feast or famine, we hit some big plays and then execution was down in the redzone. We got to execute better in the red zone. We are looking forward to breaking this one down, there is still some mistakes we left out there."
On performance of the running backs…
"I am very proud of Keith Willis. Very proud of how hard he ran. He broke tackles and ignited our team with his explosive runs. You can't say enough about Tyre Shelton. Coming out and getting us going with the first touchdown run of the game. From a standpoint, the coaches on the headset, we were lining up in a formation and they are giving us two looks and we stayed in them and kept calling the same play. We were able to have success with it. Credit to the offensive line and those backs."
On the performance from QB Hank Bachmeier…
"He made some throws down the field. Every throw we had down the field that was contested, we either caught the ball or it was a pass interference. That is what you are going for. They gave us a lot of man coverage and we were able to throw the ball down field effectively. Hank has a high accuracy throw in terms of his vertical ball. We could have done it more tonight, but we were running the ball effectively."
On DB Michael Richard's performance so far this year…
"Mike doesn't flinch. He is going to continue to get challenged. They see 13 out there and see he is a freshman and say let's go after him. That is fine, Mike answers the call. I can't say enough positive things. He is mature beyond his years. We are going to need him to play well and play consistent."
NOTABLES
With the win, LA Tech now leads the all-time series against Northwestern State, 55-20-5. The Bulldogs are now 13-1-2 versus the Demons in Ruston.
LA Tech rushed for 357 yards, the most since Oct. 12, 2019 when the Bulldogs rushed for 385 yards against UMass.
LA Tech had three running backs rush for a touchdown in a single game for the first time since Sept. 8, 2012 at Houston.
Keith Willis Jr. rushed for 188 yards, the most by a Bulldog true freshman since Kenneth Dixon rushed for 232 yards against Idaho on Oct. 20, 2012.
LA Tech extended its streak of registering a pick six to 13 straight seasons.
LA Tech recorded 12 tackles-for-loss, the most since the Bulldogs had 12 against Florida Atlantic on Oct. 26, 2018.
Jacob Barnes tallied three made field goals, the sixth time in his career he has made at least three in a single game.
UP NEXT
LA Tech will play host to North Texas on Saturday, Sept. 16 inside Joe Aillet Stadium. Kickoff is set for 6 p.m. CT and will be broadcast live on ESPN+. Fans are encouraged to wear red as part of the 14th annual "Red Out" game.
SOCIAL MEDIA
For all the latest in Bulldog Football, follow us on Twitter (@LATechFB), Instagram (@LATechFB), and Facebook (LATechFootball).