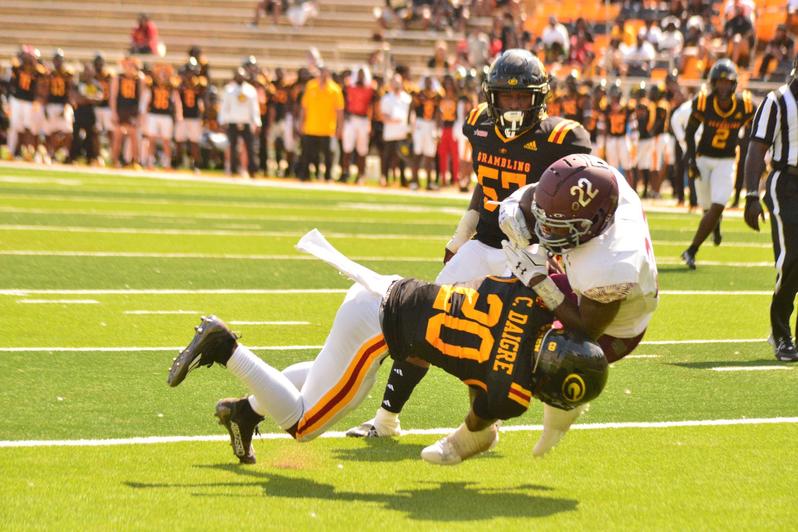 By Curtis Ford, Grambling State Assistant AD for Athletic Communications; featured photo by Tony Valentino
GRAMBLING — Grambling State used a strong ground attack, putting up 282 rushing yards, en route to a 35-23 victory over Texas Southern at Eddie G. Robinson Memorial Stadium on Saturday afternoon.

Chance Williams led the GSU rushers with 176 yards and a touchdown on 17 carries. Floyd Chalk also had a big day, carrying the ball 19 times for 96 yards and two TDs. 

As an offense, Grambling State gained 477 total yards. Staring QB Myles Crawley once again had an efficient outing, completing 14-of-23 passes for 195 yards and two touchdowns. 

On the defensive side of the ball, GSU put up its strongest performance of year, allowing a season-low 271 yards. Lewis Matthews led the G-Men with another double-digit tackle game, making 11 total stops. 

Grambling State's offense got to work early in the first quarter, using a 7-play, 49-yard drive topped off by a 1-yard run by Chalk to go up 7-0 with 7:34 to go in the first quarter. 

Texas Southern's Jace Wilson helped TSU tie the game in the second quarter with a 41-yard TD pass to AJ Bennett at the 13:50 mark. 

With 2:26 left in the first half, GSU took over on its on 10-yard line. The Tigers quickly marched down the field for a score. Crawley connected with Lydon Rash on a 17-yard TD pass, giving the Tigers a 14-7 advantage heading into the locke room. 

On GSU's first drive of the second half, following a 41-yard field goal by TSU, a 49-yard run by Chalk set GSU up in prime real estate, just inside the red zone at the TSU 24-yard line. Two plays later, Crawley found Covadis Knighteninside the 5-yard line, setting up first and goal at the 4-yard line. Following a play for negative yards, Williams punched it in from 11 yards out. Rinker's PAT made it 21-10 GSU with 7:27 to go in the third quarter. 

Texas Southern trimmed GSU's lead back down to four when Wilson connected with Eyan Means on 34-yard TD pass with 1:19 remaining in the third. Grambling State led 21-17 heading into the fourth quarter. 

Crawley found Rash once again with 11:22 to go in the fourth quarter for another score, giving GSU a 28-17 cushion. 

Texas Southern responded on the ensuing drive when Wilson tossed his third touchdown pass of the afternoon, a 25-yard throw and catch to Jyrin Johnson. TSU opted to go for the two-point conversion, but failed, leaving GSU with a 28-23 lead with 8:12 to go. 

GSU kept distance between itself and TSU after a 1-yard TD rush by Chalk pushed to lead to 35-23 with 8:12 remaining. 

Grambling State's defense clamped down, holding Texas Southern to just six yards total on its final two possessions of the day. 

LaDarius Owens rushed for 76 yards on 20 attempts while Wilson passed for 153 yards on 14-of-24 passing. Isaiah Bogerty led the way defensively with 10 tackles.

MORE FROM THE BOX SCORE
Grambling State racked up 477 yards of total offense. GSU ran the ball 48 times for 282 yards.
GSU picked up 23 first downs.
Grambling State dominated time of possession, possessing the ball for 34:20 to TSU's 25:40.
GSU committed 11 penalties for 98 yards.
Grambling State was 6-of-14 on 3rd downs
Lydon Rash led the Grambling State receiving corps with four receptions for 58 yards and two touchdowns.
Jimmy Iles punted the ball seven times for an average of 47.0 yards per punt. He had three kicks of 50 yards with his longest being 59 yards. He also placed three punts inside the 20-yard line.
Lewis Matthews led the GSU defense with 11 total tackles.
Texas Southern registered 13 first downs.
The Lions gained 271 yards of offense.
Jyrin Johnson led TSU with four catches for 34 yards and a touchdown.
TSU was 2-of-12 on 3rd downs
UP NEXT
Grambling State travels to Dallas, Texas for a showdown versus Prairie View A&M in the State Fair Classic. Kickoff is scheduled for 6 p.m. at the Cotton Bowl and will be broadcast on ESPN+.
FOLLOW GRAMBLING STATE ATHLETICS
For complete coverage of Grambling State Athletics, please follow the Tigers on social media at @GSU_Tigers (Twitter), /GramblingStateTigers1901 (Facebook), @gramblingathletics (Instagram) or visit the official home of Grambling State Athletics at gsutigers.com.