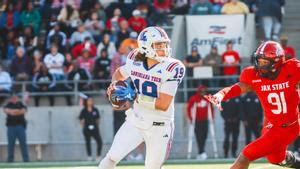 Louisiana Tech Athletic Communications
JACKSONVILLE, Ala. — In the season finale, Louisiana Tech fell to Jacksonville State 56-17 on Saturday afternoon at Burgess-Snow Field at Jacksonville State Stadium.
The Bulldogs finished 3-9. Jacksonville State improved to 8-3.
Seven Jacksonville State rushing touchdowns combined with a slow start offensively was too much for LA Tech to overcome in the contest.
Smoke Harris became just the second player in program history to record 300 career receptions when he hauled in a 14-yard pass from Hank Bachmeier in the first quarter.
The Bulldogs went three and out to start the ballgame before the Gamecocks quickly got on the board two plays later courtesy of rushes of 68 and two yards by running back Malik Jackson to take a 7-0 lead less than three minutes into the game.
Jax State added to its lead to 14-0 by returning a blocked punt 21 yards for a touchdown with 8:44 left in the first quarter.
Following a critical fourth-down conversion, Jackson added another touchdown on a 13-yard rush to make it 21-0 in favor of the hosts.
The Bulldog offense got things going on their next time. Quarterback Hank Bachmeier connected with Smoke Harris on passes of 14 and 17 yards before threading the needle to find Cyrus Allen on a 31-yard touchdown pass to bring to Tech within 14.
Both teams moved the ball in their ensuing possessions, but neither could capitalize as both drives ended in a turnovers on downs.
Jax State added its third rushing touchdown of the day with a 13-yard touchdown run by Ron Wiggins to cap a four-play 81-yard scoring drive for a 28-7 lead. Quarterback Zion Webb added seven more on a 34-yard keeper with 7:32 in the clock in the first half.
The Gamecocks took a 42-7 lead after Webb scampered in from eight yards out in the final minutes before the half.
Buck Buchanan made a 33-yard field goal as time expired in the first half to make it 42-10 at the break.
The Bulldogs made it 10 unanswered on an outstanding special teams play as Joshua Cobbs blocked a Jax State punt that Michael Richard returned for a Touchdown to make it a 42-17 ballgame.
Jax State responded on the ground again, with Webb finding the end zone from 29 yards out. The Gamecocks then tacked on another rushing touchdown on their following drive courtesy of an Anwar Lewis nine-yard rush to increase the lead to 56-17.
Jax State would close out the game with an interception from Evan Bullock.
QUOTABLES
Head coach Sonny Cumbie
Opening Statement…
"It was disappointing and very embarrassing. We don't come out to play on any side of the football. Jacksonville State dominated us and we did not answer the bell. Any type of momentum we tried to create, whenever we had things go our way we didn't capitalize on it. It was a long day for us and we have a lot of work to do as we had into the offseason.
NOTABLES
With the loss, the all-time series between the program is now tied, 1-1.
Louisiana Tech is now 46-33 in Conference USA play all time.
The Bulldogs have now blocked punts in back-to-back seasons. Joshua Cobbs blocked punt in the third quarter was the first since Praise Okorie in a 40-24 win over Middle Tennessee on Nov. 5, 2022.
Smoke Harris became the second Bulldog in program history to record 300 career receptions, joining Trent Taylor as the only players to accomplish the milestone.
Blake Ochsendorf registered his 15thpunt over 50 yards this season with a 53-yard boot in the first quarter. His 15 punts of 50+ yards are the most since Ryan Allen who had 21 in 2012.
UP NEXT
LA Tech will return to action in 2024.
SOCIAL MEDIA
For all the latest in Bulldog Football, follow us on Twitter (@LATechFB), Instagram (@LATechFB), and Facebook (LATechFootball).