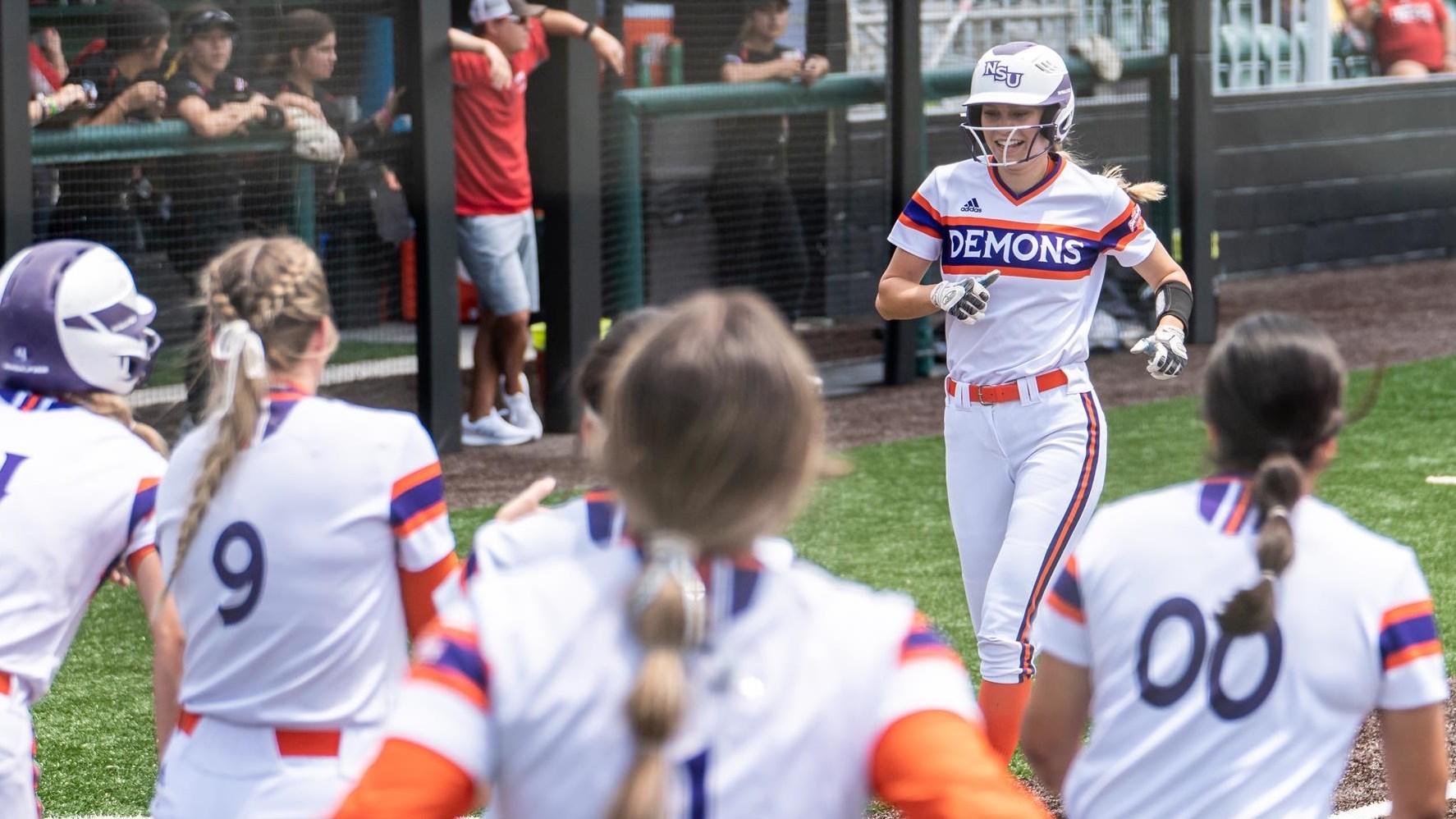 By Brad Welborn, Northwestern State Assistant Sports Information Director
HUNTSVILLE, Texas – Talent and experience make for a dangerous combination and Northwestern State softball is carrying plenty of both, along with a fair amount of excitement, into the 2023 season.
The Lady Demons open the season at the Bearkat Classic, making their first trip back to former Southland Conference foe Sam Houston since 2019.
NSU is set for single games on Friday and Saturday against UTSA (3 p.m.) and Delaware (12:30 p.m.) respectively. It closes the weekend with a Sunday doubleheader against South Dakota State and Sam Houston starting at 10 a.m.
"We've been going hard out here in practice the last three or four weeks, scrimmaging against each other and all that but it's time to get out on the field against an opponent and get this thing started," head coach Donald Pickett said who enters his 15th season as the softball skipper. "There's always that excitement around a new season, so ready to get started and see where this thing goes."
With seven of eight position players and three of four pitchers back from a season ago, the majority of which are in their third or fourth years at NSU, the Lady Demons have one of the more experienced squads in the Southland Conference.
They add even more experience to the roster with two new members of the battery in North Texas transfer Ashlyn Walker behind the plate, who started more than 75 games for the Mean Green, and pitcher Ryleigh Denton, who started 45 games in the circle with a 28-11 record in two seasons at Tyler Junior College.
"A couple years ago we had a pretty experienced team, but this is a group that's been here a few years and really grew a lot last year," Pickett said. "To get a lot of those player back it gives you a good feeling to have that experience on your team and excited to see what we can accomplish this year together. Hopefully we can continue to develop through the season and build on what they've started."
Laney Roos and Bronte Rhoden lead NSU's five preseason all-conference selections, each picking up first-team honors this year, the first of their careers. Both Roos and Rhoden had career seasons in 2022 with Roos finishing in the top 10 in the conference in eight different categories and Rhoden ending with the third lowest ERA in conference games of any pitcher.
Even returning 90 percent of their hits and RBIs from a season ago, Pickett is looking for a team with this amount of playing time under their belts to take the next step throughout the 2023 season, starting on opening weekend.
"The big thing is building on the consistency," he said. "We've got a lot of talent and a lot of them have done some very impactful things since they've been here but it's about not having as many peaks and valleys as we may have had last year. With experience that consistency will come."
Like every other season, the first weekend of games always serves as a barometer for the team. A starting point for things that still need work and judgement of where the team currently stands. For the veteran Demons, the hope is that measurement is closer to where they want it to be than in years past.
"The first weekend of the season energy is not going to be an issue, but I just want to see us play our game," Pickett said. "Understand that we've been in plenty of situations against some competitive teams, like we will be this weekend, and stick to what we do. Just go out there, play our game, don't get sped up, do the things that we know we do well, have the right effort, attitude and approach and see where it goes." 

— Featured photo courtesy of Southeastern Louisiana Athletics