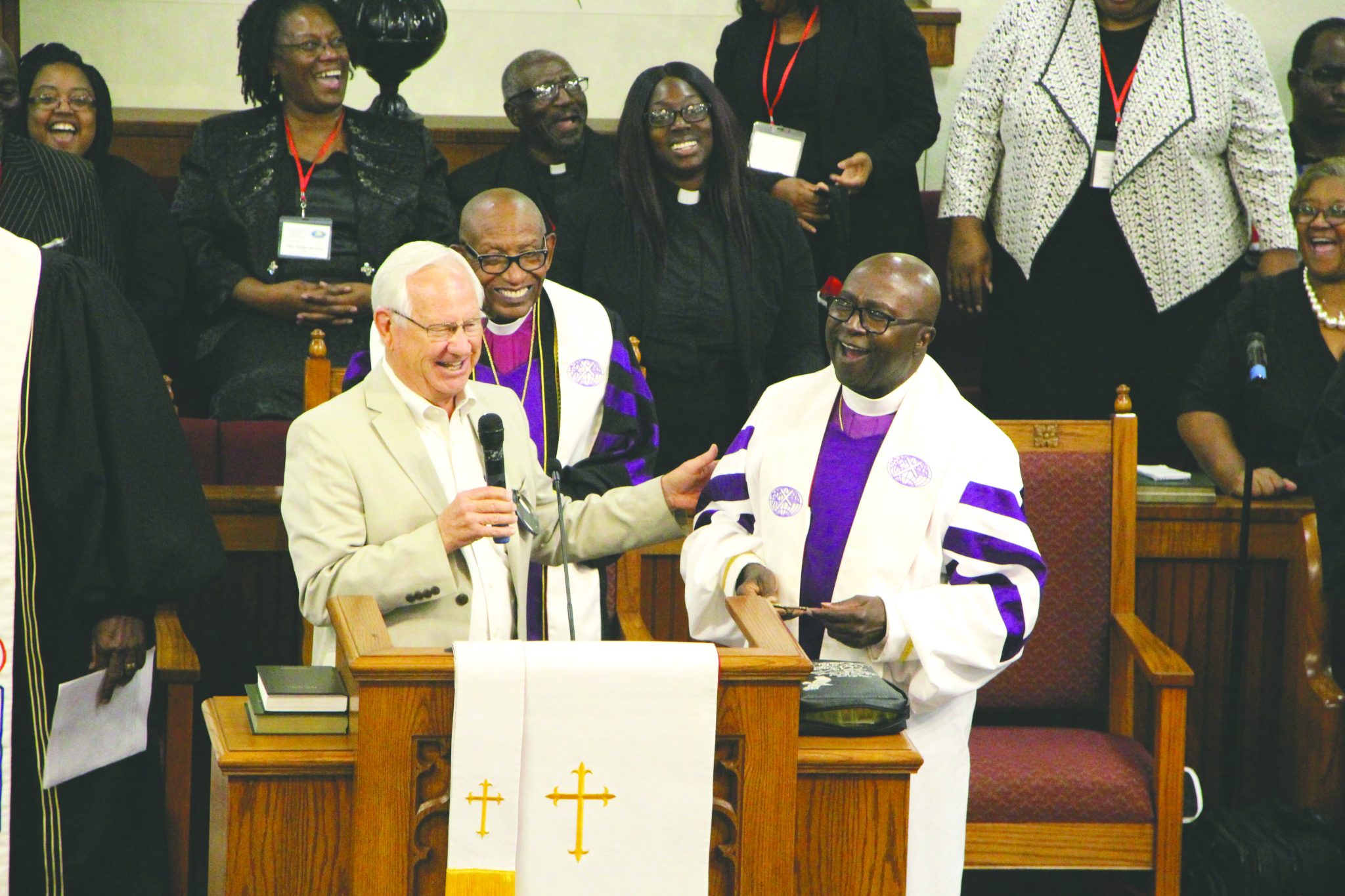 Mt. Zion CME hosts annual conference, welcomes new Bishop
For the first time this century, Mt. Zion Christian Methodist Episcopal Church in Minden is hosting the statewide conference of CME churches.
The 148th Session of the Louisiana Region Annual Conference of CME churches began yesterday and runs through Saturday, focusing on the theme "Getting Back to Basics as We Envision our Way Forward."
The church was filled to capacity Thursday afternoon as delegates from roughly 80 CME churches along the I-20 corridor participated in mass, which was led by the newly-appointed Presiding Prelate of the Fourth Episcopal District, Bishop C. James King, Jr.
King was appointed to the fourth district, which encompasses Mississippi and Louisiana, at the CME General Conference in late June. Thursday was his first visit to Louisiana since being appointed.
"I'm really impressed with the leadership – they're hosting the conference with excellence," King said in reference to Mt. Zion. "The pastor is a planner: he knows how to plan his work and work his plan. It's very important to have people that can do that. So I'm impressed with the church's work."
The pastor King referenced is Rev. Raymond Hampton at Mt. Zion, who said in a press release that hosting the conference for the first time in almost 20 years and having King in attendance is a big deal both for his church and the Minden community as a whole.
King was previously prelate over a district that included Haiti and eleven countries in Africa, including Zimbabwe, South Africa, Egypt, and the Congo.
"They were really violent in the Congo," he said. "It was so bad in the Congo I really couldn't go over the third time around, they were acting out so much. It was a huge district, but we really had some wonderful people there."
As prelate for the district, King will appoint pastors to various CME churches throughout the region while at the conference. With a smaller and more centrally located district than his last, he said one of his main goals is to program the church for ministry.
"How do we do that?" he said. "By equipping church leaders with the necessary skills they'll need to be change agents in the community. To help people finish high school and go to college. Because we believe that education is the greatest destroyer of poverty. The more people we get educated, the less poverty we're going to have."
King said he hopes to encourage the church to take what they learn and bring it beyond the church building to impact the community.
"We are real strong proponents of salvation and education, knowing that education really destroys poverty and helps build community," he said.
Senior Bishop Paul A.G. Stewart is assisting King at the conference. He said he agrees that the church needs to take its internal ministry and truly expand it into the surrounding area.
"[King] gave a great lecture on being motivated to go and get up and do now, rather than trying to wait for another time or making excuses because of what you don't have," Stewart said. "It's about addressing community needs as well as church needs – not just staying in the church but going out into the community. So I hope that's what [attendees] take away from this."
According to a press release, the annual region conference consists of "various meetings, worship services, and activities for the leadership, delegates, and children of the CME Church from the Minden, Monroe, and Shreveport areas."
After mass Thursday afternoon, Minden Mayor Tommy Davis visited Mt. Zion to bestow King with a key to the city. King later said his first impression of Minden has been positive.
"Minden is really nice – I've really liked the people I've met, and that's what it's really all about is the people," he said. "The people are very cordial, very friendly, and they welcomed us tremendously."
When the conference winds down, King said he hopes attendees will walk away understanding the integral connection between their spiritual lives and their lives on this earth.
"I would hope they would get out of this whole conference that Jesus is still Lord, and he has power to change things," he said. "When we connect with our Christian faith, that faith will also be a life-changing effort in the community. I'm hopeful people will leave here fired up in their Christian walk with God in Christ, to be change agents in the community, to make the community a better place for everyone. That's what I'm hoping and praying for."