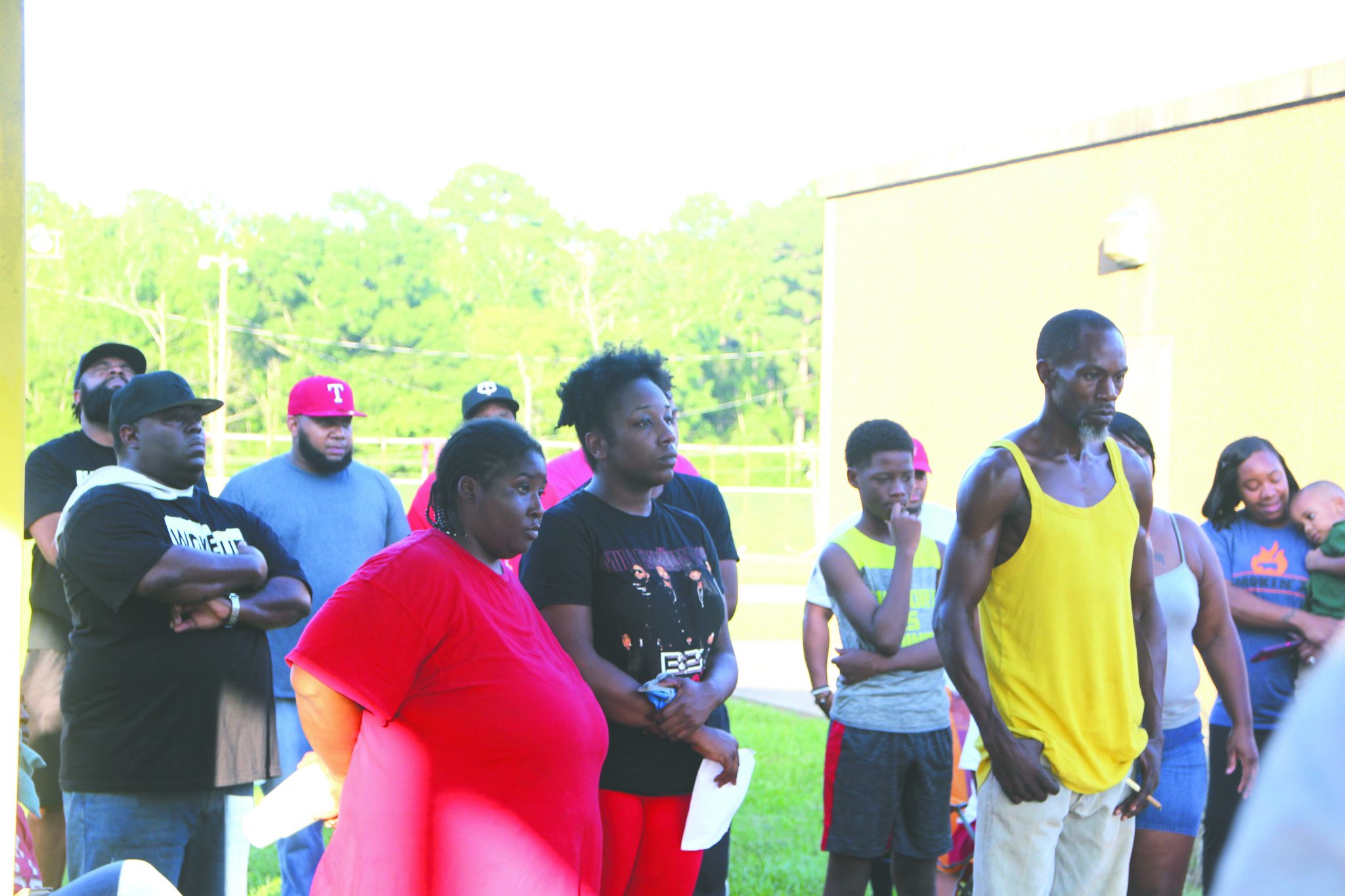 A group of concerned citizens met at Ewell Park Wednesday in response to the shooting that resulted in the death of a 19 year old pregnant woman earlier that morning.
John Bradford, Ian Johnson, and City Council Representatives Herbert Taylor and Terika Willaims Walker organized the meeting. Police Chief Steve Cropper also attended. The meeting opened with the crowd joining hands in prayer.
Taylor made the first statements, "As one of the leaders in this community, I wouldn't be right if I didn't address this. Yes, we're shorthanded with the police but we have to police ourselves as well," Taylor said.
Organizer John Bradford addressed parents, advising them to check to see if their children have access to guns or have a gun in their home and spoke on the importance of keeping young people involved in sports to encourage discipline. He told a story of a police officer he recently saw with his head down at the Valero gas station. The officer said he was tired. Bradford said he offered to buy him a coffee but he graciously declined.
"These guys are working like crazy and having to leave their homes when they're off duty to try and protect. So when we say we don't care about the cops, or the cops don't care about this set of people, where do we get it from? Whatever we do now becomes the mentality," Bradford said, "We've got to stop playing like we're blindfolded because that young lady last night did not ask for that bullet.
A teacher from J.L. Jones said there needs to be more black men like the men who were speaking at the meeting stepping into the educational setting.
Chief Cropper spoke on the events of the morning while holding back tears.
"She was 19 but she looked like she was 15. She was a small girl. I've been doing this for 31 years and it does not get any easier. I've seen a lot of death, but to see a child laying there on the floor, deceased for no reason, it hurts," Cropper said softly.
He then went on to tell a story of a young boy who he patted on the back. The mother said she was surprised the young boy allowed Cropper to touch him because he was afraid of police. Cropper said that saddened him and asked that parents not to teach their children to fear police officers.
Councilwoman Williams Walker spoke to the parents passionately about the issues she sees in the education system and how it relates to violence in the community.
"Until we take care of our households, we're going to have these same issues," Williams Walker said to the parents, "We can't raise your kids. As a community we can come together to help you and support you, but you had them. You raise them. They are ultimately your responsibility."
Organizers decided they would make efforts to begin speaking to students within the schools and encouraged anyone who knows anything to speak up. The group plans to hold another meeting with the community soon.