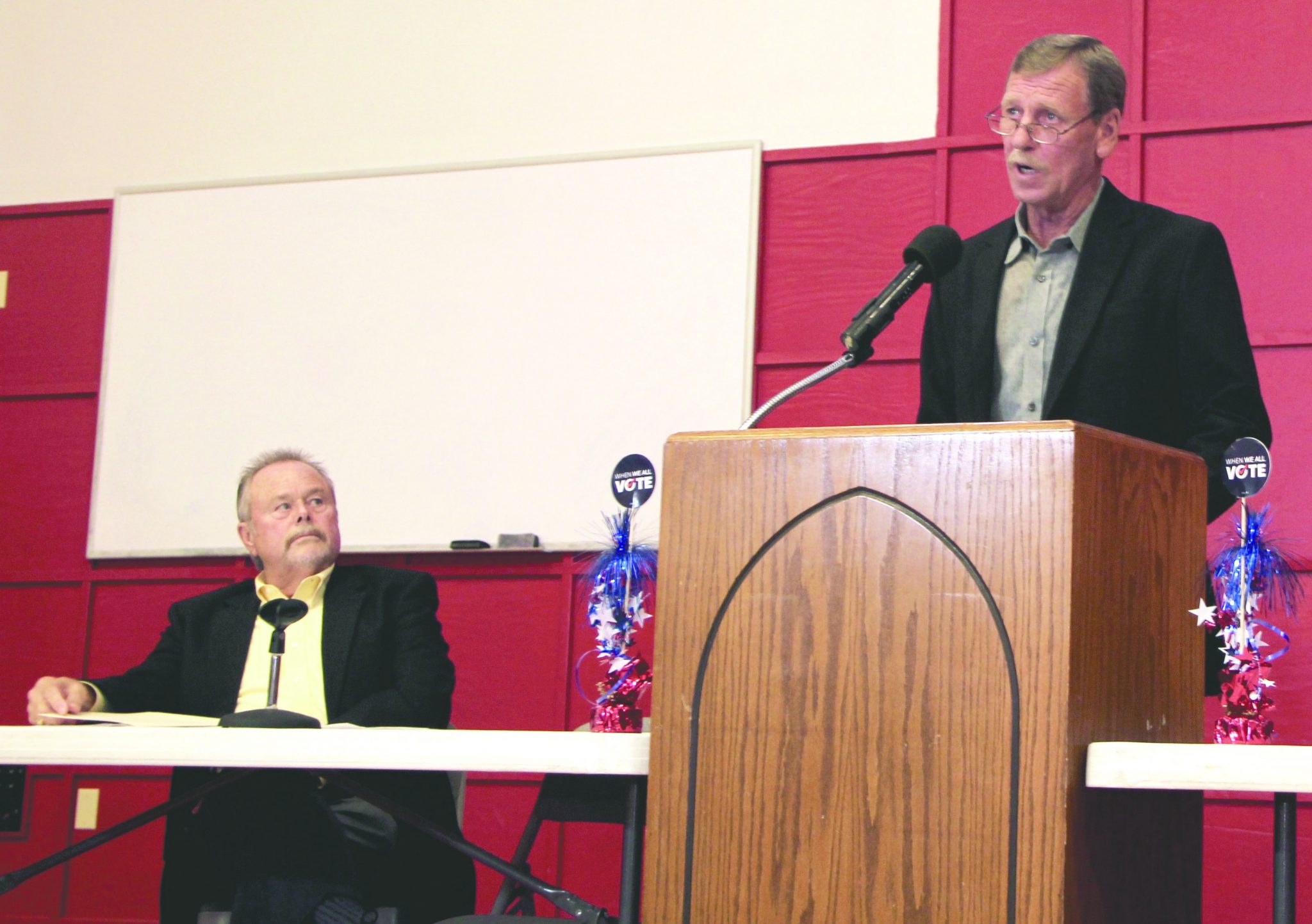 A political forum was hosted Monday night at Saint Rest Baptist Church's Family Life Center. More than 20 candidates in the Nov. 6 election attended and stated their positions on various issues.
Candidates in attendance included: Secretary of State, Gwen Collins-Greenup and Renee Fontenot Free; U.S. representative candidate, Ryan Trundle attended and spoke, while current U.S. Representative, Mike Johnson called in from Washington D.C.
Both mayoral candidates, Terry Gardner and "Winky" Newer spoke and took several questions from voters. For Minden Chief of Police, Steve Cropper and Larry Morris Jr. spoke at the forum, however, John G. Burns' wife arrived with a letter stating he couldn't be there because of a surgery.
All city council candidates were at the event and spoke about their platforms. Each candidate was given three minutes to speak, a time to take questions, and one minute for closing statements.
The Minden mayoral candidates, Terry Gardner and Winky Newer received the most questions from the audience. Gardner discussed plans to attract people from Barksdale Air Force base to reside in Minden and make Minden popular with young people. Newer stated goals on dealing with utility rates, dealing with the possibility of a completely new city council, and developing a workforce that can accommodate and attract new businesses to the city.
Both candidates were asked by councilman Vincen "Cheese" Bradford about their positions on the alcohol sales petition that recently circulated.
"Alcohol sales will be on the December [ballot,]" Gardner said." While I can't make that decision for you, each of you as voters has to make that decision. What I caution you on is when you make that decision, study the ballot. It's important that you study that ballot because there's all types of ways you can keep alcohol in Minden."
Gardner went on to discuss restaurants like Roma's Italian Bistro.
"They have adult beverages in there. If you vote no on that ballot in a certain way, we stand to lose what we have. So read the ballot, study the ballot, and make your educated choice about alcohol in Minden," Gardner said.
Newer stated, "I feel the current alcohol addendum is very good for Minden. I do not really support on premises alcohol, personally. I will however, do what the voting requests us to do as an administration. I think that the alcohol ties in with our church values and our family values and Minden is known as I've heard, like a Mayberry town, etcetera, etcetera and I'm willing to do whatever the voters ask us to do. But I would like for us to also consider our family values and raising our kids in this community.
The mayoral candidates were also asked by an audience member about travel basketball, new flooring for Ewell Park's basketball courts and increasing the number of basketball courts available to children in Minden who may not have transportation to the Minden Recreation Complex.
Newer replied, "Yes, I believe that flooring is affordable. I believe that's something that we could look to put into the budget to get funds and that would give us two gymnasiums in town to get looked at. Normally in travel basketball you're looking at five or six gyms, not just two. So not only would it have to be the city's it would have to be usage of the schools' facilities for us to be able to go that route."
Gardner stated plans to hire or contract a grant writer for the issue and similar updates.
"We want to have recreation in all parts of our city so our children would have something to go out there and do and not just sit in the house and play on their cell phones or whatever little games there are. So we need our basketball courts up to par, we need all of our goals up to par, so if we don't have the resources to do that, one of the things we are going to do is either hire or contract a grant writer. There's so many grants out there available. We could write grants for new workout equipment at our recreation complex, we could write grants to have our basketball courts up to par, we could write grants to have walking trails in our parks to keep our parks safe not only for our children, but our senior citizens," Gardner explained.
The event was hosted by the Webster Minority Voters League, the Iota Rho Omega chapter of Alpha Kappa Alpha, the Minden Alumni Chapter of Delta Sigma Theta, and the Gamma Omicron chapter of Omega Psi Phi. Dinner was served to all guests by the organizations' members as the candidates presented their platforms.