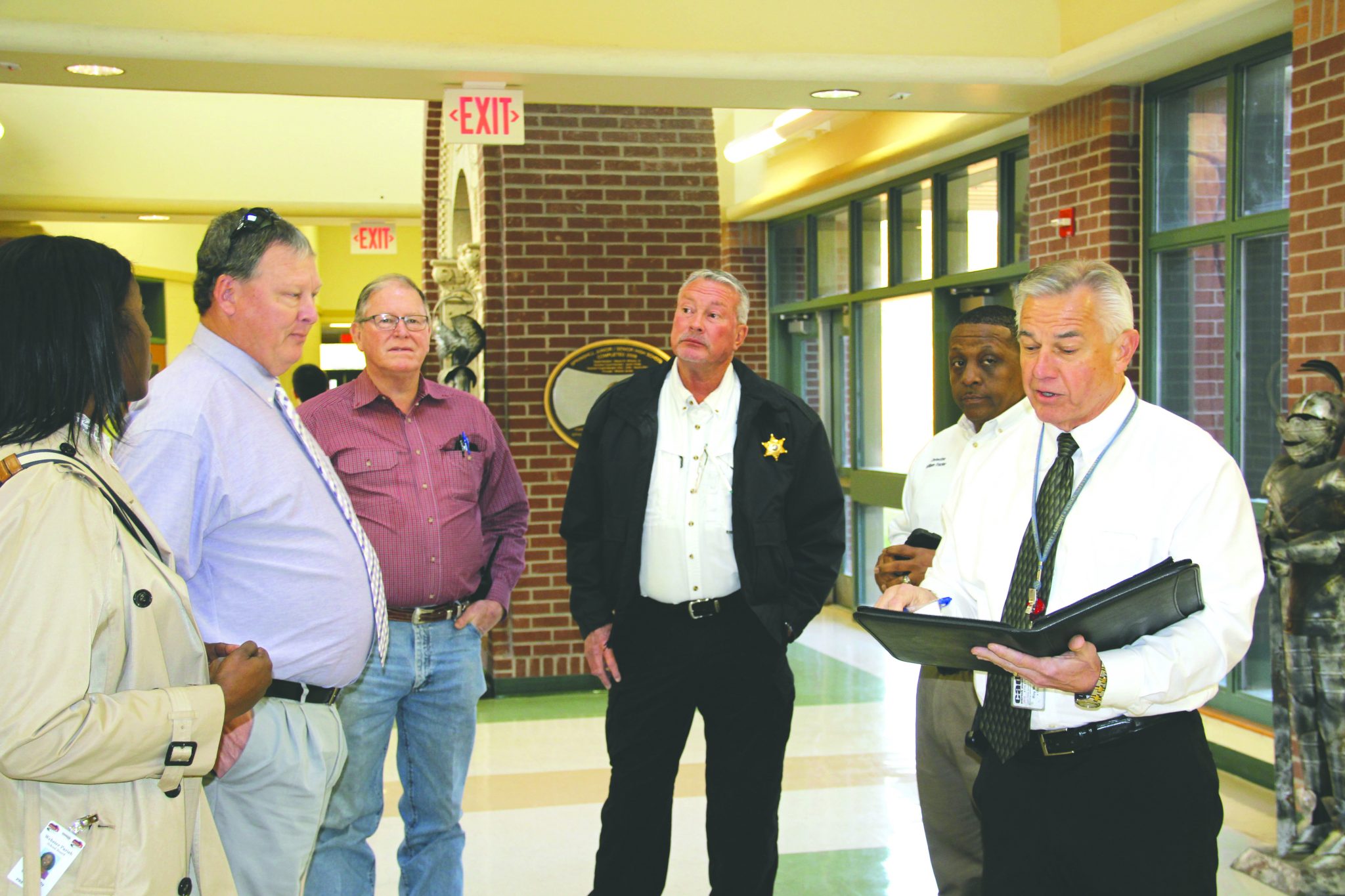 Murray, school board assess North Webster High security
SPRINGHILL — The Webster Parish school system continued its journey toward improved campus safety Wednesday morning as North Webster High School received an unannounced security evaluation.
Roy Murray, director of security for the Caddo Parish school system, conducted the evaluation at the Webster Parish School Board's invitation. Members of the school board and local law enforcement, including Sheriff Gary Sexton, were also present.
During and immediately following the arrival of students in the morning, the group swept the campus, observing aspects such as entry points, locks, camera visibility, and much more.
Following the evaluation, Murray sat down with Principal Jeff Franklin to go over his findings and make recommendations.
"When I do these assessments, there's two things I look at: how do we supervise kids, and how do we control access?" Murray said. "If we can do those two things fairly successfully, we can keep schools as safe as we can reasonably expect to."
This was the third Webster Parish school to be assessed by Murray in the past month. The school board contacted Murray soon after the tragic February shooting in Parkland, Florida. Since that time, Murray has visited and evaluated both Minden High School and Doyline High School.
"The biggest detriment to security is convenience," he said. "As we start to inconvenience people by, perhaps, locking doors that weren't previously locked, people for the sake of convenience will start wanting to find ways around it."
Franklin said the information gained at the meeting was invaluable to the school and the ultimate safety of its student body.
"It's priceless, in my opinion," he said. "Mr. Murray is a well-known security expert in our area, and his knowledge and expertise is pricelsss as far as I'm concerned. Everything he had to tell us this morning were certainly areas where we can improve, and I very much value his opinion."
Franklin has served as the North Webster High principal since the consolidation of north Webster schools in 2011. He said the school will be working to address everything Murray pointed out.
"Some of those areas we were already aware of and some he brought to light," he said. "School security is an ongoing process. I don't think it's a process you ever completely solve. We constantly need to evaluate what we need to do and what things need to change to make our school safer."