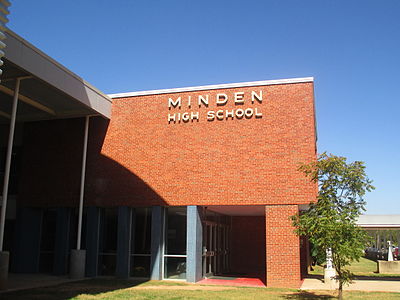 Wednesday morning, approximately 85 Minden High School students participated in a nationwide walkout, the purpose of which was to demand action on gun violence in the wake of the massacre at Marjory Stoneman Douglas High School in Parkland, Florida.
Minden High School Principal Becky Wilson confirmed the walkout to the Press-Herald Wednesday morning but declined to comment any further. Wilson did say the students were under the watch of school administrators during the walkout, which lasted 17 minutes, or one minute for every person killed at Marjory Stoneman Douglas.
The students stood in silent reflection for most of the 17 minutes and returned to class at the event's conclusion.
More than 3,000 walkouts were planned across the country and around the world, organizers said.
At other schools, students created symbols to try to represent the tragedy. At Cooper City High, near Parkland, students gathered around 14 empty desks and three podiums arranged in a circle outside the school, representing the 14 students and three faculty members killed in the shooting. The students then released 17 doves from a box.
Some schools applauded students for taking a stand or at least tolerated the walkouts, while others threatened discipline. Wilson said no discipline would be handed down for the walkout at Minden.