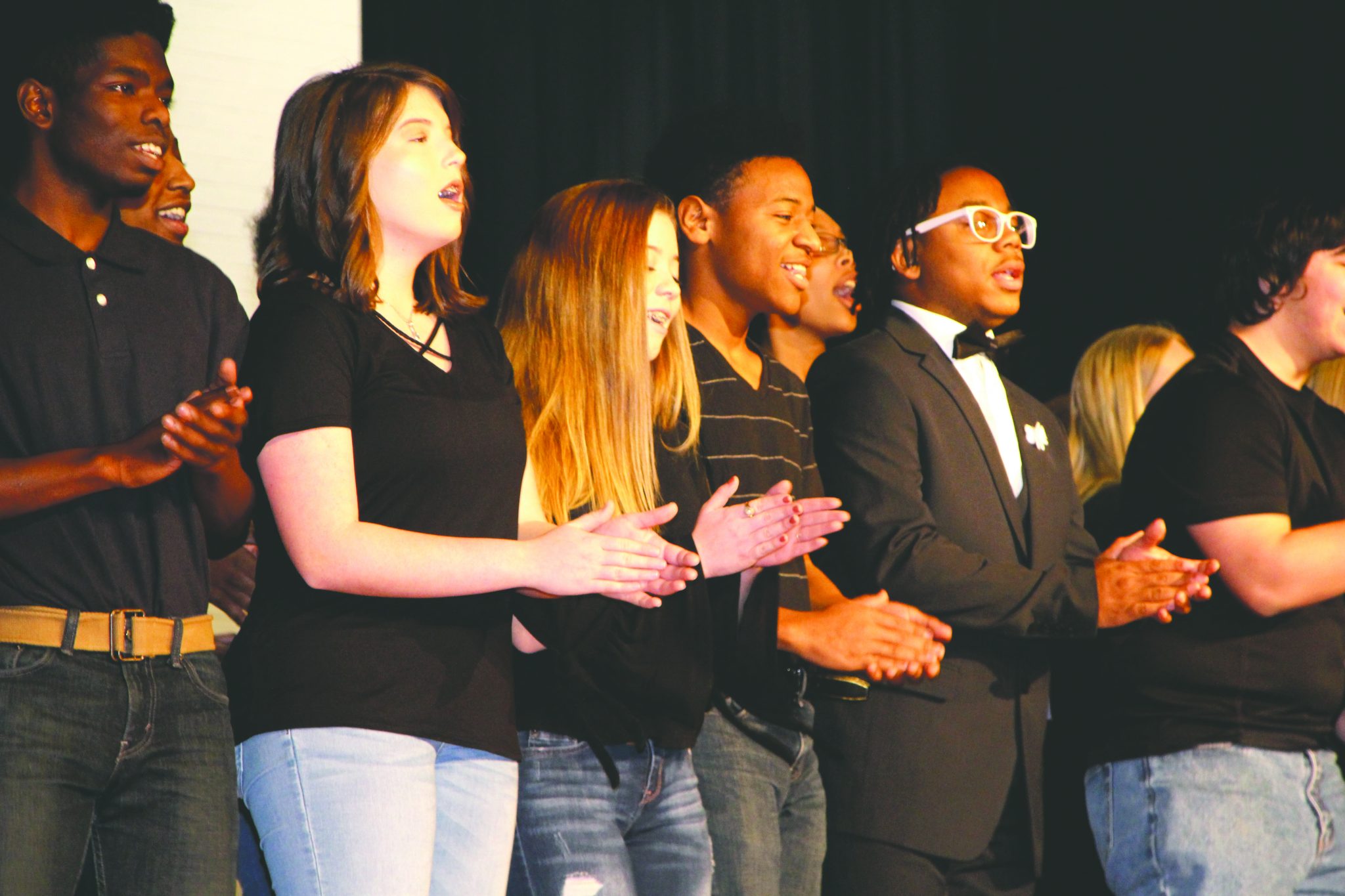 MLK weekend kicked off with event at Minden High School, continues today
Martin Luther King weekend activities were in full swing Friday beginning with a program at Minden High School by the Minden High Students Rock organization followed by a basketball tournament and a worship service Sunday at the Minden Civic Center.
The Minden High School Program featured a recitation of the "I have a Dream" speech, a performance by Minden High's Chorus and the Band of Pride.
Sunday's service hosted Assistant Superintendent of Webster Parish Schools and Pastor of New Bethel A.M.E. Church, Kevin Washington as the keynote speaker.
Washington's message used the theme "Let's Stay Together."
"God is doing something awesome. Everywhere I go locally, I see it. I was in a meeting the other day with the mayor, several council persons and elected officials from throughout the parish and it's confirmed today that unity is important," Washington said.
Essay contest winners read their essays and were presented awards.
High School Essay winner Taylor Banks wrote, "When we hear the word 'unity,' along with Dr. Martin Luther King Jr., we all think about his dream of all races coming together for the betterment of society. One usually would coincide peace with love among blacks and whites. While that is true, when I hear the word unity with Dr. King's name, I also think about where it has to start. It has to start with us."
Brooklyn Davis, fifth grader at E.S. Richardson Elementary, won the first place Essay Contest award for the Elementary division.
"The impact of the dream in the present day was quite successful because little black boys and little black girls can now interact with little white boys and little white girls. Yet, we still have a long way to go," Davis said.
Miss Dillard, Kiadria Miller and Miss Wiley, Terbrina Nelson were presented as the Grand Marshals of the Martin Luther King Jr. Parade to be held Monday at 10:00 am. They were joined onstage by Miss Minden, Sharity Brent.
There were prayers and scriptures shared by several local ministers and a Mass Choir composed of members of varying churches throughout Minden.
The event ended with closing remarks by Fayrine Kennon and a surprise presentation by State Sen. Ryan Gatti who gave Kennon a Louisiana flag that was flown at the state capitol in honor of her 23 years of service as a City Council member.
An Ecumenical March was held at 8:00 am beginning on the corner of Talton and Martin Luther King Jr. Street. Martin Luther King Jr. Day activities continue with the parade being held at 10:00 am downtown and a Youth Rally directly following the parade at the Civic Center. The Youth Rally will host the Crimson Chorus and Tider Line. Motivational Speaker, Tyra Cobb will speak at the event.