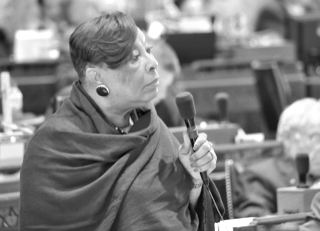 Drew White
LSU Manship School News Service
BATON ROUGE — Convicted felons who are back in their communities are one step closer toward having their voting rights restored under a bill that passed a House committee on Wednesday.
The House and Governmental Affairs Committee voted 7-2 in favor of a bill sponsored by Rep. Patricia Smith, D-Baton Rouge, that would allow a felon under community supervision to vote if the individual had not been incarcerated within the past five years.
Currently, ex-convicts cannot vote while on probation or parole.
"You don't represent me; I don't have any say-so," Brian Marks, a Baton Rouge native that served 20 years in Angola Prison and now teaches Sunday school, testified. "I've been punished, I've been corrected… I'm trying to do the right thing and vote."
The bill now heads to the House floor, where it could face tougher scrutiny.
"There are folks that have done wrong and how do we heal from that? We heal by coming together," Bruce Riley, an ex-convict and the director of Voice of the Experienced (VOTE), said. "Allow me to do my duty and allow me to vote."
Voice of the Experienced, a grassroots organization promoting civic engagement among formerly incarcerated citizens, recently filed a lawsuit to contest the current state voting laws.
The suit aims to repeal a law that disenfranchises parolees and those on probation. The group lost in state district court and has appealed to Louisiana's First Circuit Court of Appeal.
If the bill passes or the group wins in court, roughly 7,000 residents would gain the right to vote.
Last year, a similar bill by Rep. Smith that intended to limit the suspension of voting registration to the time period while an individual is confined in a correctional facility failed on the House floor with a vote of 37-60.
VOTE affiliates attended Wednesday's hearing to support Smith's new bill. There were also representatives from Southern Poverty Law Center, ACLU for Louisiana, Step Up Louisiana, League of Women Voters and Planned Parenthood.
"A weapon is dangerous and shouldn't be possessed by a person who is a convicted felon. But to vote? Who does that hurt?" retired New Orleans criminal district court judge Miriam Waltzer asked committee members. "That is an obligation that we have as citizens and it is not a privilege – it is an absolute right. People have given their lives to be able to vote."
"Once you're out and have paid your debt to society, there ought to be a time when things are forgiven and they go on," Waltzer added.
The state constitution states that individuals under "orders of imprisonment" shall not be granted the right to vote.
The Legislature passed a law in 1976 that determined felons under community supervision were subject to "orders of imprisonment." Members of VOTE contended that the language applies to those that are incarcerated, not those that have returned to their communities.
Under Smith's bill, those who violate their parole would not obtain voting rights.
Carla Garner, who served eight years in a Louisiana penitentiary, said that if ex-convicts were granted the right to vote then they could "help steer the next generations away from stereotypes, bias, and prejudice toward our state government."
Waylon Gibbs, a spokesman for American Probation and Parole Association, an international association involved with corrections, suggested that the bill would "give these individuals an important stake in their communities."
"If you are treated as a pariah of the community, that is hardly a way to lead people toward a more virtuous life," Tulane history professor Lawrence Powell argued. He presented documents published by the Louisiana Public Affairs Research Council in 1974 that advocated the extension of the right to vote to all those not incarcerated.
Kyle Ardoin, first assistant secretary of state, expressed concerns about the bill and called for a clearer process to re-register felons.
Reps. Barry Ivey, R-Baton Rouge, and Jay Morris, R-Monroe, voted against the bill.
Ivey had a similar bill that would have only allowed those convicted of nonviolent crimes to vote and added a 40-hour community service requirement. The bill failed in committee with a 2-6 vote.
Another bill sponsored by Rep. Marcus Hunter, D-New Orleans, that would allow teenagers to accompany their parents to the voting booth passed in the House Government Affairs committee Wednesday.
"The goal is to drive up the knowledge of teenagers," Hunter said. "If we can give our children drivers' permits, we should be able to let them know how the democratic process works at every level."