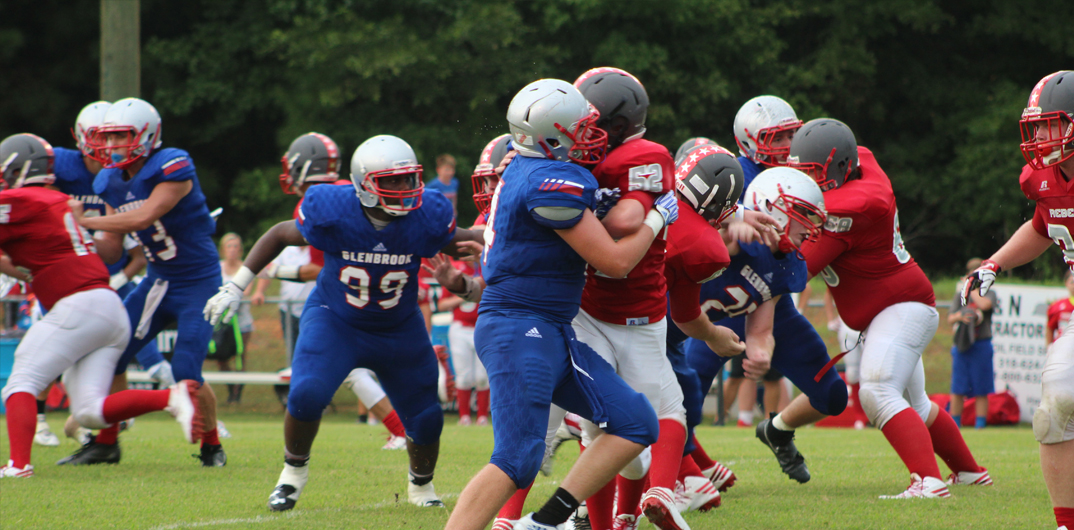 Caleb Carmikle has been optimistic about this season ever since the Apaches started fall camp two weeks ago.
The second-year head coach has been in control of his team for a full offseason and fall camp and the leap from year one to year two was evident at last week's jamboree. But there's one thing he had no power over.
"That schedule, man," Carmikle told the Press-Herald back in July. "It's as tough as they come."
Glenbrook will open the season against MAIS Class AAAA Copiah Academy in Minden this Friday at 7 p.m.
It's the same school that the Apaches traveled five hours to face last season, coming home with a 58-7 defeat that set the tone for a long season.
Even if Glenbrook falls Friday night against Copiah, the Apaches are trying to set a much different tone.
"They made a good run in AAAA last year," Carmikle said. "They suffered a tragic loss mid-season with their quarterback being killed in a car wreck, but they managed to keep it together and finish strong. That shows how good of a coaching staff and what a great group of kids they have over there."
Copiah graduated four starters along the offensive line and a quarterback duel is still going on between senior transfer Dylan Torrence and Dalton Hayles who started for Copiah the second half of last season. Copiah head coach Paul Anderson has said it's possible both quarterbacks will play if it gives his team the best chance to win. The Colonels do return a 1,200-yard rusher Landon Murphy at running back.
"I know they lost a bunch." Carmikle said. "As far as what they have coming back, we aren't sure. Their scrimmage and jamboree both got rained out so we haven't seen any film. They're going to do what they do though. They'll be big up front and very athletic. It will be one of the biggest tests we face all year."
Glenbrook hopes to enjoy more offensive than they did in last year's matchup in Mississippi. Weather is expected to be a factor with rains expected to continue their sweep across Louisiana. However, there is no room for excuses when you're trying to knock off a AAAA playoff team.
"We've got to stay on schedule," Carmikle said. "We're preaching to the guys this week to stay ahead of the chains. We can't bust big runs and have them called back and be sitting there with a first-and-20; that kills drives."
"Then when we get in third-down-and-managable situations we have to convert. Also, when we have opportunities in the red zone we've got to convert. No putting the ball on the ground this week."
Quarterback Seth Tyler did an outstanding job of running Carmikle's offense in the Glenbrook
Jamboree, moving well in and outside the pocket, extending plays and finding open targets.
Equally impressive was his cast of targets.
Joseph Windham showed speed on a long run after the catch for a touchdown, Mason Hood had a dazzling set of jukes on his touchdown catch against River Oaks, Da'maza Robinson and Lemoris Jackson Jr. made explosive plays every time they touched the ball and tight end Parker Christy had the evening's most impressive catch with a beautiful over-the-shoulder grab against the Mustangs.
"We've got weapons all over the field offensively," Carmikle said. "Having a 6-foot-5 wide receiver (Windham) on the outside demands attention, and if they don't give him attention we're going to throw him the football. If he gets rolling it opens up everything else for those other guys."
The hope for Glenbrook is that Tyler can continue to distribute the ball well and make a few plays with his feet. If that happens the Apaches will probably feel fine for the season to come.
If Tyler and his targets and in sync, the upset isn't out of the question.
"His feet add a whole different dimension to our offense," Carmikle said.
Glenbrook's defense will be tasked with taking down an above-average tailback in Murphy. The new-look offensive line in Copiah gives the Apaches reason to believe they can do so, as the front seven is one of their strengths. Players like Hunter Chautin, Nick Moses and Albert Taylor will have to be men in the middle.
"We have to be able to control the line of scrimmage," Carmikle said. "We'll need guys like Cameron Fread to get down and put their hand in the dirt and cause some chaos. Parker Christy is another guy we need to step up. We've got to have a big game their and force them to throw over the top, because if you don't stop the run against Copiah it's going to be a long night."
By stopping the run, Glenbrook can put the game in the hands of their veteran secondary, led by senior safeties Tyler Perryman and Dakota McGarity. Robinson and newcomer Cameron Barnett looked sharp at corner, with Perryman and Barnett each picking off a pass in last week's jamboree.
It should be an exciting night in Minden to kickoff the MAIS season, and we should know a lot more about this Glenbrook team by the game's conclusion.
"I'm excited for sure," Carmikle said. "These kids have shown up everyday. They love coming to work and getting better. The energy and enthusiasm has made everything much more enjoyable. We took our lumps last year and it was hard at times, but we think we're close to seeing the rewards for staying the course."