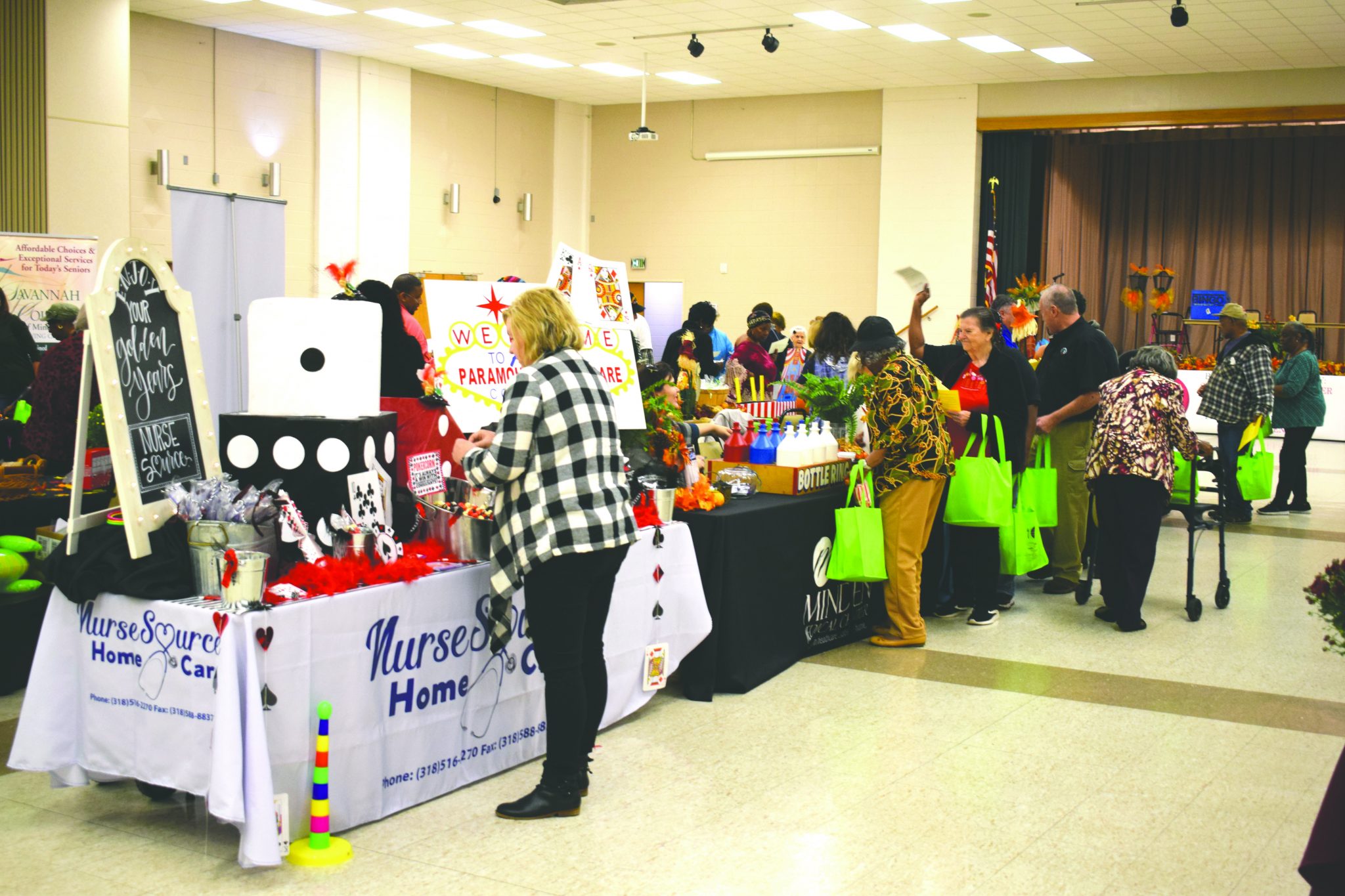 The Minden Civic Center was lined with health vendors Friday morning on account of the Webster Parish Council on Aging's Annual Health Fair taking place there.
"We do this every year. We've got lots of health vendors that have come out to tell you about what kind of services they can provide. Each one of the vendors has set up a game for them to play. So it's good for the seniors to come out and see them all in one place, get some prizes, pick up some items, get some popcorn, then hear about what the vendors have to provide," said Cindy Watson, Site/Activities Manager of the Council on Aging.
It's hard to say which the attendees were there for the most, the health or the fair, being as the event was a sort of combination of the Health Fair itself and a Halloween/Fall celebration.
"All of the health vendors always do a theme, so they've done Halloween. We usually do a Halloween party, so I thought that we'd just do it all together. It's a lot of fun for them," said Watson.
Besides games and prizes, the vendors there were also giving out various health-related treatments, such as Walgreens, who upon confirmation of insurance, would give flu shots on site.
Other vendors who took part in the Health Fair were Acadiana Legal Services, Aime Hospice, Amedisys Home Health, Amedisys Hospice, Bienville Medical Center/Inspirations, Homedica, Lincoln Community Health Center, Louisiana home health, Meadowview Health and Rehab, Minden Medical Center Rehab, Minden Medical Center, MMC Freedom Behavioral Health, New Horizons Independent Living, New Visions Withdrawal Management, Nurse Source Home Care, Pafford Emergency Medical Service, Professional home Health, Ray Ramsey, Regional Hospice, Ruston Regional Specialty Hospital, Savannah Court Assisted Living, Southern Care Hospice, Springhill Medical Center-Reflections, Springhill Medical Center, STAT, Town and Country Nursing Home, Walgreens, and Webster Council on Aging.
Patsy Dees, Executive Director of the Council on Aging, went on to explain a bit about the Health Fairs of prior years. "We started it back in 94 or 94, and the reason was we had all these people that were coming to the senior center, and they weren't getting their checkups like they needed to," said Dees,
Their solution was to host these health fairs, where people could come and get health-related care and information all in one place.
"People weren't getting flu shots back then, now they bring their card and their supplemental insurance and the flu shots are paid for and they get them here."
For more information about the Webster parish Council on Aging, you can visit their offices at 1482 Sheppard St, Minden, LA or by calling them at (318) 371-3056.