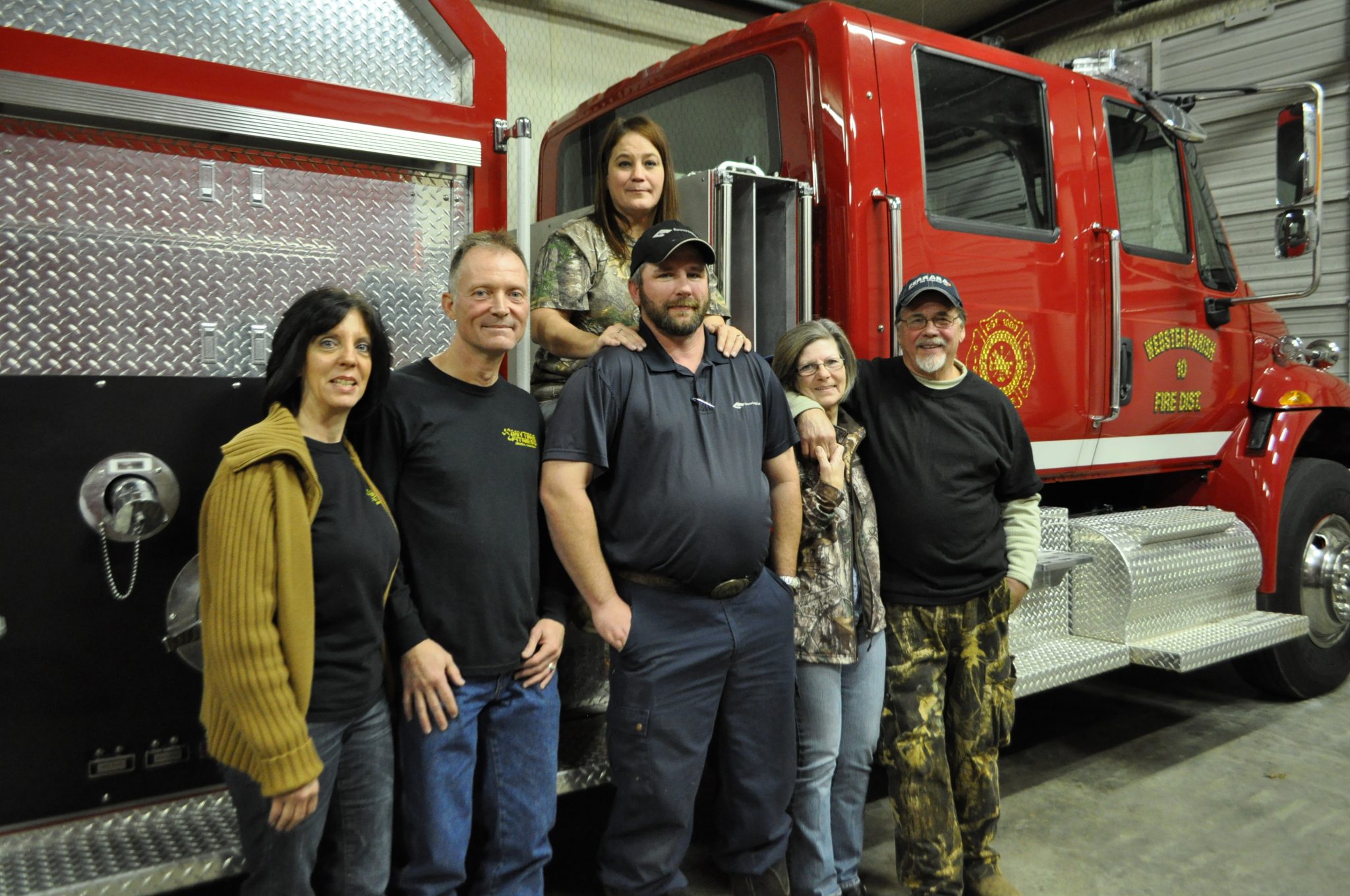 Firefighters say battling blazes is a calling, and couples who fight fires together say they have a deeper appreciation for helping others.
Drew and Lynn Kilgore have been volunteer firefighters for many years, Drew for 21 years, his wife for 16. Marty Chapman has been with Webster Parish Fire District No. 10 for about six years, and his wife, Barbara about six months. The Chapmans were part of the plant emergency organization, which included fire training, at Libbey Glass where they both worked for many years.
Scott DeLoach has been a firefighter for 20 years. His wife, JoAnn, just joined WPFD 10 about a month ago.
All three couples had their own stories about how they became volunteer firefighters, but they all say it's about helping others and offering a service to their community.
"It's about helping people, from the smallest thing to the biggest," Lynn Kilgore said. "If it's just that one picture I can save, that's all that matters to me. It's helping the community; it's helping people. You either hate it or you love it."
Scott DeLoach first started volunteering for District No. 6 in Claiborne Parish at around age 20. He now volunteers for WPFD No. 10 and the Minden Fire Department.
JoAnn DeLoach said living with a firefighter was difficult because of the disruption it caused in their family life. Since 2014, she has had a new appreciation for what her husband does. Their home was destroyed due to an electrical fire, Scott DeLoach said.
"I complained about it for years," she said. "When our house burned, the firemen showed up, and after that I quit complaining. With them being there, we were able to save some things that we wouldn't have been able to save without them."
When the Kilgore's began volunteering together, their two children were young. Lynn Kilgore said the two never went into a burning home together.
"My fear was a roof caving in and both of us in there together, what were the children going to do?" she said. "So, we made a pact that we would never fight together."
The couples say some of the tragedies they see makes them appreciate each other and their families more, and having their spouses as support systems has helped tremendously.
"If you roll up on a fatality or witness a fatality, it stays with you, and you have to work through that," Drew Kilgore said. "That requires a spouse to be more supportive and understanding at that time."
"So many people will tell you, 'I understand,' or 'I know where you're coming from,'" Marty Chapman said. "Having your spouse who really understands, and you know they do, really makes a difference. A lot of people don't want to talk about the things we've seen, and that's understandable, but it does us good to talk about it and get it out."
JoAnn DeLoach and Barbara Chapman said the most important lesson they have learned is to follow orders even if those orders come from their husbands. They also said when they are on the scene of a fire with their husbands, they separate themselves as couples. It's more than just fighting a fire, they said. It's about order amid chaos, training and teamwork.
"When we're on scene, we're not husband and wife," Barbara Chapman said. "I get chewed out just like the rest of them do if I mess up."
"Scott is ahead of me on this, and he's been doing this a long time," JoAnn DeLoach said. "There's not time to argue about it.
You just need to do it. Listening to them, I've got to put myself in that situation and just do what they tell me to do. With me being new, I know I should be listening to those around me, because I know it's for my safety."
The Kilgore's said not many volunteers think about making a career out of firefighting.
"It is a need to help people," Lynn Kilgore said.