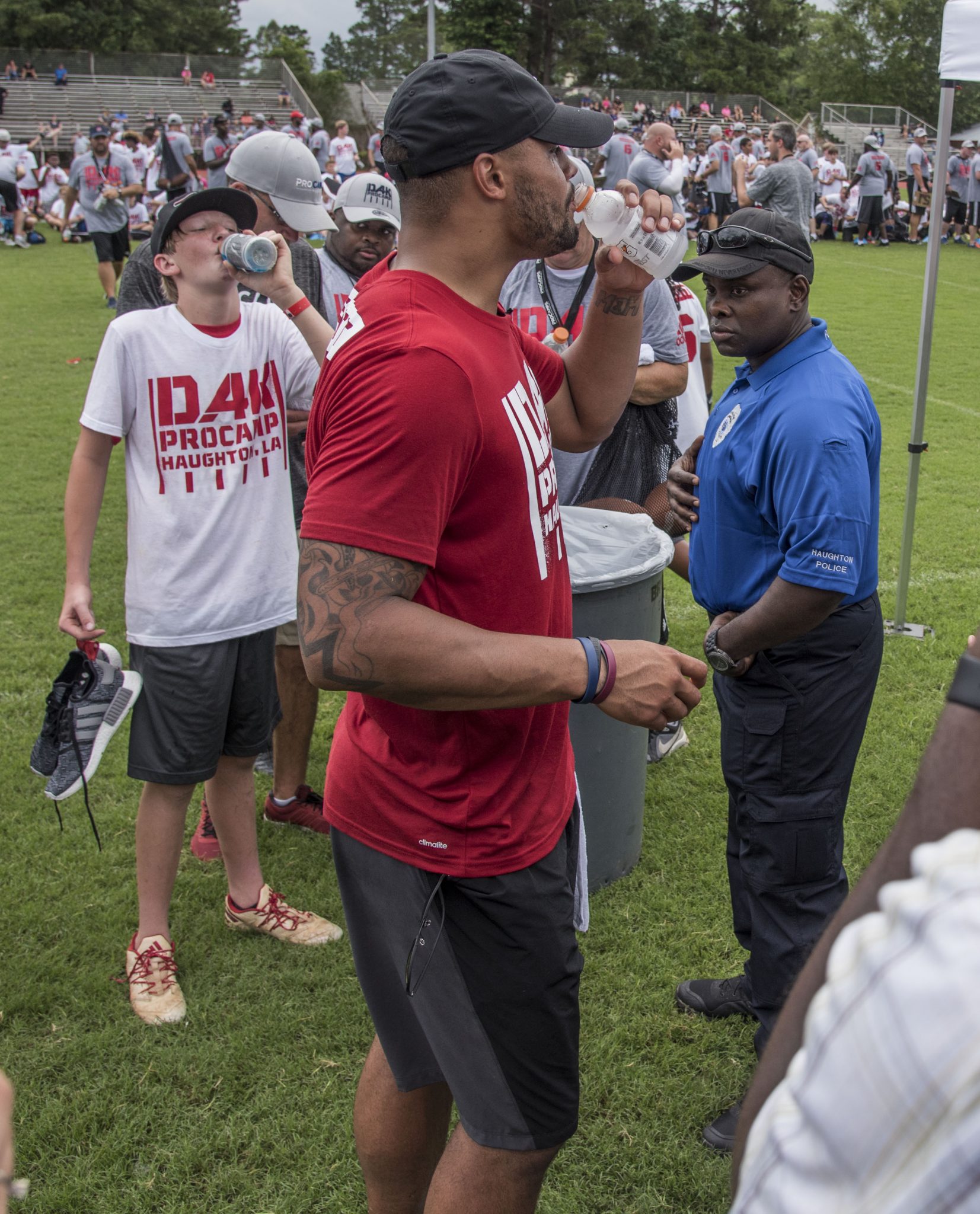 Dak Prescott was back where it all began Thursday.
More than 700 kids in first through eighth grades packed one side of the Haughton gym before the camp began, chanting "We want Dak."
There was some rain, but the kids and numerous area high school coaches who worked the camp were able to get out on Harold E. Harlan Field, the site of Prescott's last high school game in 2010.
Prescott did his best to interact with as many of the kids as possible and did so enthusiastically.
Prescott, of course, is the second-year quarterback of the Dallas Cowboys. Last season, he led the Cowboys to a 13-3 record and was named the NFC's Offensive Rookie of the Year. He also made the Pro Bowl.
In an interview with local media, Prescott said he was grateful for the turnout.
"It's great," he said "This is where it all started. Being in that gym earlier today it just kind of gives me chills.
"It was like a pep rally. Just seeing all the people, the cheerleaders. It's special to be here. I was one of these kids not too long ago. So to be in this position and have this platform to give them a camp, hopefully change some lives and make some days better."
Prescott led Haughton to a 12-1 record in 2010. In his final high school game, the Bucs lost to eventual state champion Franklinton 49-41 in the Class 4A quarterfinals. Prescott passed for more than 400 yards.
He went on to a stellar career at Mississippi State and was drafted in the fourth round by the Cowboys. When Tony Romo was injured in a preseason game he was thrust into the starting role.
Prescott's career is just getting started, but once all is said and done he wants to be remembered as more than just a great player.
"I hope at the end of my career everyone says I was a great player and just as good a person off the field," he said "And I think this gives me that opportunity to showcase what I'm trying to do and give back to the kids and change the lives of these kids."
Prescott said he always envisioned himself playing in the NFL. Hard work and confidence in oneself are two things he stressed.
"I wanted to play for the Cowboys and believed it when I was their age," he said. "It took a lot of hard work. That's kind of my lesson to these kids. They can do it."
"Just the support I get with all these kids coming out. Their parents staying in the stands and hanging around just shows the love for this town I have and they have for me."
Prescott said he has driven by by Pine Creek Mobile Home Estates in Princeton where he lived during his days at Haughton when he's been in town.
"It's humbling," he said "It shows me where I came from. Kind of reminds me of everything it took to get where I am. But it makes me thankful for what I have."
He's also happy to see Joe Delaney Park become a reality.
"I know the Delaney family," he said "I know it's something they're happy for. I can only imagine how happy Joe would be to see it."