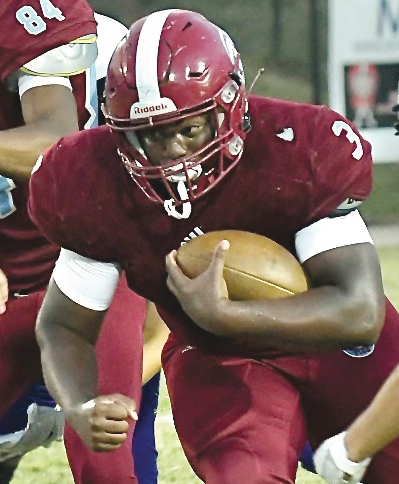 Time was not on the Crimson Tide's side Friday night as Homer held off Minden's late comeback attempt to earn a 33-26 win at W.W. Williams Stadium.
Minden drove all the way to the Pelican's 20-yard line before the time expired following a sack of Crimson Tide quarterback Jakobe Jackson.
The Tide ran low early as Homer ignited to a 27-7 advantage only nine seconds into the second stanza after the Pelicans' Eljay Curry scored his fourth touchdown of the game.
That 52-yard touchdown run by Curry followed his scoring scampers of 45- and 27-yards along with an 80-yard kickoff return to paydirt.
Minden did put up one touchdown during that early Homer scoring barrage as Brian Swann scored on a 2-yard run that put the Crimson Tide up 7-6 at the 6:48 mark of the first quarter.
The Pelicans regained the lead on the ensuing play on Curry TD kickoff return.
Jackson's 33-yard touchdown run cut the Pelicans' lead to 27-14 with 8:24 remaining in the first half and cut the Homer advantage to 27-20 at intermission on Daylen Robinson's one-yard plunge to paydirt.
Robinson's second score of the night on a 1-yard run cut Homer's lead to 27-26 at the 6:24 mark of the third quarter after Minden's PAT kick sailed wide.
Homer countered with a 60-yard scoring drive on 60 plays, with Gregory Winzer's 5-yard touchdown run accounting for the game's final points with 4:06 remaining in the third quarter.
Minden had late scoring opportunities, driving as far as the Home 22-, 9- and 20-yard lines but failing to come away with any points before time expired.
Robinson topped the Crimson Tide with 143 rushing yards on 24 carries while Jackson totaled 46 yards on 15 carries and Cameron Mitchell added 24 yards on seven rushing attempts.
Swann finished with 18 yards on three carries while Minden's Jaylin Williams rushed three times for 13 yards.
Curry led all rushers for the game with 198 yards on 17 carries, while Gregory Williams added 40 rushing yards on nine carries for the Pelicans.
Jackson completed 9- of-13 pass attempts for 92 yards while Williams hauled in receptions for 56 yards to lead the Crimson Tide.
Brayden Britton added two catches for eight yards while Mitchell added a 28-yard catch for MHS.
Minden will next play host to North Webster Friday night in a showdown between two parish teams off to 0-2 starts.