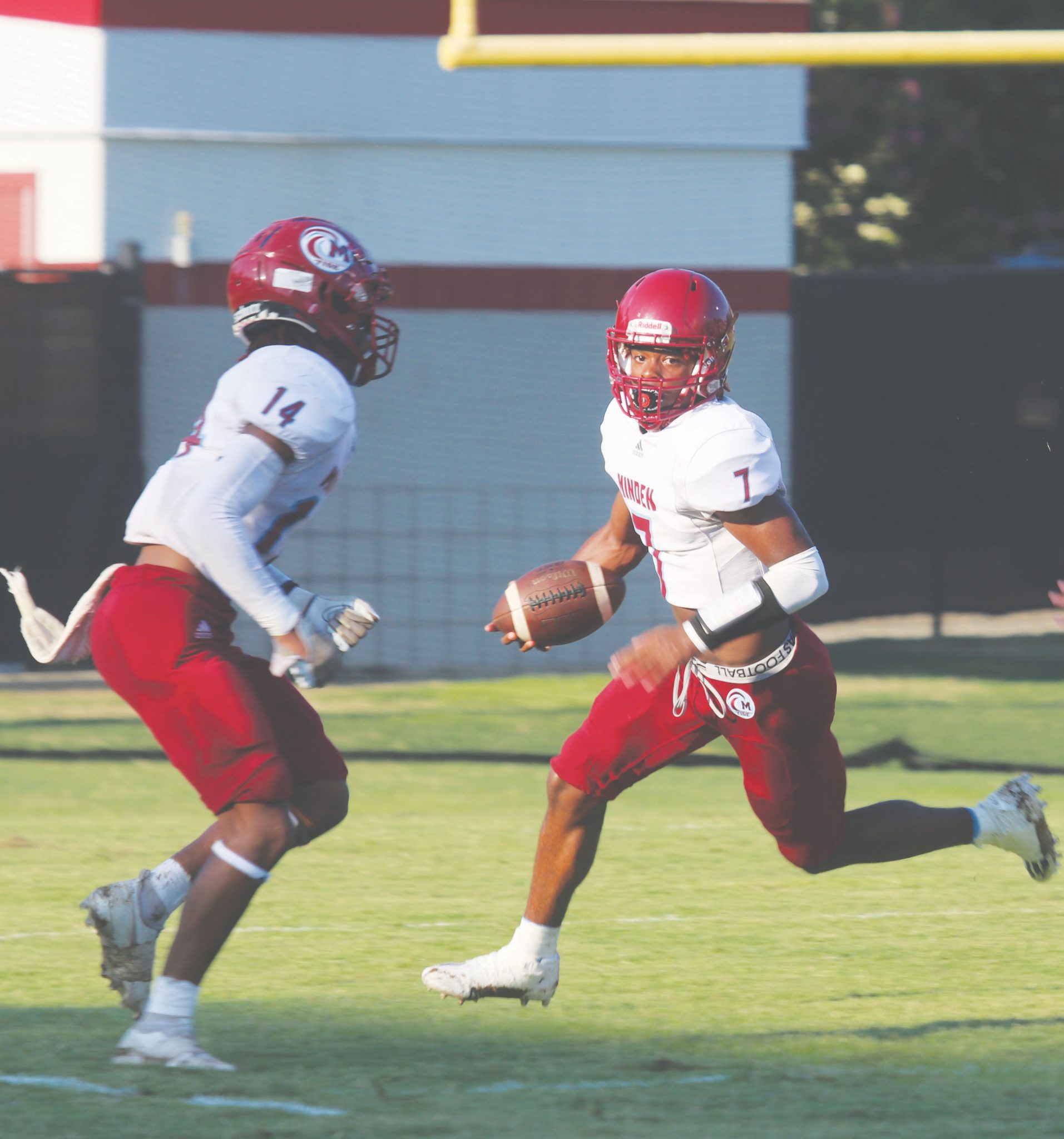 Minden Quarterback Jakobe Jackson accounted for almost a third of his team's total yardage Friday night as he carried the Crimson Tide to a 39-27 win over North Webster at Baucum-Farrar Stadium.
Jackson ran wild for 224 yards and three touchdowns on 12 carries, averaging 18.7 yards per rush, with scoring scampers of 62, 88 and 56 yards,
He also connected on three-of-10 passes for 79 yards with one touchdown and one interception on the night.
North Webster struck first as Knights quarterback Collin McKenzie connected with Cooper Sanders on a 79-yard scoring strike at the 7:10 mark of the opening stanza to move out to a 7-0 lead.
Minden responded with three touchdowns over a 2:20 timespan.
On the first play from scrimmage after the ensuing kickoff, Jackson broke free on a 62-yard dash to paydirt that left the Minden trailing by one with 6:48 remaining in the first quarter after the point after kick attempt failed.
Minden was back at it 1:13 later as Jackson hit Jaylin Williams on a 34-yard touchdown pass that put the Crimson Tide on top 13-7 after the PAT kick.
North Webster then fumbled the ball away deep in its own territory with Minden running back Daylen Robinson scoring on a four-yard run that left MHS ahead 18-7 at the 4:28 mark of the first quarter after the PAT kick failed.
The teams then traded long touchdown runs, with Sanders scoring on a 52-yards before Jackson called his own number on an option play and raced 88 yards to paydirt to put the Crimson Tide up 26-14 with 2:22 remaining in the first half.
North Webster cut that lead to 26-20 on a Jkobe Lawson 72-yard scoring scamper at the 3:30 mark of the third quarter, but on the next play from scrimmage after the kickoff, Jackson ran wild again, this time speeded 56 yards to put the Tide up 33-20.
McKenzie's 31-yard scoring strike to Gregory Davis cut the MHS advantage with 33-27 heading into the fourth quarter.
Minden added one last score with 55 seconds remaining in the contest as the Tide moved to 1-2 on the year while North Webster fell to 0-3.
Robinson ran 79 yards on 12 carries for the Crimson Tide while Cameron Mitchell added up 28 yards on four carries and Brian Swan chipped in with 24 yards on four carries.
North Webster's rushing attack was led by Lawson with 110 yards and one touchdown on 10 carries while Sanders had nine rushes for 79 yards and Braedon Robertson added 76 yards on 14 carries.
McKenzie connected on 12-for-21 passes for 214 yards and two touchdowns with two interceptions.
Minden will play host to North DeSoto on Friday for the Crimson Tide's Homecoming while North Webster will host Richwood.