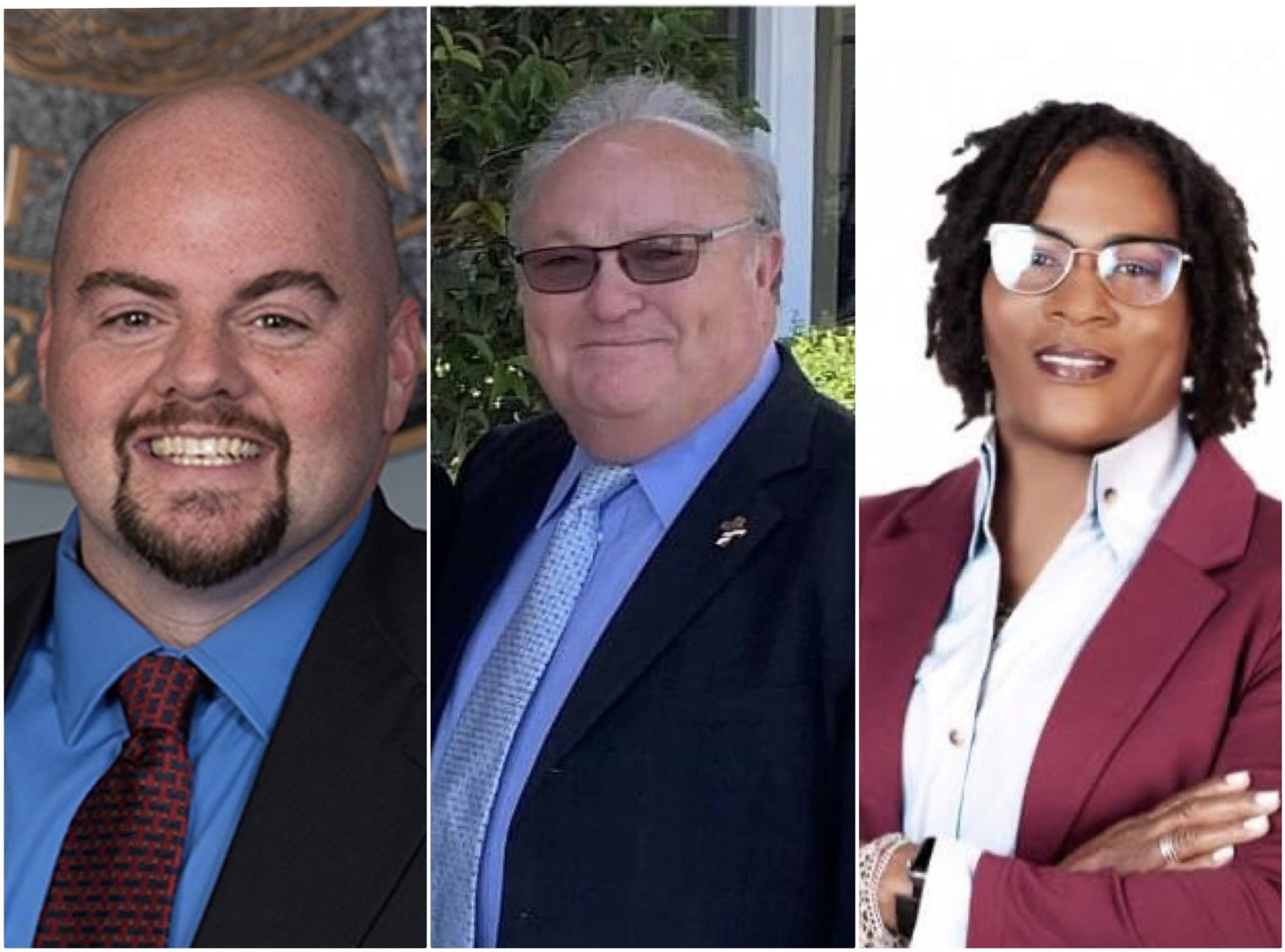 The Watchman Minister Fellowship and the N.W. District Baptist Association collaborated in organizing a candidate forum this past Saturday. They invited school board candidates, mayoral candidates, city council candidates, and chief of police candidates out and gave them a chance to introduce themselves to the public. This gave voters a chance to attach a face and a person to the names that they've been seeing on the various campaign signs that have been popping up around town this election season. 
This article will focus on the mayoral candidates: Nick Cox, Bill Mills, and Terika "Reek" Walker. Articles focusing on the candidates for other elections will be published at a later time.
Each candidate was given three minutes to provide a general introduction. After the introductions, the candidates were asked a question by one of the forum's moderators, then all of the candidates were given a brief period of time to give their answers.
The introductions each candidate gave are below, starting with Nick Cox.
"I'm a graduate of Minden High School and Louisiana Tech. Married to Kayla Cox and have three teenage children. I'm a member of Calvary Baptist Church. My experience is I have a millwork company in Dixie Inn. We build cabinets and woodworking products. I'm vice president of the Webster Parish Police Jury — District 8 police juror for seven years. I'm on several boards. I'm on the State Executive Board for the Police Jury Association. The Library Board, the Tourism Board. I'm the Chairman of the Sparta Groundwater Commission for 16 parishes for our groundwater quality. I'm the chairman of the Parish Finance Committee and the vice-chairman of the Parish Economic Committee.
"But who am I as a person? I'm a family man. I've got three kids, and I know how tough it is right now to raise three teenagers and buy their food and pay the bills, pay the house note, and then have an electric bill that rivals my house note. I know how that is."
"Folks, I'm gonna try. A lot of people tell me that it can't be fixed. That we're in a contract that we cannot get out of for six years, but there has got to be a way. Our citizens need relief.
"Think about this folks: when you go to someone's house, and you see their grass is high — and here is what I figured out going door to door — and you go to the door, and it's a little old lady and she says, 'I used to have a yard boy. But now I spend my yard money paying the light bill.' There's two sides to every coin. We can't just be judging without understanding. So I want to work on lowering these electric rates.
"When you look on social media and somebody says, "I want to move to Minden," and the barrier to that is all the citizens saying, 'Move outside of Minden because the bill is too high,' that's a problem.
"As an elected official for seven years, I know how it is to balance a budget and not have enough money to do what we need to do. People come at me when running for mayor with all kinds of things they want to see done, and the truth is there is only so much we can do with so little money, but we gotta work on it. We've got to work on raising our revenue, we've got to work on bringing in more money and, and we've gotta identify areas of waste.
"I want government to be boring. That's another one of my goals. I don't think people in Baton Rouge should be watching Minden City Council meetings on YouTube. I think it should be boring, and I think good government is," said Cox.
The next mayoral candidate to present their introduction was Billy Mills.
"Minden is home to my wife and I. We came to Minden 16 years ago and instantly felt at home and fell in love with this city. I've evangelized and pastored most of my adult life, and the very skills that I have used in the ministry are the very skills, I believe, it will take to move our city forward. I've held offices in leadership throughout Christian organizations, been responsible for large budgets, handling money, managing people in various areas but, most importantly, I have been used to aid in mending difficult situations, restoring relationships, and guiding people on a better path.
"I can promise you, I will never walk into City Hall to conduct business without first having spent time in prayer before I ever pull in the parking lot. I am completely focused on investing in this city and its future. I believe we all want the same common goal. A city that is flourishing, a city that people want to raise their families in, a city with a firm foundation.
"What we need is unity and understanding that, when something is good for one area of Minden, it is good for every part of Minden as a whole. The variety of needs and agendas, all of them, equally important. I believe I can aid in mending situations that need to be addressed in Minden. I believe I can restore relationships among the leaders of this city, and I believe together we can direct Minden on a positive and flourishing path.
"Please trust me with your vote — number 68 on your ballot — and I believe we can work together to make our city the best it can be. I am Billy Mills, one man for one Minden. Let's unify and become what God wants us to be," said Mills.
The final candidate to give their introduction was Terika "Reek" Walker.
"I am an educator of 26 years. I'm a school leader. I received my degree — Bachelor of Science — from Grambling State University, my master's, also from Grambling State University. I am the chair for the Webster Parish Democratic Executive Committee. I'm the chairperson for the 4th Congressional District for the state party. I've been a presidential delegate. I serve on the Executive Committee for the state party. I say all of that to say that I do have the qualifications to lead this city.
"My concern is every concern that every council candidate has stood up here and expressed. And I will say, before any of that can happen, you have to have your leadership in place, and to be a good leader, you have to be a good follower and a good listener. That's where it's going to start.
"We all have changes that we want to see. We need to move Minden forward. When we look at surrounding cities … as I've said before, we're often times compared to Natchitoches. Natchitoches is progressing. When you look at Homer, it's progressing…several cities. But Minden, we've got to make a change and do what's best for not just one side but for all of the city of Minden.
"So my platform includes focusing on municipal unification, economic development, school safety, and renewable energy.
"I agree, utility bills are the biggest concern for the citizens of Minden, and I'm not going to stand here and say I can fix it and make it go away, but what I can do, and what I have done, is start talks with a legal team about the contract. I have spoken with federal government agents to provide some resources. USDA grants for those that are economically disadvantaged. There are grants, there are loans, where people can make renovations to their homes to make them more energy efficient.
"Municipal unification. Every entity in Minden is important to Minden, and we have to learn to work together. The police department, the fire department, the school board, the sheriff's department, it's going to take all of us to work and move this city forward and see the progress and see the change that has been much needed for years," said Walker.
The questions followed the introductions, with the candidates responding in the same order that they gave their introductions. The first question reads: the World Economic Forum ranked emotional intelligence as one of the top ten important workplace skills in 2020. Self awareness and self regulation are two components of emotional intelligence which helps with managing conflict and change in organizations. If you're elected as mayor, why do you feel that self awareness and self regulation are important skills for those who would serve with you on the city council?
Cox responded, "This life is a test of emotional intelligence and, as we progress through it, it gives us our lessons. But what I've figured out is, if we can keep ourselves in check then other people will follow us. Until we can understand the emotions and the behaviors of others, and how that affects us, it's very hard to lead groups of people.
"Everyone has their different perspectives from where they come from. I think what makes me very special is the fact that you can disagree with me, you can not like me, and I can still treat you with respect."
Mills responded, "I think Paul probably taught us best when he said if you'll have the food of the spirit — one of them being love and the other being temperance — and knowing how to get along with people is the best thing. I think after 47 years of being a minister, and still administering, just because I retired from pastoring I didn't retire from the warfare. In 47 years I've helped a lot of people mend a lot of bridges, fix a lot of things in their lives. So as far as my part and what I'll bring to the city council is, I think every voice is important, I think I must listen to everyone. At the end of the day, it will be if I'm pleasing God that makes all the difference in the world.
"You can disagree with me, but don't ever disagree with the God I serve because that could cause both of us problems."
Walker responded, "You have to be aware of your actions. You have to be aware of how your actions are going to affect others. You regulate you. As a leader, you're there to work with a team and do what's best for the city. It's not about you. You can't have a personal agenda, you're about moving the city forward. So you should be aware and regulate your actions at all times. That's the only way you can lead a city, or be a leader period."
The second question for the candidate reads as follows: The best defense against conflict often involves good preparation and strong leadership. How well do you handle conflict and, out of the three leadership qualities, accountability, adaptability, and empathy, which one quality describes you best and why?
Cox responded, "One of my biggest traits, and this is great and terrible, is the fact that I always slightly feel responsible for everything that happens. So especially if I'm the mayor, and something happens under my watch, I definitely will most likely feel very responsible, because that's what I've done at the police jury, at my business, and in my family.
"With that being said, the way I look at conflicts, I always say, okay, we've got conflict resolution we need to do. We've got the issue and then we have the relationship. How does this issue compare to this relationship? Is this relationship more important than the issue? Usually it is, but sometimes the issue is just so severe that it has to be at the detriment to the relationship. So always weigh the relationship with the issue and try to make a decision that way. Luckily, as mayor, a lot of the issue is determined by law. There's a lot of things we cannot do legally, so that's the issue trumping the relationship."
Mills responded, "I believe it would be empathy, because I feel the pain of people, and I've been through so much over the last three years of my own life that I know what it is to feel pain. So whenever I think of the people of Minden and those that are hurting, they can count on one thing, that I'll be a man of prayer, and the second thing is that my door will always be open to listen to what they're going through. I may not be able to fix it. I may not be able to take care of it. But I promise you that I will listen, and I will take it to the Lord in prayer. And, basically, that is my life.
"I've been preaching since I was twenty, and so I feel empathy from people, what they're going through. I know a God that's able to help them through it."
Walker responded, "Well, no one quality describes me best because all three of them describe me. I'm an educator. I'm held accountable. I'm adaptable. Again, I'm an educator. I have to adapt.
"I care about people. I care about people, and I respect people. I know that we may not all agree, but it's how you disagree, and we can agree to disagree. Everyone has a different perspective. Everyone has something that they bring to the table. We have to be respectful and listen to each other. We have to care about everyone, not just one person.
"We have to care and want to do what's best for all of the city of Minden."
The final question for the candidates was: Minden has a high poverty rate, crime rate, substandard streets, and a shortage of affordable housing. If you were elected mayor and the city received a 2 million dollar grant, how would you choose to spend it?
Cox responded, "If we weren't in the middle of our high, high utility problem, because my knee jerk reaction is, if I was given a grant of two million dollars I would invest it in solar panels or something to offset this high utility cost or rework the budget where maybe we wouldn't have to burden the people. But for safety, we would have to target our efforts towards what the police department needs.
"So whoever is elected chief, I would want to collaborate with them as soon as they got their bearings straight on what they needed for city safety."
Mills responded, "I think that we need to do our best to find the areas that are most needed. I believe somebody that was running for council mentioned that, first of all, we might have a 2 million dollar increase in our budget should we find all the places that we need to cut in spending. So I think sometimes we just need to understand that public safety is the number one issue of Minden right now, and we need to make sure that our kids are getting taken care of. That we have enough officers to be able to supply the need and take care of what's going on. To make sure that our children stay safe and don't get in trouble."
Walker responded, "All entities make up the city of Minden — the school board, the police chief, the fire department, the sheriff's department — we all make up the city of Minden. We can't say that one entity is more important than the other, so we would decide collectively how we could spread the money around and make sure we have the resources, and each entity has resources, to make our schools safer. To make our city safer. Work on infrastructure and do some of the projects that are vital to the progress of Minden.
"It would be a group effort, so we would work together and figure out where we needed to spread those resources to do what was best for the City of Minden."