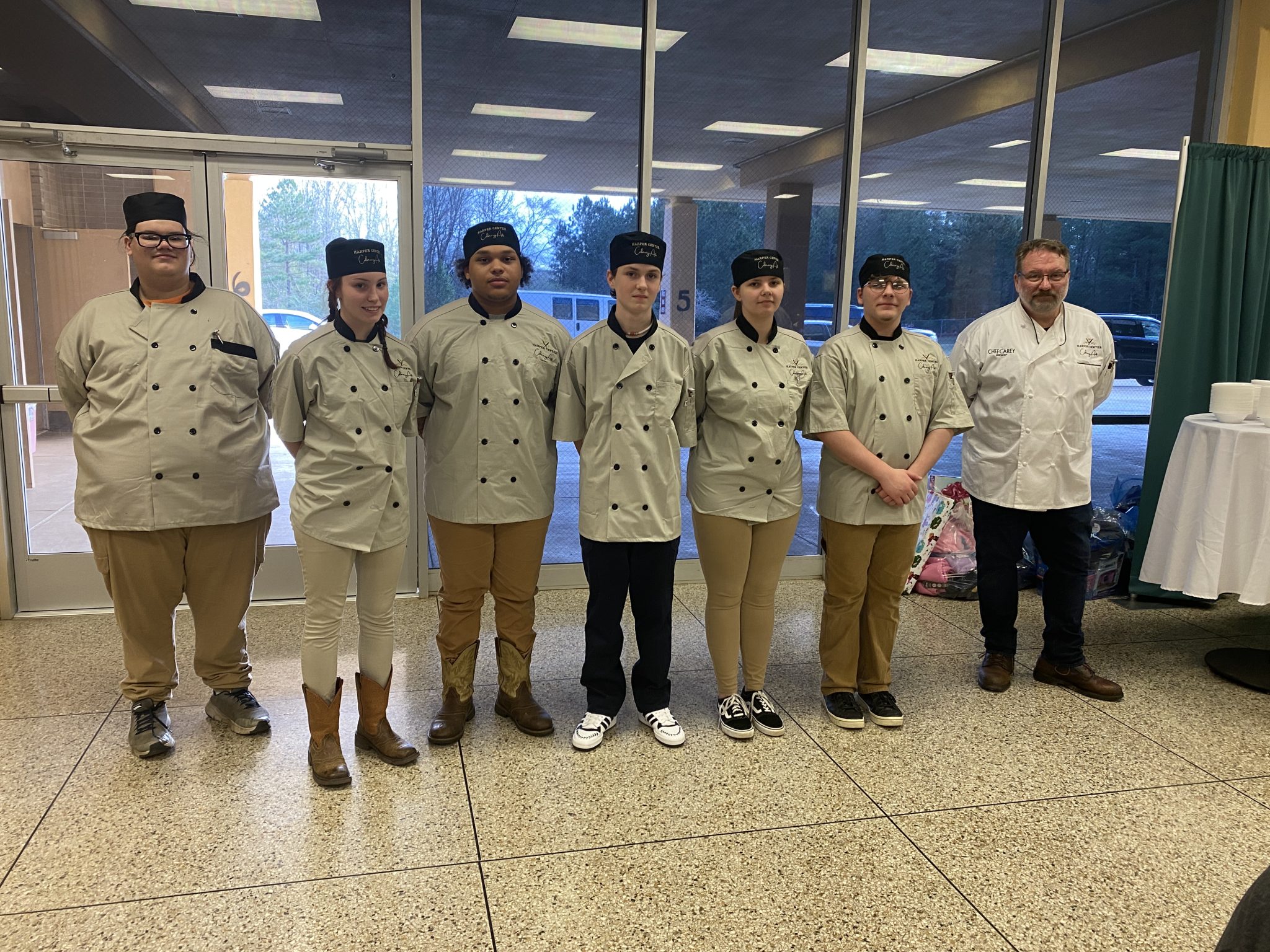 On December 20, 2022, the culinary arts students of Webster Parish showed off their food preparation skills by making a Christmas lunch for members of the school board, faculty, and staff at Harper Pathways to Excellence.
Superintendent Johnny Rowland thanked numerous people for helping to make this happen including Linda Hudson, who supervises the program, Tia Damond, the Jump Start coordinator, and Chef Carey, the instructor.
"What a truly joyous occasion, and I say that not only because it is a very special time of year that we're in the midst of celebrating," said Superintendent Rowland. "When we had a vision about forming a culinary arts program for the students of Webster Parish, these are the types of things that we hoped might happen, but then to see it actually happen and come to fruition is a true, true blessing for me personally. And I have a feeling that I'm speaking for everyone here, and I know I'm speaking for our board members because without their support this would never have happened: Wow! That's what I'm thinking right now…wow!"
The culinary arts program offers two national credentials: ServSafe Food Handler and ServSafe Manager.
"The actual class that I teach is Sanitation Safety," said Chef Carey. "They get two credentials and dual enrollment through BPCC. This is the first year that we've had 100% certification for the ServSafe Food Protection Management credential, which is the big one. It's not easy; it's a hard test. We have food handler certification and then the big one which is manager certification. That's required at every restaurant that you go into; somebody in that building has to have one stuck on the wall. So, if they go into food service, they'll get a little bit more money and get looked at first on resumes."
Chef Carey presented the students with their certificates, and he also had a special gift for the highest scoring student, Kielyn Combs, who received a laser thermometer to use when cooking.
Kevin Washington, the supervisor of student services, also spoke, saying, "I want to showcase young people. Sometimes they're only getting press when they're not doing positive things. We have some amazing young people in Webster Parish. We have way more kids that do right than do wrong. I want to say kudos to these young people for doing an amazing job."
Superintendent Rowland wrapped up by wishing everyone peace and joy in this season: "I hope, at this time of year, that each and every one of us in this room today experiences peace, experiences joy, and experiences a sense of calm. Because, when you think about the true meaning of Christmas, that is what it was intended to do; to provide a way of peace and joy and calm in our lives."
On January 9, 2023, the first meeting of the school board with its new members will take place at the school board office at 6 p.m. The public is welcome to attend.