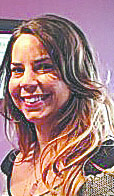 Group to hold 'interest' meeting Friday
Juliuna Anderson
janderson@press-herald.com
Cultural Crossroads of Minden hopes to paint the future with fresh brushes in 2019. The organization will be holding an interest meeting to attract those interested in the arts Friday, December 7 at 6:00 pm.
"There are lots of ways you can help. You can become a member, you can volunteer to head a committee, you can help with any events that we create in the future. I created a Google doc that if people can't come to the meeting but want to get included in our email blasts, that's on the event page and on our Facebook page," board member Elaine Eaton explained.
The group has three short term goals; restart Arts on 80, bring back the Spring Arts festival and reinstate the Cultured Pearl scholarship. The scholarship is an important issue for 2019 president Rachel Waller-Lawler and Eaton who were both recipients of the Cultured Pearl scholarship their senior years of high school.
"Rachel and I have come back, we were both Cultured Pearls, and now we're able to give back and maybe impact a graduating senior in the way we were impacted. Giving back to an organization that gave so much to us," Eaton said.
Waller-Lawler used her scholarship to take a trip to Europe that she feels shaped her life from that point on.
"I was kind of geeky little thespian back in high school. I didn't even at the time, recognize acting in theatre as an art because my concept of art was paint and canvas. To be recognized for that was really special," Waller-Lawler explained of the impact the scholarship made on her.
"I was able to use that scholarship to take a trip with a friend of mine whose grandmother was a professor in Arkansas leading tours through Europe. The scholarship gave me the opportunity to be immersed in some cultures that I fell in love with.
"Later on, I ended up going to college and my major was in foreign languages. I attribute a lot of that to just how obsessed I became with learning and embracing other cultures. In 2008, I was interviewed by an investment group to take a job working in some real estate development for them. As a result of them seeing I was a foreign language major that graduated with honors, I got the job. Here I am ten years later and I have a thriving real estate business in North Louisiana."
Waller-Lawler and Eaton both plan to focus on fundraising and grant writing to help fund the projects the organization has had to cut in the past few years.
"I fully intend to embark on a fundraising campaign to revitalize the work of Cultural Crossroads and immediately get that scholarship reinstated," Waller-Lawler said.
One of the requests made by Waller-Lawler in accepting the nomination for the position of president of the Cultural Crossroads board was that founder, Chris Broussard return in some capacity to assist and guide the team.
"My vision for Cultural Crossroads is to just be a help to those persons who created the foundation and to help them build upon what Chris Broussard started and to find a way to make it sustainable," Waller-Lawler said.
Chris Broussard agreed to return in advisory role to the board.
"I thought that when I retired after 25 years of volunteer service, it would make way for younger 'dreamers' to step up. I was basically yielding control I had for years. I thought my absence would bring some freedom to those new dreamers that might have felt like they were obligated to work on my dream instead of having their own. What I didn't expect was to be invited back and told that they 'weren't willing to sail this ship again without me.' I cried when Rachel told me that and as the incoming President insisted that she wouldn't do it without me," Broussard explained of her return.
Broussard is happy to return but also was thankful to the people who kept Cultural Crossroads going despite major funding cuts.
"I know that there were some folks that kept 'the ship afloat' and I am forever grateful to Julie Vogel , Elaine Eaton, Jennifer Heard and others who saw to it that the grass was mowed and that our summer Earth Camp went on as planned," Broussard said.
Cultural Crossroads has been a resource for art and creativity in the community for more than two decades.
"I think that if you were to ask any resident that went to a public school, or even a private school in Webster Parish, they would have some sort of memory of Spring Arts Festival growing up. So I think that's one of the most expansive ways Cultural Crossroads has impacted the community. We haven't had it in a couple of years because we haven't had enough board members to help and grant writing. Funding is a huge part of that and we lost the budget line for the Webster Parish Police Jury. When that happened, the funding for Spring Arts Festival also went away," Eaton said of one of the many ways the organization has impacted the residents of Minden.
Looking to the future, the group hopes to carry out their mission of uniting people through the arts.
"My vision for Cultural Crossroads is to just be a help to those persons who created the foundation and to help them build upon what Chris Broussard started and to find a way to make it sustainable. I'd also like to help them develop some events that I think would be both a lot of fun for the community and also generate a lot of interest in the community through the mission of Cultural Crossroads," Lawler-Waller said.
The excitement is building for the interest meeting and the events that will be coming in 2019.
"The cultural enrichment of children in Minden has been my lifelong passion. And I am energized to know that passion is being reignited. Someone else now has a fire in their belly for the arts and for children. And I could not be more grateful," Broussard said.
The interest meeting for those willing to help with the organization can meet at The Farm at Cultural Crossroads, 419 East Union Street from 6 to 7:30 pm or visit the Cultural Crossroads Facebook page to be added to the email list.