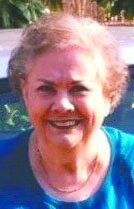 Ms. Glenda Jean Prestidge Stillwell, 73, of Minden died on December 4, 2018. She was born on October 19, 1945, in Minden, Louisiana, to Claud and Dorothy Prestidge. Glenda was graduated from Minden High School in 1963. She was an exceptional homemaker and loving mother who invested herself in caring for others. She had a wonderful sense of humor, an honest demeanor, and a charming style that made everyone feel welcome in her home. 
Meeting Glenda in Heaven with our Savior the Lord Jesus Christ are her grandparents, several aunts and uncles, her mother and father, her precious daughter Kimberly Kaye, and niece, Donna Lynn. Left to cherish her memory are her son, Keith Stillwell and his wife, Shea; her two grandchildren, Stratton Kaye and Adam; her siblings, Lucille Anderson, Helen Gantt, and Herbert Prestidge and his wife, Carol Ann; nieces Carolyn Robinson, Amy Meredith, and Mandy Harper, nephews Robert 'Bo' Towns, Ken Welch, and Tony Prestidge, several great-nieces and great-nephews, and a few very dear friends. She will be deeply missed and fondly remembered by all. 
The family would like to sincerely thank the outstanding medical professionals and caring people of LifePath Hospice, and the exceptional caregivers of Always Best Care Senior Services in Sheveport, Louisiana, who all made Ms. Glenda's last days comfortable, safe, and even joyful.
In lieu of floral gifts, the family asks friends to consider a small donation in remembrance to the National Meningitis Association (nmaus.org), to help prevent in others the illness that took her beloved young daughter, or to a charity of their choosing. 
A graveside service will be held on Friday, December 7, 2018, at 11a.m. at Hillcrest Cemetery in Haughton, Louisiana, being facilitated b Rose-Neath Funeral Home in Minden. 
Rose-Neath Funeral Home
211 Murrell Street
Minden, Louisiana 71055
(318) 377-3412