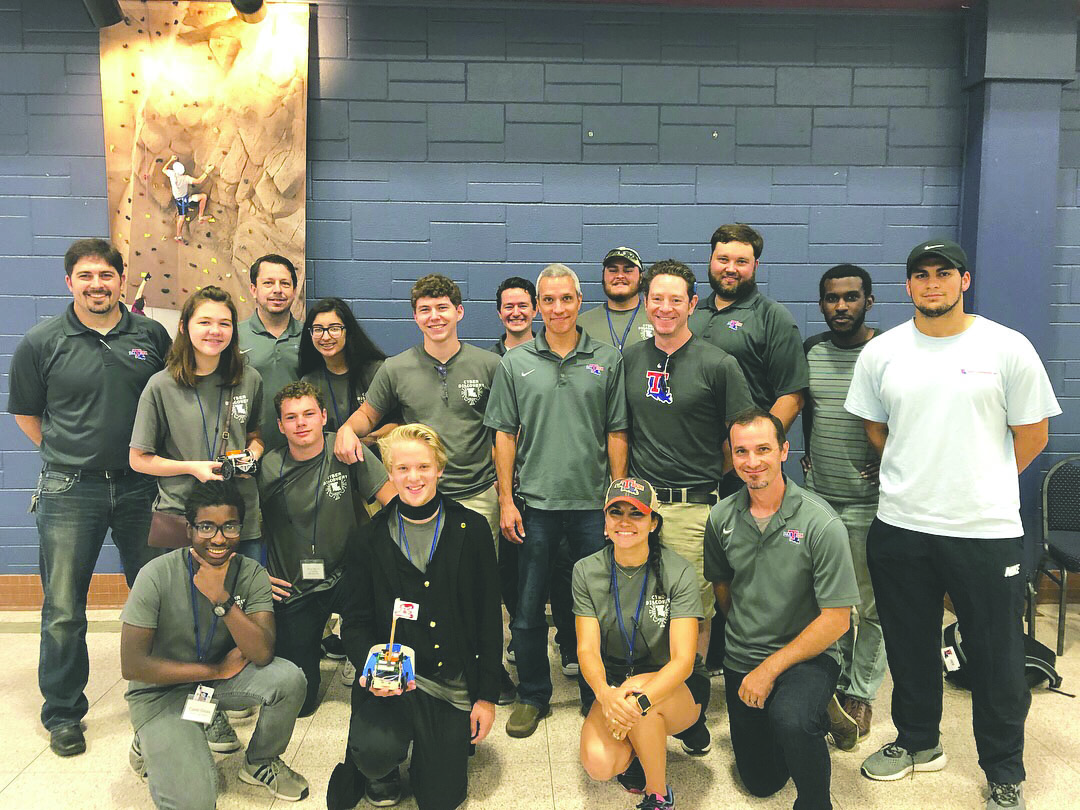 MHS takes first place at Louisiana Tech cyber camp
Caleb Daniel
caleb@press-herald.com
For many students, summer is a time to relax and recuperate from the school year. For six Minden High School students, however, summer began with a week of intense intellectual challenge and competition.
From May 28 to June 2, a group of MHS gifted students attended Louisiana Tech University's CyberDiscovery camp. Teams from Louisiana, Texas, and Arkansas schools were put through rigorous and varied challenges involving cyber engineering, robotics, architecture, literature, debate, theater, cryptography, and more.
After days of constant work and competition, it was Minden High School that took first place overall with the highest score among nine teams.
"They worked so well together as a team," said Amanda Greer, an MHS gifted teacher who attended camp with the students. "Most of them have known each other forever and have gone to school together since they were young. They really came together. We were going from 8 in the morning until 9 at night, and they still had to do homework when they came back. We were exhausted, but it was a challenge that they were able to rise to the occasion for."
The camp, run by Louisiana Tech professors, included daily robotics challenges, nightly essays with philosophical components, architectural 3D modeling and design, a playwriting competition, and a cryptography scavenger hunt that ran all week long.
"I feel like it gave them exposure to things they probably haven't been exposed to," Greer said. "Robotics is new in our parish, and so for this age group they really haven't had any of that experience, as most of them are freshmen."
The MHS team consisted of Caleb Gross, Emma Greer, Charlton Kellogg, Kelsey Waltman, Brandon Bass, and Mason Greer.
Gross, who will enter his sophomore year this fall, said he decided to participate more out of a desire to compete than any particular interest in the subject matter.
"When I first heard about it, I honestly wasn't really that interested in cybernetics, cyber security or anything," Gross said. "That really isn't my domain, but I always love an intellectual challenge. I just wanted to have a week to hang with my closest friends and take part in a competition, since I'm extremely competitive."
Since teams were expected to complete a large number of tasks every day, Gross said the Crimson Tide team divided and conquered, delegating usually no more than two students to a given project. For his part, Gross spent much of his time working on the robotics challenges.
"Each day we had a different robotics competition, and they increasingly became more complex," he said. "More was at stake each time. The first day was just learning how to program the robot and get it to move through a maze. That was the most stressful moment of the week, because you couldn't control it yourself at the time – we had pre-programmed it all before."
The Minden team won the maze challenge with a completion time of 14.39 seconds.
"We managed to pull first place with the idea of making curves instead of perfect ninety-degree angles," Gross said.
"Instead of having to stop and make a turn, we were able to just continually move into curved turns, which kept our times down."
As the week went on, it became apparent that the common thread between the seemingly vastly different subjects of challenges was the need to think creatively to come up with unique solutions to problems.
"Computer science is so much more than zeros and ones," Gross said. "That's what every part of the camp taught us:
cyber security is about thinking of more creative ways and thinking about new ways to solve complex problems."
The Minden team's innovative thinking did not stop after the first challenge.
Teams accumulated points throughout the week leading up to an auction before the final challenge that Saturday. Each team had the opportunity to spend their overall points to gain items or privileges that would provide an advantage in Saturday's final obstacles.
In an effort to conserve points for the final tally, the MHS team made only two purchases, one of which was simply a manila folder and some tape.
"The idea was that you could add on anything you wanted to the robot that you could make with a manila folder and tape," Gross said. "Us being wacky and creative, we thought we could use it for a lot of different stuff."
The final robotics challenged was essentially a massive robotic version of Hungry Hungry Hippo, as each team's robot attempted to corral as many marbles as possible and store them in forts the teams had previously designed.
While most teams used a jaw-like device on the front of the robot to come down on the marbles, the MHS team decided mere hours before the competition to construct a sweeping device out of the manila folder to trail behind the robot and collect marbles.
"The professors called it our little Roomba," Gross said.
The "little Roomba" design easily won the final robotics competition for the Crimson Tide, taking first in three out of the six heats, while no other team took first in more than one.
"The professors had never seen a design like that, and I believe they said they've done the camp for 11 years," Greer said.
Out-of-the-box solutions became the theme for the Crimson Tide throughout the competition. On top of the nightly essay, the team had to come up with a play script Friday night to be performed for the judges the next morning. Gross said tensions ran high until a wild solution presented itself.
"We were so different in our opinions about the theater script, and we were so adamant about getting our ideas out," he said. "That's when we had the idea to simply write a script about writing a script, which let us put all our crazy ideas in there."
Greer said watching her students perform the play was her favorite experience of the week.
"It was wonderful," she said. I cracked up, it's hilarious. They finished it up Friday night, and by Saturday morning, they all had their parts memorized. There was no looking at phones or anything. Caleb had monologues in it, which were phenomenal and funny. They tied in everything from the week. They had to stop a couple times and wait for the judges to stop laughing."
Whether it was on the STEM or ESL side of the subject matter challenges, the MHS team was able to find unique solutions to come out on top. The Tide won both the final robotics challenge and play presentation competition.
For the first time, the CyberDiscovery camp was sponsored by the GenCyber program, which paid for each team's entry fee. The camp was run by professors from fields as seemingly disparate as engineering and English. Heath Tims, associate dean of undergraduate studies and a Minden native, oversaw the camp.
"It's such a great opportunity, and those professors were amazing," Greer said. "They spent so much time with the students. Sometimes professors can have this arrogant attitude, but it was not like that at all. They brought up so much good discussion."
Despite being unsure about the camp beforehand, Gross said the CyberDiscovery experience benefited him and his fellow MHS students more than he could have imagined.
"I got so much more than I expected out of it," he said. "I enjoyed it more than I thought I would. I had no interest or knowledge in cyber security before, but I'm so interested now in seeing how it connects to many other topics."