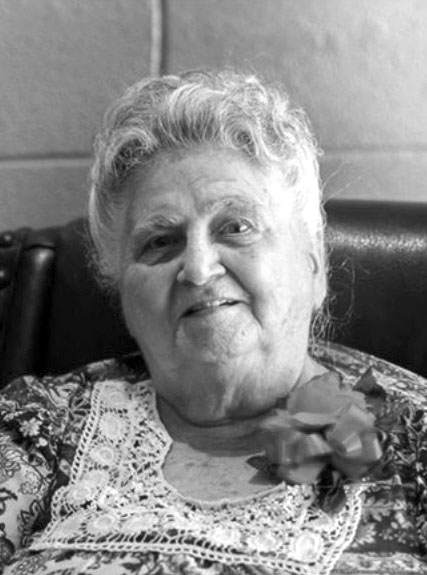 Shreveport, LA-Funeral services for Daisy Crain Lewis Hamilton, 91, will be held at 2:00 p.m. Tuesday, June 19, 2018 at City on the Hill UPC, 612 State RTE 531, Minden, LA 71055 with Pastor Jeff Ramsey and Pastor Damon McGee officiating. Interment will follow at Garden of Memories in Minden. Visitation will be held from 5:00 to 8:00 p.m. Monday, June 18, 2018 at King's Temple UPC, 8951 Kingston Rd., Shreveport, LA 71118 in Shreveport and 12:00 to 2:00 p.m. prior to the service at City on the Hill UPC.
Daisy was born January 17, 1927 in Marthaville, LA to Oscar and Lucy Crain and went to be with the Lord on June 15, 2018 in Shreveport. She loved her churches, City on the Hill UPC and King's Temple UPC.
Daisy was preceded in death by her parents; first husband, Marit D. Lewis; second husband, LeRoy Hamilton; sons, Mariet D. Lewis, Rodney D. Lewis, and Billy R. Lewis; sisters, Truman, Noveline, Erline, Merline, and Estell; and brothers, Truly, Jessie, and Charles. Left to cherish her memory are her sons, Mickey R. Lewis and wife Martha of Aurora, MO and Ricky L. Lewis and wife Charlotte of Haynesville, LA; daughters, Sherry M. Humphries and husband George of Mena, AR, Patricia McVay and husband Neal of Shreveport, LA, and Debbie Purvis and husband Mark of Haughton, LA; a host of grandchildren, great-grandchildren, and great-great-grandchildren; and her beloved chihuahua, Taco.
Honoring Daisy as pallbearers will be Alan Lewis, Kenneth James, Jonathan James, Neal McVay, Jr., Marty Lewis, Jarrett Humphries, and Lee Lewis. Honorary pallbearers will be Ryan Lewis and Jamie Ezell.
In lieu of flowers, memorials may be made to King's Temple Children's Ministry.
The family would like to give a special thanks to Schumpert Hospice, Dr. Acurio, Dr. Le, and Dr. Roseman.