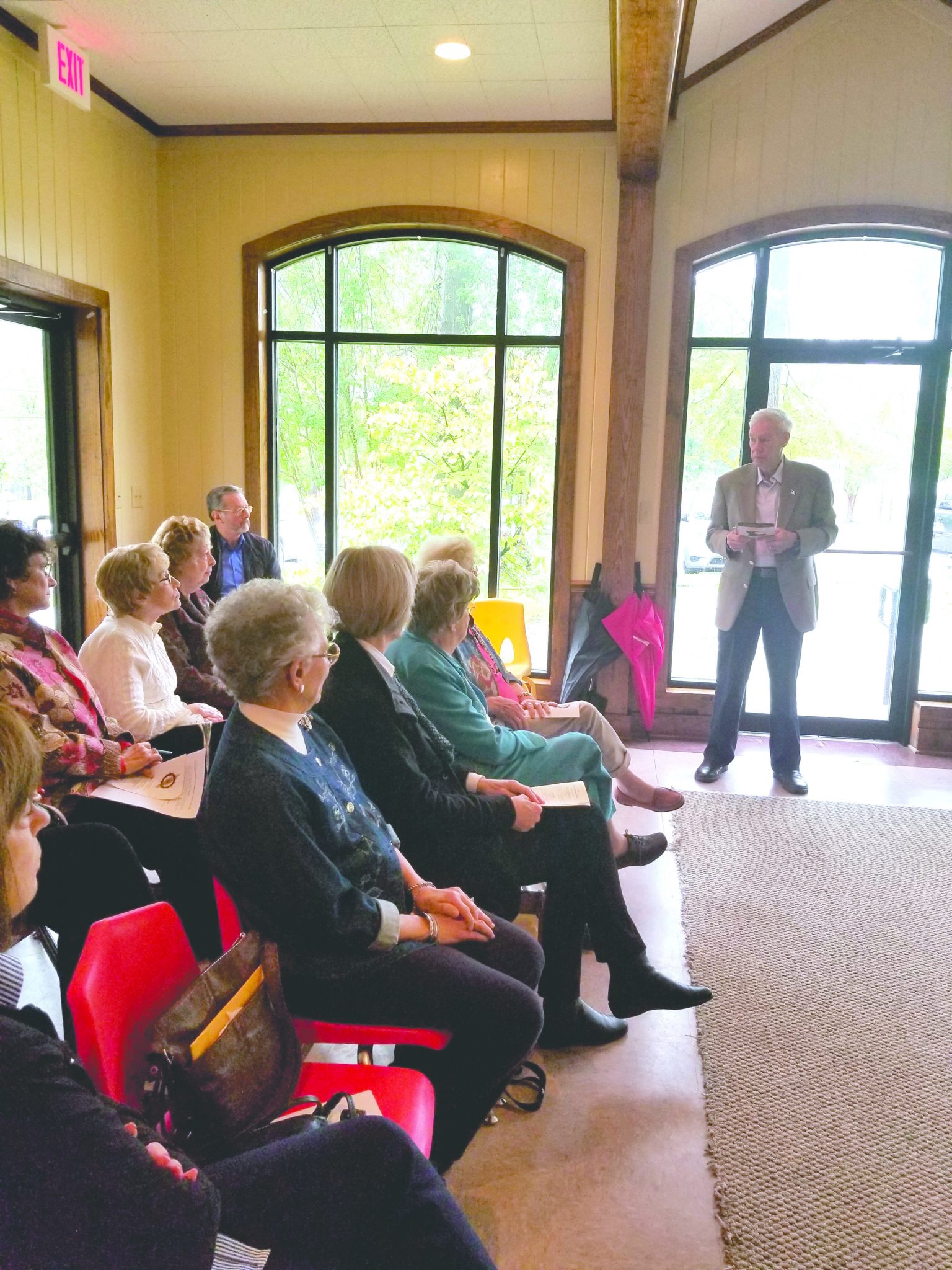 Thompson speaks to group Tuesday at St. John's Episcopal
Retired Colonel Carl Thompson gave an educational presentation on Camp Minden to the Daughters of the American Revolution Dorcheat-Bistineau Chapter Tuesday at St. John's Episcopal Church.
The camp was built in 1940 and the entire village of Doyline was moved from the area to build the military establishment. There are also still nine family and community cemeteries on the premises that existed before the camp was built.
"It was really interesting, we went to the Richardson cemetery about 4 or 5 months ago, and I was really impressed with how well they maintained. You can tell it wasn't just fixed up before we got there," DAR member Cindy Madden said.
Ten months after the camp was built, it was in use. The camp was often known as the "shell plant" and housed thousands of employees manufacturing ammunition for the army for many years. The area is sprawling spreading 65 square miles and and 1,400 fire hydrants. The camp is also equipped with fiber optic cables in many places.
Today it is the only National Guard Center in North Louisiana and hosts several companies, the Youth Challenge Program and several training resources for soldiers.
All business and activities at the camp fall under the dual mission of Camp Minden to maximize opportunities for both commercial operations and military training.
An asset Camp Minden holds is the Youth Challenge Program. Louisiana is the only state with three Youth Challenge Program sites. Each site is funded 75% by the federal government and 25% by the state.
"The Youth Challenge Program is a program to assist our 16 to 18 year olds that are headed in the wrong direction to get back on track and lead productive lives," Thompson said.
The members of the program go through 2 weeks of "Hardcore" which is relative to basic training. They then are in classrooms for hours on end trying to procure their GED's. After the program, each participant has a mentor that must check in with them once a week and eventually mark the participant as successful or unsuccessful. This is based on whether the participant is continuing their education or has found gainful employment and staying out of trouble. 90% of participants are graded as successful after the program.
There is also a partnership with Bossier Parish Community College for participants to earn up to 15 college credits while they are in the Youth Challenge Program.
As well as YCP there are several businesses and public services operating out of the area including Bayou Dorcheat Correctional Center and GOEX/ORICA which is company that is the only one who produces black gunpowder in North America among many others.
"It's quite an industry," Thompson said.
Facilities are in place for National Guard training such as heavy equipment transport, carpentry and masonry, a virtual convoy trainer, and a simulated hand grenade range. There are also laser ranges that allow soldiers to train without using real artillery.
There are still consistent upgrades being made to the facilities now.
"Colonel Greg Kendall is doing wonders out there," Thompson said of the upkeep of the facilities and roads being overlaid and kept up.
The Daughters of the Revolution sends books to Camp Minden and they are used as part of a book exchange at the Camp.
One of the goals of Camp Minden are to become a Regional Training Institute. This would bring thousands of soldiers to the area and a large economic impact. Phase one of the project is already complete some barracks and classrooms and a large heating and cooling system. However trying to attain the funding for Phase 2 has been a challenge. '
Thompson said many organizations in the area have submitted resolutions and individuals have written letters urging their political representatives to secure this funding.