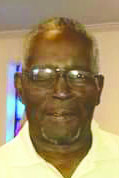 Celebration of Life Services for Mr. David James Johnson will be held Saturday, March 9th at 12:00 P.M. at the St. James Baptist Church with Dr. T. L. Ward, officiating. Interment will follow at the St. James Cemetery.
David James Johnson, the middle child and second son of Josephine Robinson-Johnson and Ivry Johnson, Sr., began his journey with a breath of life on June 28, 1944 in Sibley, Louisiana. Also born to this union were his brother, Billy Ray and a baby sister, Mary Helen. Another brother, Ivry, Jr., soon became a part of this family.
Chunk, as his family called him, was raised by his maternal grandparents, the late Rev. and Mrs. Joseph Robinson along with his other siblings and attended Concord Elementary and Webster High Schools. David confessed Christ at an early age; he was baptized and became a member of St. James Baptist Church until he made his transition and entered eternal rest with his heavenly father.
Being raised, loved and taught in a Christian home, David learned early in life about hard work, family unity, family values and the importance of giving and supporting family and others. Young at heart and full of vigor, he met and married the love of his life, Dorothy Jones. They became parents to three beautiful children: Frankie Commilisa (Pokey), Edward Tyrone (Big Man) and Felicia Elaine (Lisa).
His greatest joys in life were his grandchildren. His fulfillment was doting on each one. They called him, "PawPaw"; he called the twins, "Frogheads." His grandsons became the 'Apple of his eye", continuing his legacy.
David loved his "corner" in his community so he built his home, established his family and carved out a path where he was well known and loved.
He experienced life with different challenges but he overcame them all with pure determination. He tried working at various jobs; did well with a few especially working in construction as a crane operator to help build Interstate 20 and working in maintenance at Webster High School. But his real talents surfaced early in his life as a carpenter, an avid hunter, marksman (guns), horseman (he raised, trained and rode them), farmer and singer. His greatest accomplishments were farming and singing! He found and accepted God's destiny for him in both professions. Nobody could plant and grow a garden, patch or field like David. If he touched it and planted it, it grew and flourished! As a singer, no one could pour out his heart and soul in spiritual praise like David could when he was singing with his group The Singing Corinthians and the group before them! He gave everything he had to God in each lyric that he sung. That was how he praised and worshipped God; these were David's Songs of Praise!
Sharing the fruits of his labor and loving community were major parts of his life. Whatever he harvested from his crops, he shared with those who wanted it. His heart of gold and his open hands were testaments to the man that he became. He leaves a rich legacy.
On March 1, 2019, David left his legacy of songs to those who will cherish his memory forever in their hearts. Preceding him in death were his parents, Ivry and Josephine Robinson-Johnson; his maternal grandparents, Rev. and Mrs. Joseph Robinson; his son, Edward Tyrone (Big Man) Johnson; two brothers: Billy Ray Johnson and Ivry Johnson, Jr.
His legacy continues with his devoted sister and caring brother-in law, Mary Helen Harris (Johnny); two loving and caring daughters, Frankie Rogers (John) and Felicia Williams, all of Minden; six grandchildren: Commilisa Johnson, Commilitha Johnson, Jeremy Johnson, Edward Johnson, Davion Johnson and Lashandra Pierce. His third generation great-grandchildren are: Aliah Johnson, Tynecea Johnson, Jemee Johnson, Jeremeyah Johnson, Jryah Johnson, MiAngel Johnson, Kaden Johnson, Altecko Germany, Canaan Germany and Germya Pierce; special niece and two nephews: Tasha Mechelle Francis, Arlandus (Lance) Green, Jr., and Billie Ray Johnson.; five caring aunts: Shirley Mable Martin, Jeweline Smith, Gertrude Yvonne Snowden and Ethel V. Lavergne, all of Detroit, Michigan and Lue Jean Washington, Alexandria, Louisiana; generations of nieces, nephews, cousins, extended family and friends to celebrate his homegoing.
Visitation will be held Friday, March 8th in the chapel of Kennon's Mortuary from 10:00 AM to 6:00 PM.
Services are entrusted to Kennon's Mortuary. Email condolences may be sent to kennonsmortuary@suddenlink.net