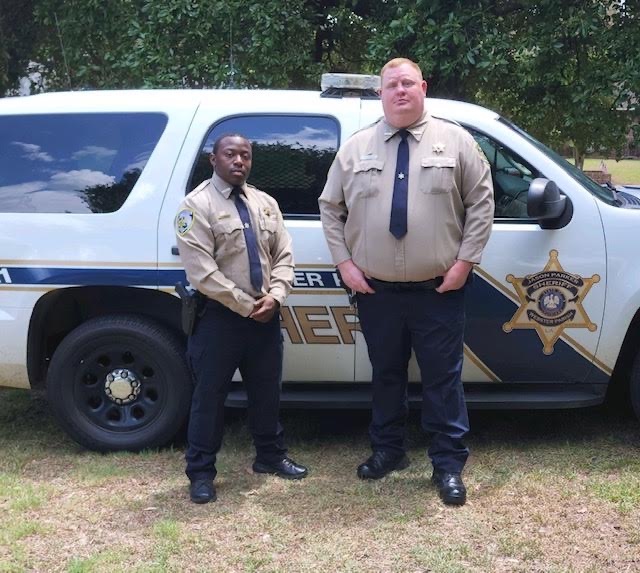 Two deputies of the Webster Parish Sheriff's Office have recently completed DARE training which will allow them to talk to students about things like drugs, peer pressure, bullying, and cyber-bullying.
Jeremy Wiggins, the student resource officer (SRO) at Doyline High, and Ladarius Joseph, the SRO at Webster Junior High, attended DARE officer training in Baton Rouge for two weeks in August and completed this rigorous course.
"It's very intense training," said Sheriff Jason Parker. "From what I've been told, it's one of the hardest schools to graduate from — very tough."
DARE, which stands for Drug Abuse Resistance Education, was founded by Police Chief Daryl Gates and the Los Angeles School District in 1983 to combat the surge of drug abuse in youth that arose in the 1970s and 1980s. The DARE program's success has led to its use across the nation and globe.
"I am very proud of our deputies for completing the DARE Officer training program…..it was a long and intense two weeks of training for them," Parker said. "From my understanding, they were the 45th class to graduate in the state of Louisiana. With these two graduates we now have a total of three certified DARE officers that will be teaching our kids in Webster Parish from kindergarten to high school. Their vision is to promote wise decision making to our youth by teaching them how to be safe and responsible. I believe DARE is the most widely used and successful drug prevention program around."
Deputy Wiggins is the second member of his family to complete this training. "His dad was a DARE officer for 30-something years down in Red River Parish," Parker said. Wiggins is proud to be following in his father's footsteps.
Deputy Joseph showed his personal excellence by being conferred the Most Outstanding Team Member award during the training.
"They really poured their hearts and souls into this, and it means something to them to be able to make a positive impact with these kids," said Parker.
These two officers are now even more highly trained and prepared for their work as SROs. The school board's recent vote to add more SROs to schools in Webster Parish has now been fulfilled. The only school without its own officer, Jones Elementary, will have a trained SRO on staff as of Tuesday, September 6.