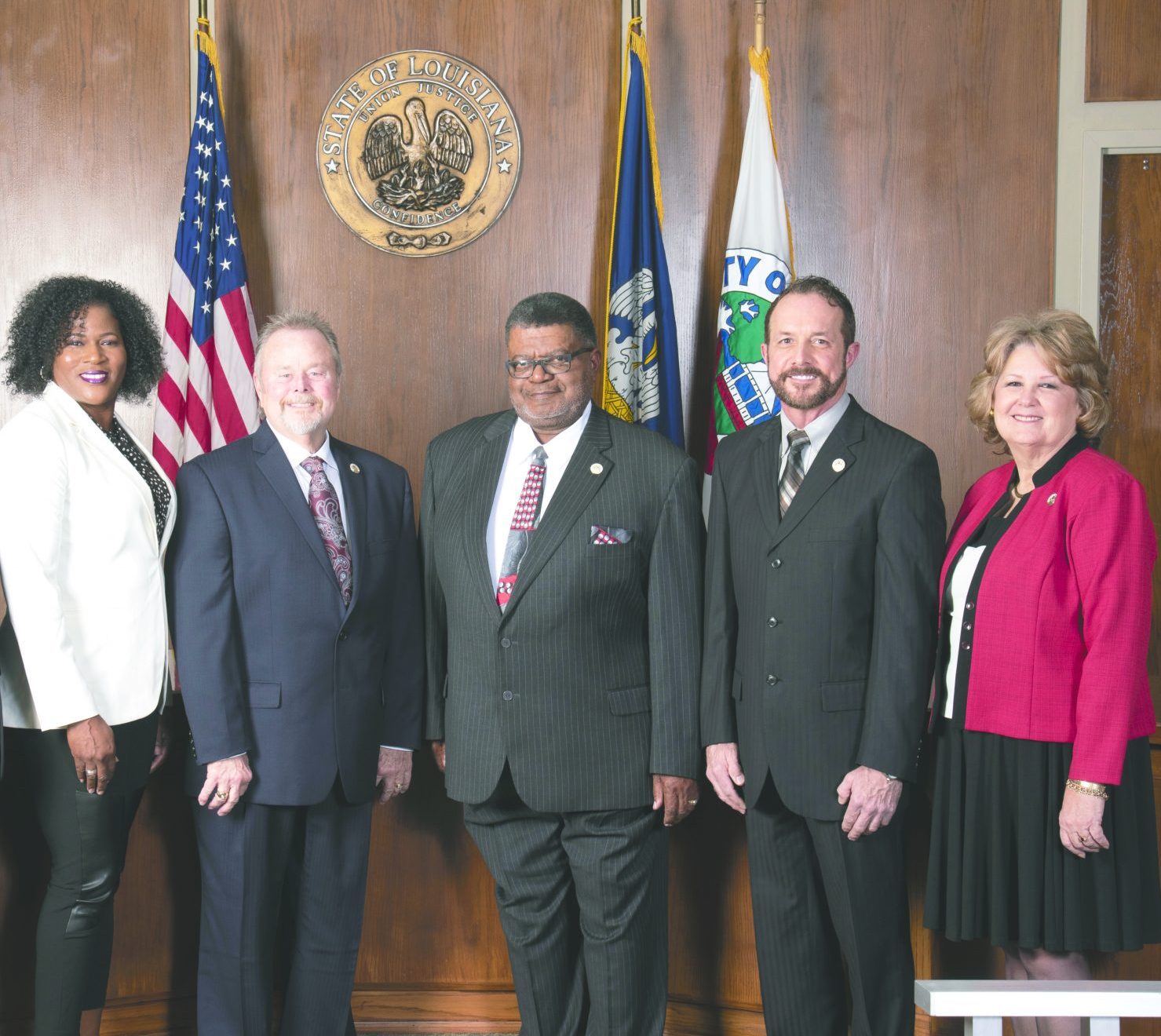 Webster Youth Leadership was in attendance at a tense Minden City Council Council meeting Monday night. They witnessed three items on the agenda die due to a lack of a second to a motion, a councilman get up and walk out midway through the meeting, the presentation of the city's annual audit, among other things.
The Council failed to second a motion to approve a special event permit for the 2019 Minden Main Street Annual Grilling on Main BBQ Cook-off. The permit would have granted the Krewe des Ambassadeurs permission to serve and sell beer at Easley's Courtyard on Pearl Street during the event.
Kerry Easley, owner of the Courtyard, spoke to the council on the benefit of the event
"We have done this thing. It has been going back four or five years," he said. "This is an opportunity to bring people to Minden."
Easley added the event has a positive economic impact on the community. "These guys bring their trucks, They bring their cookers. They bring lots of people," he said. "People come to town. They spend money."
The Krewe des Ambassadeurs is a nonprofit organization, and the selling of beer during Grilling on Main is a fundraiser for the group. Easley said, however, that's not the only reason why they do it.
"This is not just about making a dollar off some alcohol," Easley said. "It's a good, positive thing. To deny the city the opportunity to do this, after four or five years of doing it, I think, is irresponsible on the part of the council."
District E Councilman Pam Bloxom, who offered the motion to grant the request was puzzled by the Council's silence when asked for a second to the motion.
"May I ask why you are denying this?" she asked.
"May I ask why you are for it?" District D Councilman Vincen Bradford asked.
"Because they have proven to be responsible, and that it's brought in additional activity there on Pearl Street for the Grilling on Main," Bloxom said.
"May I ask how much the city makes on that event?' District A City Councilman Herbert Taylor asked.
Mayor Terry Gardner said the city doesn't sell alcohol.
"That's why I denied it," Taylor said.
District D Councilman Keith Beard said his position on alcohol in general was guiding him, but questioned Taylor on his. "Y'all know my feelings on alcohol. You know I'm not voting for it," Beard said.
"You're [Taylor] saying you're against it because the city can't make money off it."
"Basically," Taylor said.
Once the motion died on the floor, Beard exited the council meeting and did not return. He later told the Press-Herald he had to travel to Baton Rouge and thought the council meeting would be shorter. "My daughter, Ragan, is being recognized in the morning at the state capitol," he said.
"We really needed to get on the road to Baton Rouge."
The second item the Council failed to bring to the table for consideration was an ordinance governing food carts/truck vendors in the city.
District B Councilman Terika Williams-Walker questioned whether or not such vendors could park in city-owned parking lots. "To say they cannot come to a public parking lot and set up, I don't understand," she said.
Mayor Terry Gardner said such vendors would be allowed during festivals, but other times would pose problems for the city. "We can't allow people to set up in public areas to sell wares, license plates, or food, or flags or something like that," he said.
"This is about food trucks," Taylor said. "My thing is if they get a permit, they should be able to park in a public parking lot, regardless of where it is, unless it is in front of another restaurant."
The third item the Council declined to consider was the advertisement for bids to overlay part of Country Club Circle. Some councilmen questioned the choice of Country Club Circle over other road projects in the city.
"Horton Street is just as bad as Country Club," Bradford said.
Streets and Drainage manager Terry Combs said the city budget, and pressing needs due to traffic and other considerations, set the priorities for such work.
"Country Club carries a lot of high-volume traffic, a lot of trucks," Combs said.
Combs said the problem on Country Club originates with the base under the overlayment. He said his plan is to address that within the constraints of his budget.
"Every year, I turn in my budget and ask for $1 million," Combs said. "Every year my budget gets cut. Then I have go back and refigure and make the money fit to what street I can get [done.] This year, my budget [request] is $755,000 to address Horton Street and other streets. Will I get it or not? I don't know."