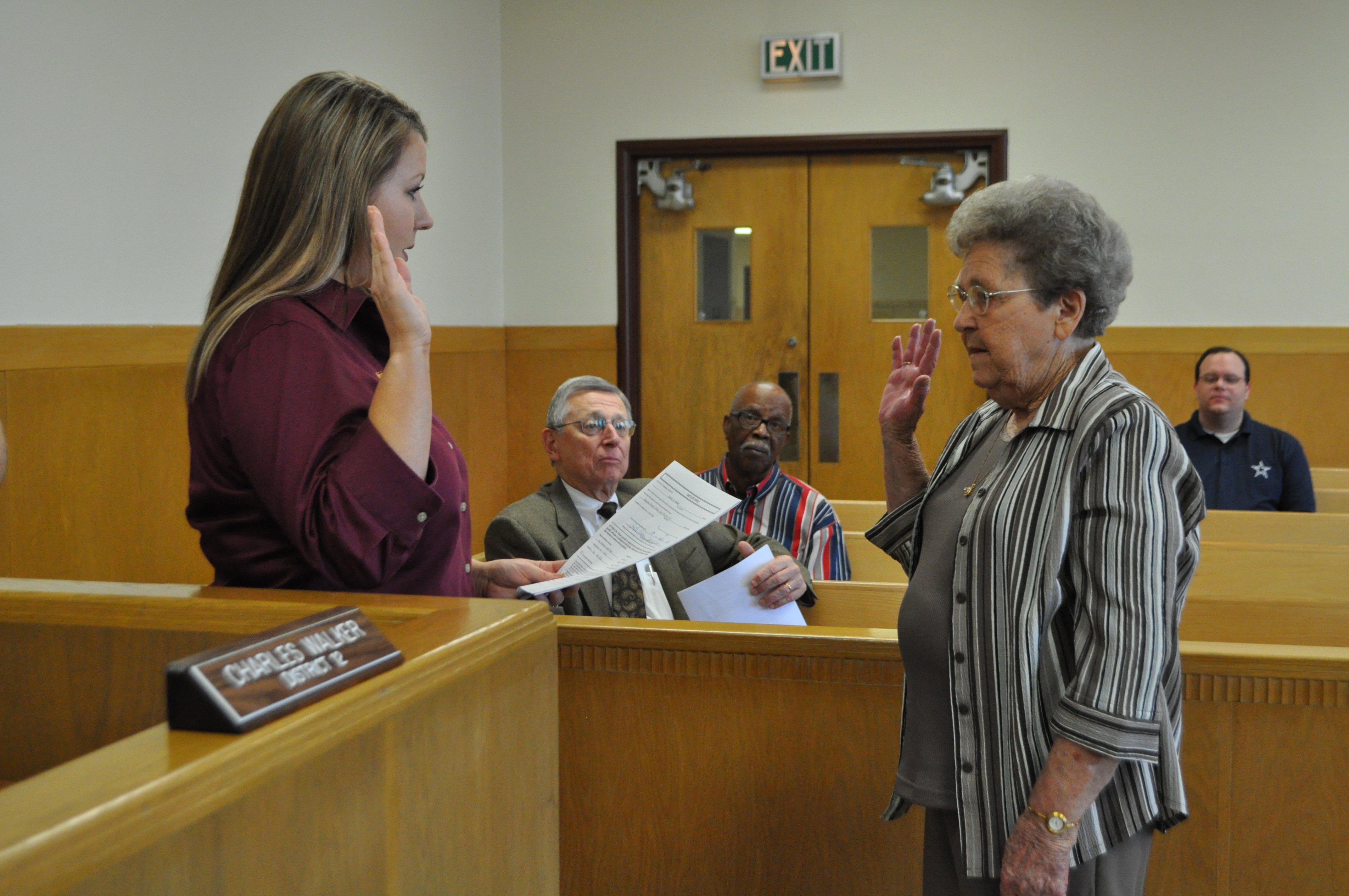 Dorothy Walker will fill the unexpired term of the late Charles "Charlie" Walker.
Acting on his wishes Thursday, the Webster Parish Police Jury voted unanimously to appoint Dorothy Walker to her late husband's term.
Jury president Jim Bonsall explained in the meeting that each juror has appointed someone to take their place in the event they could not fulfill their duties or in the event they passed.
"Each one of us has designated someone that if something happens to us that we wish the jury would appoint to fill out our term until they have an election," he said, "and Mr. Charlie asked us to appoint Ms. Dorothy to this spot. Out of respect for him, that's what this meeting is all about today."
The motion to appoint Dorthy Walker came from Vera Davison, and was seconded by Steve Ramsey.
The police jury also presented Walker with a plaque of appreciation in memory of her husband.
"I thank all of you," she said to all the jurors. "I love you all."
Her son, Roger Walker, shared his appreciation for the respect and love the jury showed Walker.
"Some of my father's favorite moments in life came from this group of people right here," he said to the jury members. "He loved each and every one of you, and I would just like to thank you from our family for all the years of friendship and guidance to him. I would like to thank you for the next nine months for the friendship and guidance to my mother."
Dorothy Walker will hold the office of district 12 until an election can be held in October.
In other jury proceedings, members passed a resolution and approved a cooperative endeavor agreement.
The resolution deals with a cooperative endeavor agreement between the police jury and the State of Louisiana regarding the Port O'Bistineau Landing "to allow for the Louisiana Boating Access Development with USFWS to obtain federal monies, Wallop-Breaux funds, through the Federal Aid in Sport Fish Restoration Act of 1950 to be used as 75 percent federal share of FP&C Project…with the WPPJ being the designated recipient of these funds."
The cooperative endeavor agreement is one the jury had to approve between the Town of Sibley and Webster Parish Fire District #2.
According to the agreement, "Sibley Fire Department will provide fire protection for the citizens of Webster Parish Fire Protection District #2. Fire District #2 will provide funding payable to the Town of Sibley in the amount of $128,000 in the first year and $70,000 annually in years 2-10."
The next meeting of the police jury will be at 10:30 a.m., Tuesday, April 7.