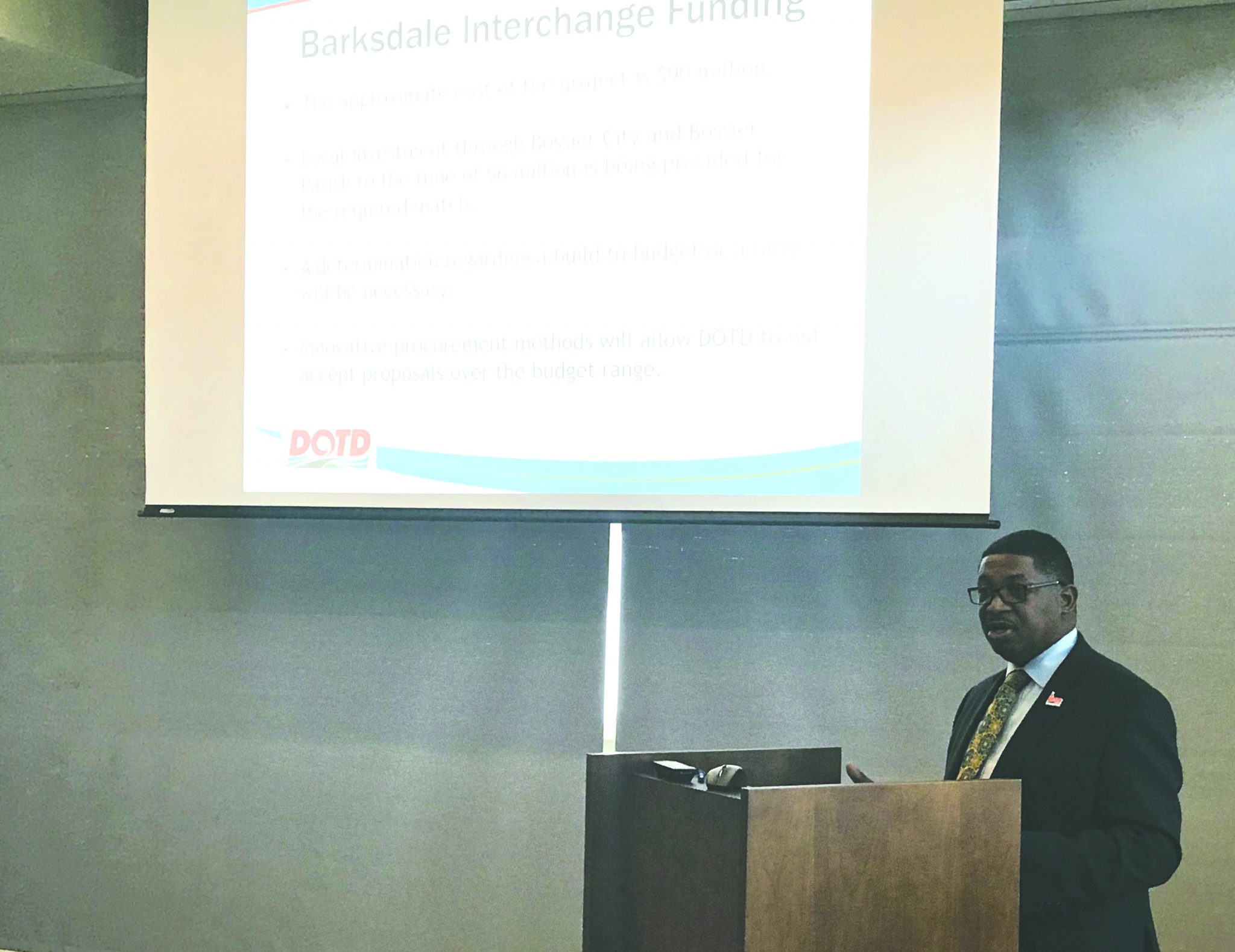 REGIONAL — The wait for a much speedier, easier entrance to Barksdale for airmen and their families is nearing an end.
Louisiana Department of Transportation and Development (DOTD) Secretary Dr. Shawn Wilson explained to officials during a special meeting at the Cyber Innovation Center last week how the process of funding and beginning the new interstate entrance to Barksdale Air Force Base will work.
DOTD has secured $600 million in Grant Anticipation Revenue Vehicle (GARVEE) Bonds to begin several long-awaited infrastructure projects, including improvements to the I-20/I-220 interchange and new access from I-20 directly into Barksdale.
"This is basically a type of bond that you will use through the highway system to leverage your federal dollars," Dr. Wilson explained. "Every year, I get about $680 million or $700 million form the federal government. That's the money we will be using to bond this GARVEE process out."
The project will see construction of a new entrance directly from I-20 and I-220 into Barksdale Air Force Base, providing better access for airmen and avoiding traffic congestion.
Dr. Wilson said the project is a priority because Barksdale has several entrances that are heavily congested with no direct interstate access, as well as railroad tracks that can be an obstacle.
"That's not the type of environment that we should have for a military installation that matters," he said.
"Investment in this will give better access to Barksdale and will demonstrate to the military why they should spend more money to create more jobs for the people who live here."
"You would have had this a long time ago if the previous secretary had sat in the cockpit of a B-52 this morning like I did," Dr. Wilson joked. "Those are the things that keep us safe. And those are the things that change the world and win wars. That's happening right here in Louisiana, and right here in Bossier at Barksdale Air Force Base."
The approximate cost of the project is about $90 million. The local investment from the City of Bossier City and Bossier Parish is $6 million. The state and local entities will repay the debt using the federal highway funds received each year over the course of 12 years. 
The project is expected to receive environmental clearance and have funding finalized by the end of 2018. The project is expected to be under contract by 2019.
The Department will proceed to seek approval to use design-build for the Barksdale entrance project in order to ensure that it will not have to wait for funding once environmental clearance is achieved.
Dr. Wilson said design-build is a process by which we hire an engineer, we hire a contractor and they work together and they start the process of designing and building simultaneously. He said not only will it get the most bang for their buck, but it will save time.
"If we followed the normal process, it might not be until 2022 or 2023 until we get started. Under this process, it could be open by 2022 or 2023. Maybe even sooner."
Other state projects include I-10 reconstruction and widening, a new Interchange on I-10 in Kenner, and cost for new toll bridges.
Dr. Wilson acknowledged that he could have gotten more money than what he applied for, but he said he would "rather get it right, than get it all."
"If I don't have to use all of that debt, I'm gonna have some money left to continue to manage the interstate and continue to invest in other projects," he said.