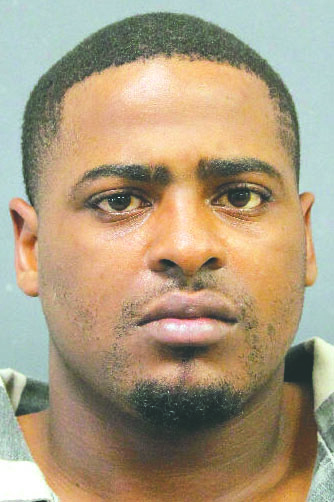 Monday disturbance call escalates
Deotis Germany, 24, of the 100 block of North Parke Drive in Doyline was arrested for Attempted First Degree Murder of a Peace Officer, Aggravated Flight From an Officer and Four Bench Warrants Monday, January 7 at about 7:50 pm.
Officers were dispatched to a call for a disturbance between a male and female on Sibley Road.
"It was after dark, of course a lot of houses in Minden aren't marked really well so they were trying to locate the house on Sibley Road where the disturbance was," Police Chief Steve Cropper said.
As officers arrived, there was a vehicle parked at the residence next door to the disturbance. The vehicle was running and the lights were on. One officer pulled into the driveway where the disturbance was and another officer pulled into the driveway next door.
"They weren't sure which house it was," Cropper said.
As the officer pulled into the driveway, the car began to pull out of the driveway. The police officer assumed the car was involved in the disturbance and tried to get the car to stop. The officer asked the driver, Germany, to stop, he did not. He continued backing out. The officer tried to get in front of the vehicle to stop it from driving off. The driver put the car in gear and started driving off in an erratic way. The officer jumped out of the way to avoid getting hit by the driver.
Another officer tried to make a stop on the vehicle and Germany refused to stop. A high speed chase took place down Carolina on to East Street then onto Industrial Drive towards Highway 531. The chase then went onto I-20 East, where Germany tried to exit onto Highway 532. As Cropper called officers to call off the chase, Germany lost control of the vehicle and hit an embankment.
There were two passengers, both were injured. One of the passengers was pinned into the vehicle and the Minden Fire Department had to release him from the car. One passenger is currently in critical condition. Neither of the passengers were arrested.
There were reportedly illegal narcotics and a weapon in the car which is why Germany fled, according to Cropper.
"Once they wrecked and they got the ambulances there and they were able to get all of the injuries taken care of, a search of the vehicle was made and a firearm was located. Since it happened in the parish, the Sheriff's office picked up that part of it so I don't have a list of what illegal narcotics were involved," Cropper said.
Germany was arrested and transported to Bayou Dorcheat Correctional Center. More charges are expected to come from the Webster Parish Sheriff's Office.