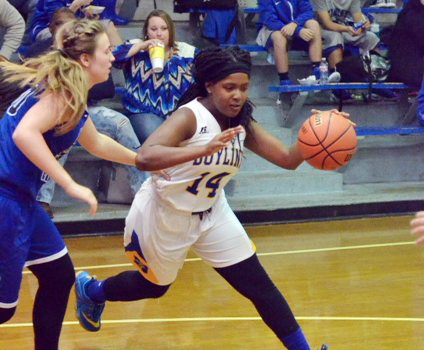 DOYLINE – The Doyline Panthers tend to make it look easy on their home court when they aren't playing the likes of Minden and Lakeside. Put a Class B opponent in front of them on this floor, and watch them go to work.
The Panthers put on an outstanding defensive performance from their starters and bench players and Demarri Markray scored a game-high 22 points as Doyline cruised to a 81-42 victory Monday night on their home floor.
The Panthers held a 14-8 advantage at the end of the first quarter. Doyline head coach Michael Normand started the game with full-court pressure against a Calvin team that was less athletic than his Panthers, and the move paid off with a pair of charges taken by Xaveion Jackson in the early going.
Offensively, the Panthers had a slow start themselves, but managed to shake it off and score 17 points in the second quarter and 25 points in a dominant third period.
"I thought we came out and played very sluggish basketball on offense," Normand said following the win. "We were moving at a very slow pace, which was kind of what they wanted us to do. When we finally increased the speed of the game, it began to work in our favor."
With the win, Doyline pushes its' record back above the .500 mark at 5-4 ahead of this week's Doyline Tournament, starting Wednesday, Dec. 7.
Markray's 22-points, a career-high, led Doyline, followed by Jatavion Jackson who continues his double-figure scoring run with 15 points. Xavieon Jackson had a solid night, scoring 14 points in the post. Jordan Fuller added 8 points for the Panthers, while Semaj Solomon and Marquis Loveless each scored 4 points.