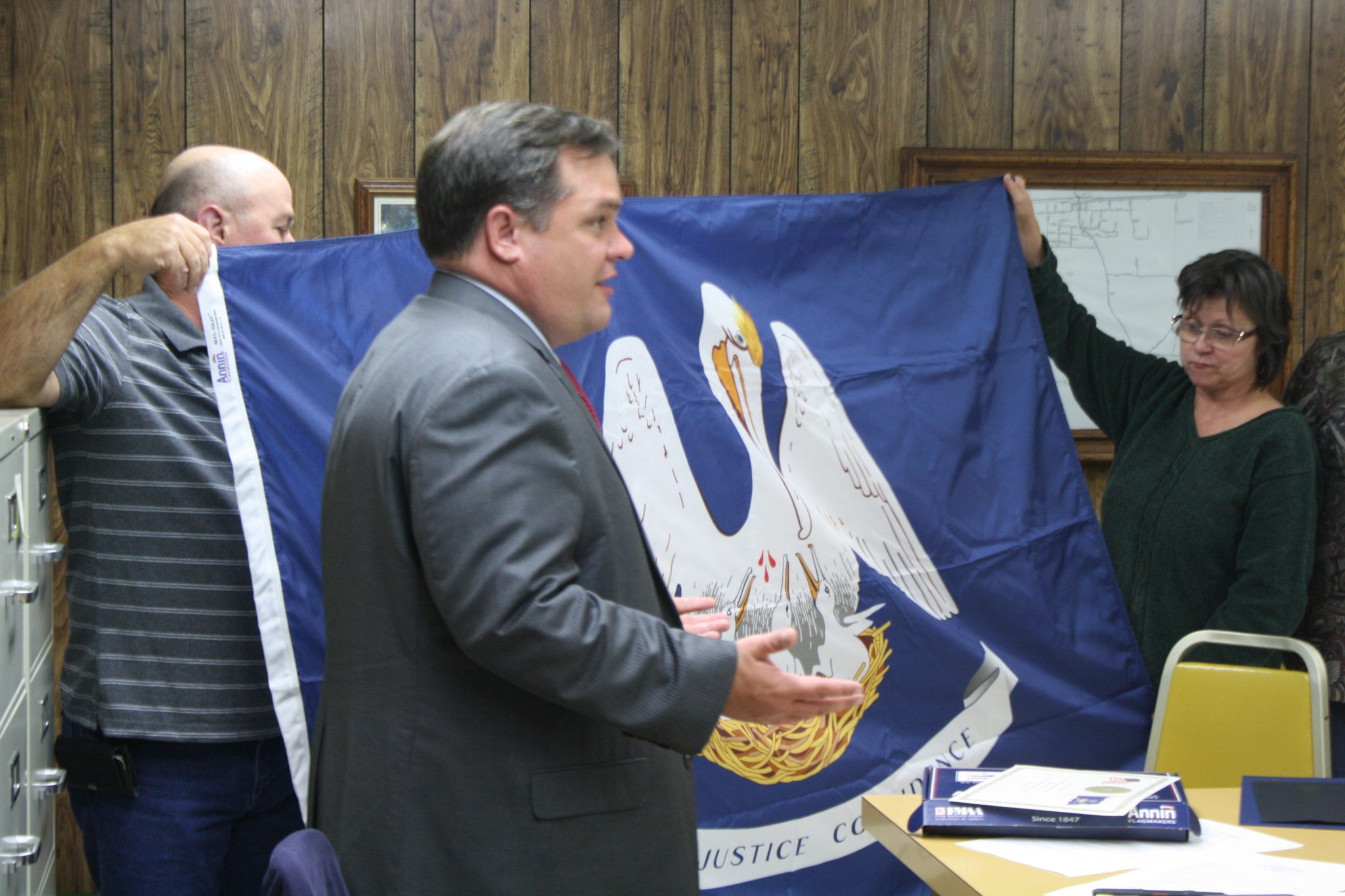 Billy Moore Reeves, who died Oct. 14 at the age of 94, was commemorated by the State of Louisiana and Senator Ryan Gatti's office at the Doyline Town Hall meeting Monday.
"Billy Reeves was a true hero and patriot who is irreplaceable," Gatti said. "He was kind and gentle but spoke his mind. He loved God, country, family and friends. He was quick-witted but could shoot you a look to get you thinking right in a heartbeat."
Gatti said Reeves left a legacy to the Doyline community, and individuals like Reeves are rare in life.
"He served on the Doyline City Council up until his last breath," Gatti said. "Billy will be missed.
"It's important to remember him with the proclamations so that on public records the community and the Reeves family has documentation in the state archives of the contributions he made and the respect and admiration we all have for him."
The village was given a Louisiana State flag, which was flown at the state capitol on the day of Reeves' passing.
"It's important to note that our flag is unique and shares the story Billy shared with all of us and is much like the story of Jesus," Gatti said. "The mother pelican has three birds to feed, but no food. So she plucks the feathers from her own breast to care for her young. Much like Mr. Reeves gave of himself to the community he loved and like Christ gave to us all. When people drive by the town hall and see the flag on display, I hope they are reminded of these acts of love and commitment."
Reeves was involved in many different aspects of his community, serving as an alderman for the village as well as president of the water board. He was actively involved in law enforcement as well as the former Doyline police chief and a Webster Parish Sheriff's deputy.
Reeves served in the United States Army during WWII and the Korean War. He is a Purple Heart recipient. He served in the Minden Lions Club as well as the Minden Masonic Lodge #51.
Reeves was a member of West Lake Baptist Church in Doyline and was buried at West Lake Cemetery.