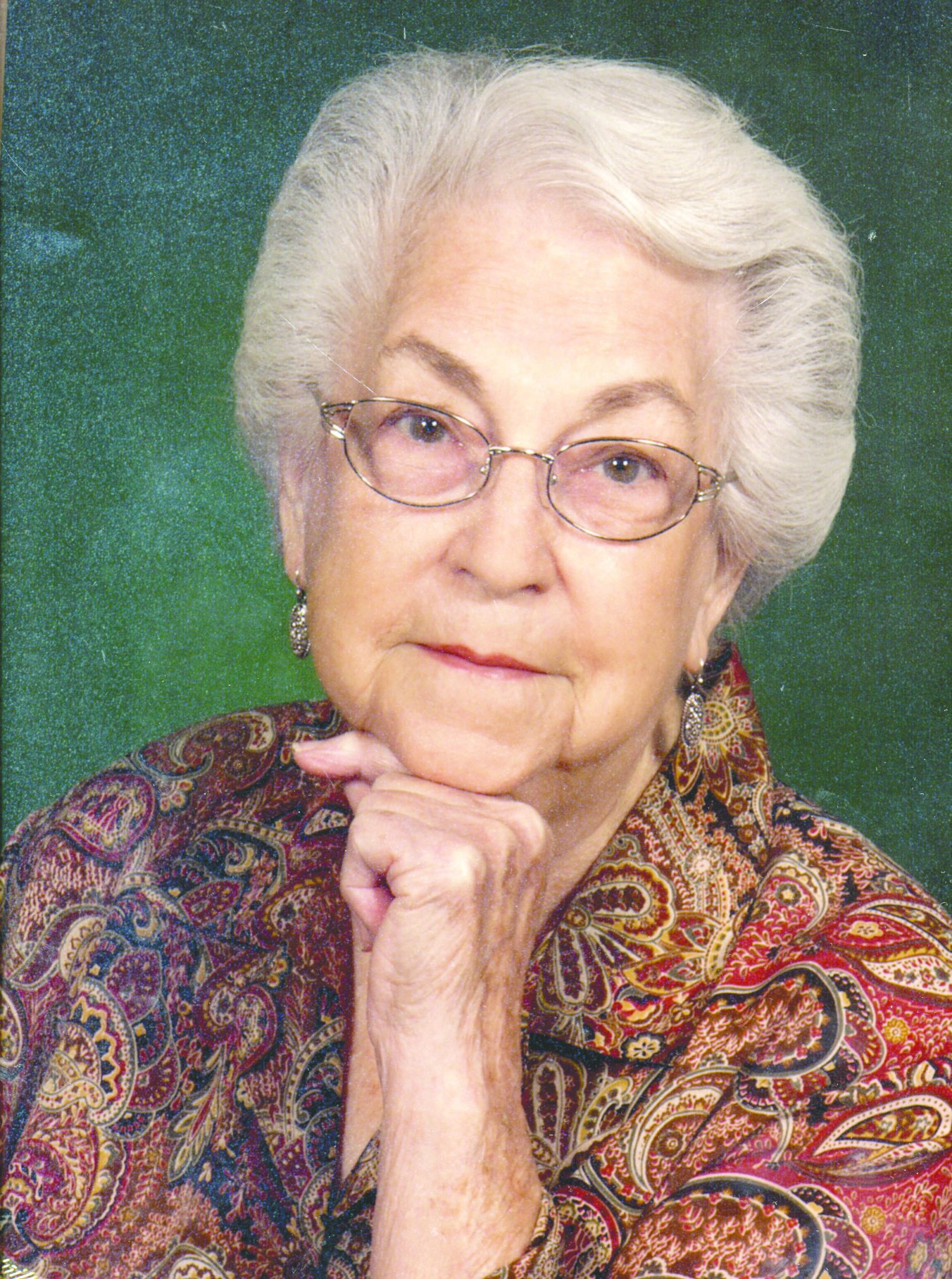 Edith Pauline McLain Moseley
Funeral services for Edith Pauline Moseley will be held Monday, December 10, 2018 at 11 a.m. at First Baptist Church in Doyline, Louisiana with Rev. Paul Pearson officiating. Interment will follow at Doyline Cemetery under the direction of Rose-Neath Funeral Home in Minden, Louisiana. The family will receive friends from 2 until 4 p.m. Sunday at Rose-Neath Funeral Home in Minden.
Pauline was born June 21, 1926 in Alto, Texas and entered into rest December 6, 2018 in Minden, Louisiana. She was a member of First Baptist Church Doyline where she taught Sunday school for many years, active in WMU, a homemaker, master seamstress, and a great cook. A mother to many others than her own children. Her house was a gathering place for the kids of Doyline. She will be greatly missed by all who knew and loved her.
She was preceded in death by her son, Frank A. Moseley, Jr., brother, Dewey McLain and wife Rita, sister, Faye Johnson, and brother-in-law, Eldridge Strickland.
She is survived by her son, Earl Moseley and wife Sherrie of Doyline, daughter-in-law, Barbara Moseley of Doyline, daughters, Edie White and husband Tony of Doyline, Rhonda Hanson and husband Steve of Glenwood, Arkansas, Beth Hanson and husband David of Maumelle, Arkansas, sister, Mary Ellen Strickland of Longview, Texas, brother-in-law, Steve Johnson of New Boston, Texas, grandchildren, Tina and Jason Briones, Monica and Ronnie Watson, Tessa and Marty Haggard, Lance and Haley White, Brandon and Amber Moseley, Dustin and Amanda Moseley, Cody Hanson, Polly and Ryan Hargis, Ben Hanson, Felicia Tipton, and Hollie Hanson, great-grandchildren, Jordan, Luke, Jake, Weston, Jamey, Mia, Saylor, Emerson, Riley, Macey, Carson, Kady, Mallory, Zack, Colton, Faithlynn, Eli, Julie, Cade, Luke, Connor, Izzy, Layla-Beth, and Marilyn, and great- great- grandchild, Dallas.
Pallbearers will be Lance White, Brandon Moseley, Cody Hanson, Dustin Moseley, Ronnie Watson, and Jason Briones.
Rose-Neath Funeral Home
211 Murrell Street
Minden, Louisiana 71055
(318) 377-3412
Billy Nat Langley
Funeral services for Billy Nat Langley will be held at 10:00 AM on Monday, December 10 at Emmanuel Baptist Church 713 Homer Road in Minden, LA, with Brother Matt Cate officiating. Interment will follow at Pine Grove Cemetery in Minden, Louisiana. Visitation will be from 5:00 to 7:00 PM on Sunday, December 9 at the Rose Neath Funeral Home in Minden.
Bill was born on May 25, 1944 to Barney and Mary Langley in Minden. He passed away after a lengthy illness on December 5, 2018. He worked for many years in the Webster Parish School System in Minden. His favorite pastimes included working on projects for the Minden Civitans, visiting with neighbors and "checking things out" at the Exxon station and at Ace Hardware. He also loved attending church at Emmanuel and Calvary Baptist churches.
Bill was preceded in death by his Mom, his Dad, five brothers (James, Bob, Ray, Tommy, Joe and Walter), two sisters (Estelle and Nancy), and two sister-in-laws (Cathy and Alvern). He is survived by one brother (David), four sister-in-laws (Pearl, Charlotte, Bonnie and Faye) and many wonderful nieces, nephews and cousins.
The family would like to extend their special thanks to Dr. Dhawan and Kelly, Dr. Fegley, Dr. Shirsat, Dr. Tamakloe, Dr. Webb, Minden Medical Center personnel, Aime personnel, neighbors near his Randall and Nella homes, and the caregivers and staff of Joyful Days and Visions of Tomorrow.
Pallbearers include six of his dear Civitan friends.
Honorary pallbearers include the staff and Bill's fellow workers at Harper Elementary, members of Calvary and Emmanuel Baptist churches and all members of the Minden Civitans.
Rose-Neath Funeral Home
211 Murrell Street
Minden, Louisiana 71055
(318) 377-3412